TL;DR: some of the best Supermetrics alternatives include Porter Metrics, Power My Analytics, Fivetran, Funnel.io, Adverity, and Apipenhy.
Yet, to come up with a comprehensive list, I will explain how to understand the marketing reporting and analytics industry from a founder and investor perspective.
I'm the co-founder at Porter—an actual Supermetrics alternative— and had a hard time understanding which companies actually were worthy of being Supermetrics alternatives and replacement options, and noticed that all the lists are super biased and lame.
Reviews sites like G2 Crowd, Trust Radius, and Alternative To generate their lists automatically, ignoring the caveats and insights of every provider. They rank first on Google though.
I'll do my best to be as transparent and unbiased as possible.
Supermetrics overview
As for the beginning of 2020, Supermetrics reported annual recurring revenue of €20M and growing fast.
Supermetrics connects marketing data to the destinations users already have their data: a reporting tool, a spreadsheet, a data lake, or a data warehouse. Supermetrics doesn't offer its own reporting tool.
Supermetrics was founded in 2013, but the founder and CEO Mikael got the idea for the platform four years earlier, after he'd won a Google Analytics API contest and was rewarded with a Google t-shirt.
In March 2021 Supermetrics introduced a new pricing model, moving from tiered bundles to a modular setup. Their documentation doesn't clearly state that they raised their pricing. A lot. That's why there are more searches for looking for a replacement.
Supermetrics offers different products to serve different markets, including:
Supermetrics for Google Data Studio
Supermetrics for Google Sheets and Excel
Supermetrics for Google Big Query and Snowflake (aka data warehouses)
This comparison list will break down competitors and alternatives by these three products.
Finally, Supermetrics offers a 20% discount for annual plans and 10% discounts for quarterly plans.
Supermetrics for Google Data Studio alternatives
Supermetrics for Google Data Studio offers more than 70 data sources for Google Data Studio that can be set up in a few clicks, including e-commerce, social media, SEO, advertising, web, product, and mobile analytics.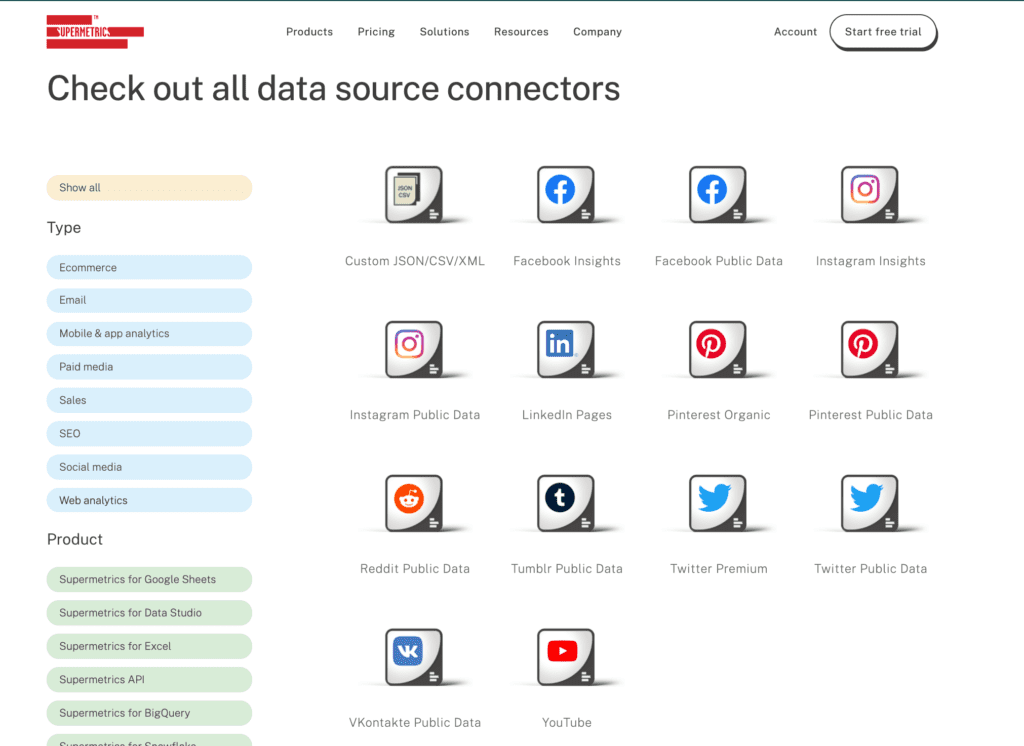 According to their pricing page, Supermetrics for Google Data Studio prices starts at $69/mo if paid annually.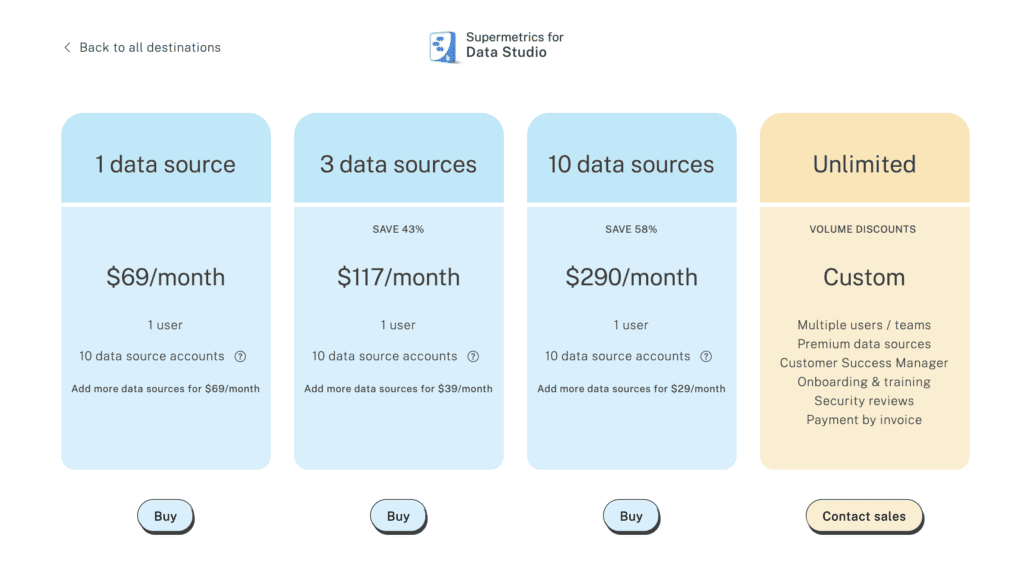 If paid monthly, the lowest plan would be $87/mo, which lets you connect up to 10 accounts from a specific data source (e.g. 10 Facebook Ads accounts). If you need more accounts with only one data source or need more users, you need to request a custom plan.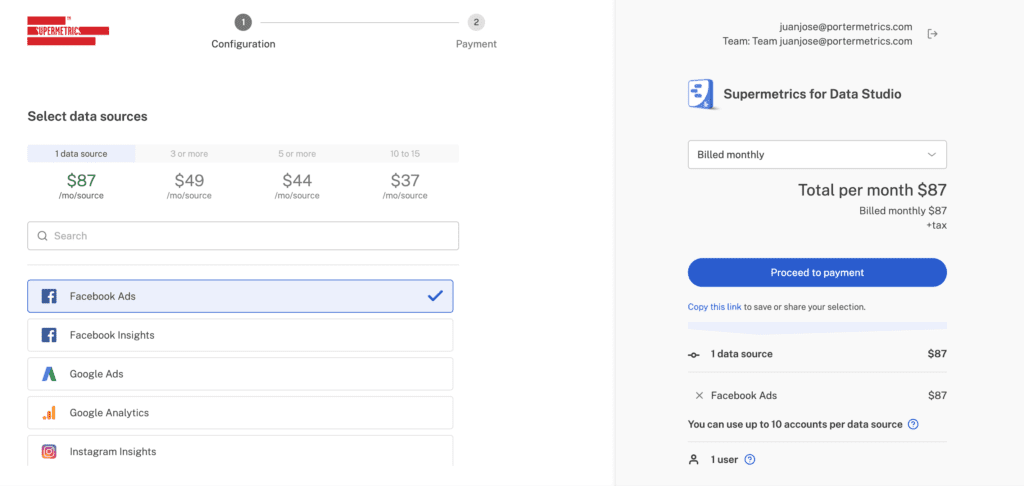 Porter
We're the Zapier for data reporting.
As such, we're better for people who like to analyze data but don't code.
We let you connect your apps to reporting tools like Google Data Studio and Google Sheets.
We're different from Supermetrics as we focus on being no-code; while they let you send your data to data warehouses like BigQuery to extend functionalities, we help you solve your use cases with a drag-and-drop interface so you don't need to think of data warehousing at all.
What others call "data pipelines" we call hacks that take seconds to set up.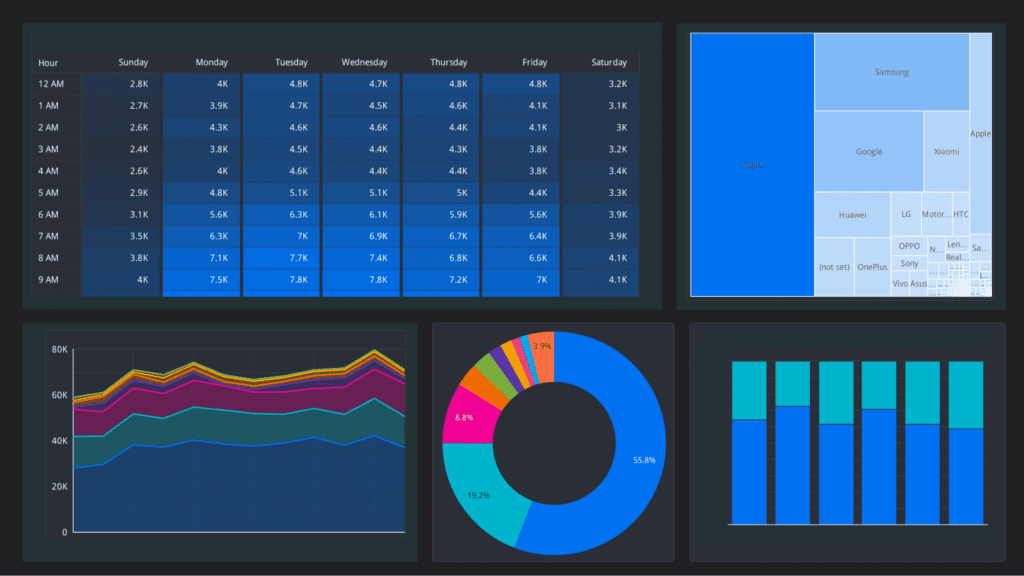 Porter vs Supermetrics
Amount of connections: Porter currently connects to over 10 apps, including Facebook Ads (Includes Instagram Ads), Facebook Insights, Instagram Insights, LinkedIn Ads, Linkedin pages, Google My Business, TikTok Ads, Facebook Public insights, and Shopify. Supermetrics offers +70 connections, including CRM, social media, advertising, payments, and more.
Quality of connections: Supermetrics has a great quality of connections, way better than most of their competitors. I think we share the idea of building fewer but better connections, instead of launching hundreds. We made sure to build our connections to match them and making them better in things they don't currently do. For instance, visualizing Instagram stories. Yet, I recognize they have some great features that we currently don't such as automatic currency conversion for their Facebook Ads connector.
Customer support: I'm sure they deeply care about customer support, but they don't offer live chat and fast support for most of their customers, maybe because serving +20k active customers is more challenging. That's reflected in some of their negative reviews. They have a forum and lots of documentation; as we want a more personalized approach, we proactively offer video calls, live chat, and free report setups for our users. We also offer a Chrome extension that lets you install our support chat directly on Data Studio. Finally, we're located in Colombia; we offer support in both Spanish and English.
Templates Gallery: I prefer ours, but make your own judgment. So here are Supermetrics templates and Porter templates.
Porter pricing
Porter is not only more affordable but has a much simple pricing structure. By far. Consider that Porter pricing depends on the number of connections you need. Supermetrics for Data Studio charges by the number of data sources, users, and the type of app you connect.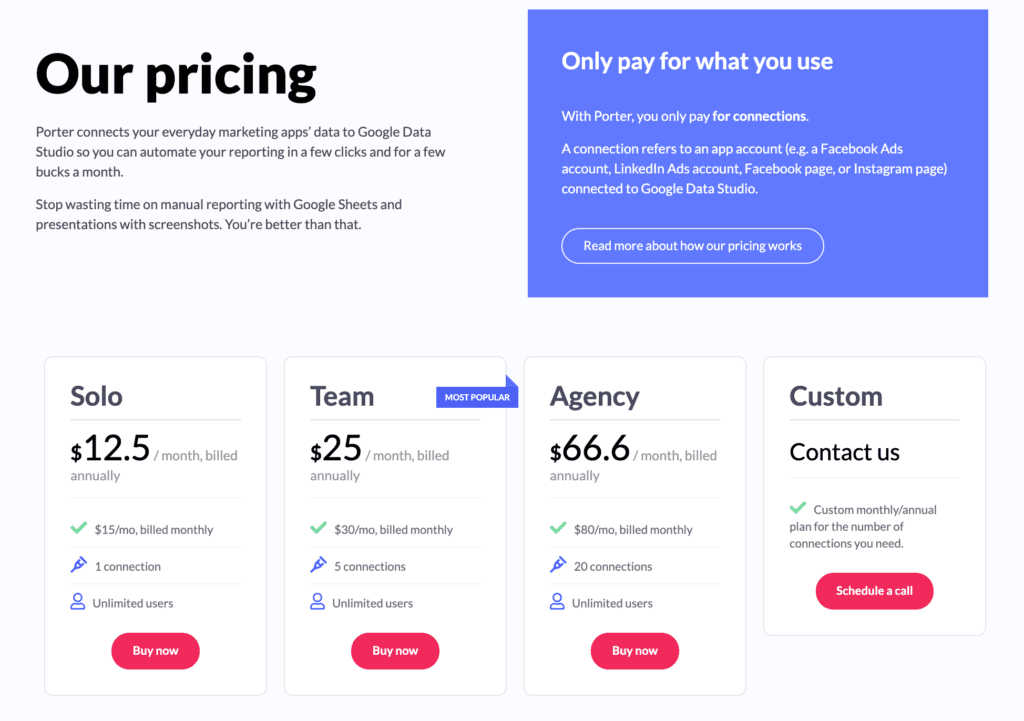 Let's compare the equivalent pricing of Porter Metrics vs Supermetrics pricing if paid monthly.
| | | | |
| --- | --- | --- | --- |
| Plan | Porter | Supermetrics | Description |
| 1 data source – 10 accounts | 60 | 87 | On average, you pay $6/mo per account connected with Porter VS $8,7/mo of Supermetrics on this plan. |
| 2 data sources – 10 accounts per data source | 80 | 174 | For an additional data source, you would need. to pay $87 twice. Porter has a 20 accounts plan for $80/mo (paying $4/mo on average per account. |
| 10 data sources – 10 accounts per data source | 220 | 290 | When you reach up to 100 accounts, you're paying around $2,9/mo with Supermetrics and $2,2 with Porter. |
Supermetrics for Data Studio pricing comparison
You should consider that Porter and Supermetrics pricing have different structures. Supermetrics charges more by the number of data sources you connect; for instance, Facebook Ads, Shopify, Google Analytics, etc. Per data source, they will let you connect up to 10 accounts. For more, you need a custom plan.
Independently if you connect one or ten Shopify stores, for instance, you'd pay the same for the Shopify data source.
Porter, on the other hand, charges by connections; independently of the data source (or app) you're choosing, you're charged based on the number of accounts. As such, with Porter, you pay exactly for the accounts you use. Unlike Supermetrics, you would pay a different price if you connect one VS ten Shopify stores.
Windsor.ai
Windsor.ai connects marketing data with their platform to measure ROI for different channels, campaigns, keywords, and creative. They promise an increase in marketing ROI of 15% to 44% to its users.
The standout feature of Windsor.ai is their ML Bayesian algorithm designed to give insights and recommendations for improving marketing efforts. Other features include a keyword optimization tool, TV ads performance measurement, and Google Ads optimization.
alt text: windsor.ai google data studio
Windsor.ai vs Supermetrics
Windsor.ai is one of those Supermetrics alternatives great for companies that have a complex user journey consisting of many different touchpoints across various systems. Since it also offers an insight into offline and TV spending, companies with more traditional marketing systems might be more drawn to it.
Windsor.ai's user interface is a bit bland and not interesting to non-technical users and the user experience is not so friendly.
When it comes to Windsor.ai's pricing, it is available in five different plans starting from the free plan which is limited to one report and two data sources. The other plans offer from three to ten different data source connectors, depending on the plan the users choose.
Reporting Ninja
Reporting Ninja is a reporting tool for Google Ads, Google Analytics, and PPC campaigns. Their primary users are online marketers and digital agencies that want to automate their reporting. They offer an own reporting software and connections to Data Studio.
alt text: reporting ninja Instagram report
Reporting Ninja vs Supermetrics
The main differentiation of Reporting Ninja and Supermetrics—besides the cheapest-ever pricing—is white-labeling and the client portal Reporting Ninja offers on its reporting software. Seems like Google Data Studio connectors are just a feature of their core product.
They also offer around 16 connections (as of August 2021).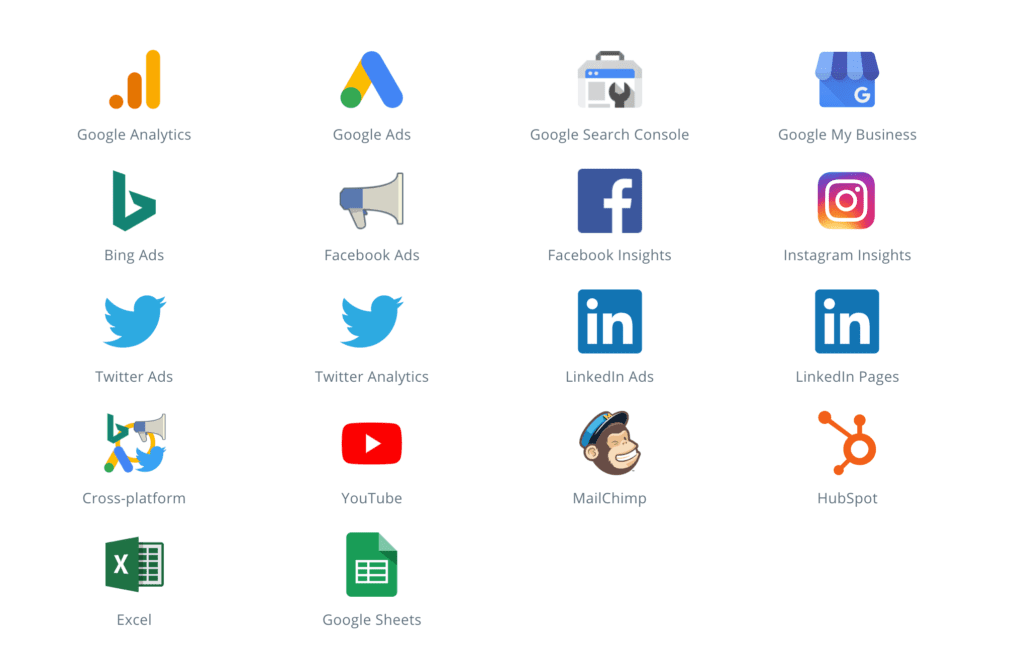 I can't tell much about the quality of the connections as the signup process on Data Studio requires to paste of an API Key, and I'm lazy.
Reporting Ninja pricing
As far as I can tell, Reporting Ninja is the cheapest Google Data Studio connector, maybe along with Callypsus, which makes me wonder about their capacity for customer service, content, and innovation.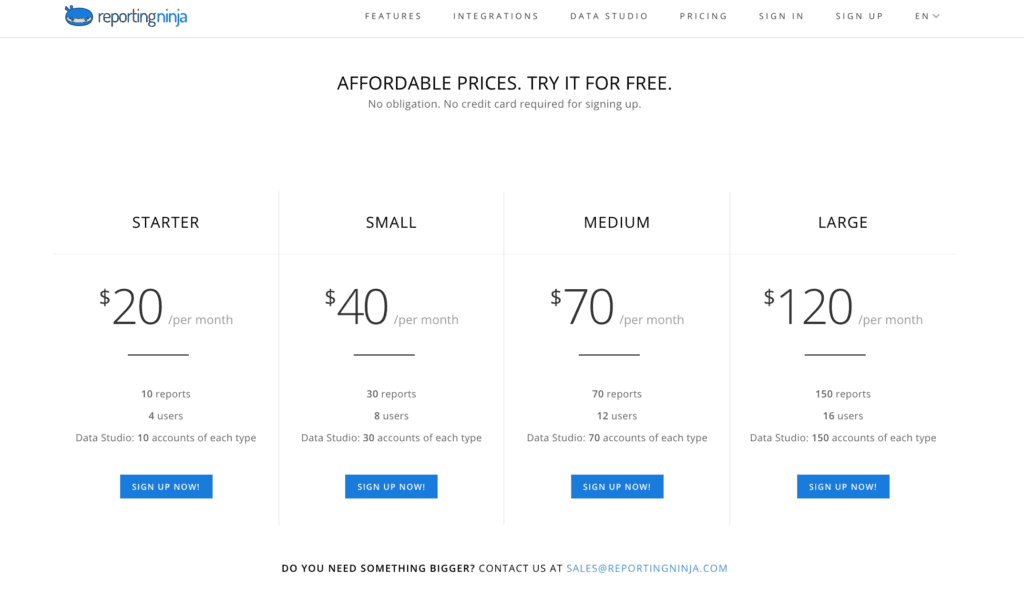 Power My Analytics
Power My Analytics is a great product that I have tested myself. When we build Google Data Studio connectors, we take as a reference both Supermetrics and Power My Analytics.
Sometimes Power My Analytics connectors outperform Supermetrics. I've seen it with Instagram Insights when reporting stories. But their Twitter connector is not as good as Supermetrics (both are bad, actually. Twitter API is not cool).
alt text: power my analytics dashboard
Power My Analytics offers Google Sheets, Microsoft Excel, Google Analytics, and Google Data Studio as destinations for more than 35 data sources.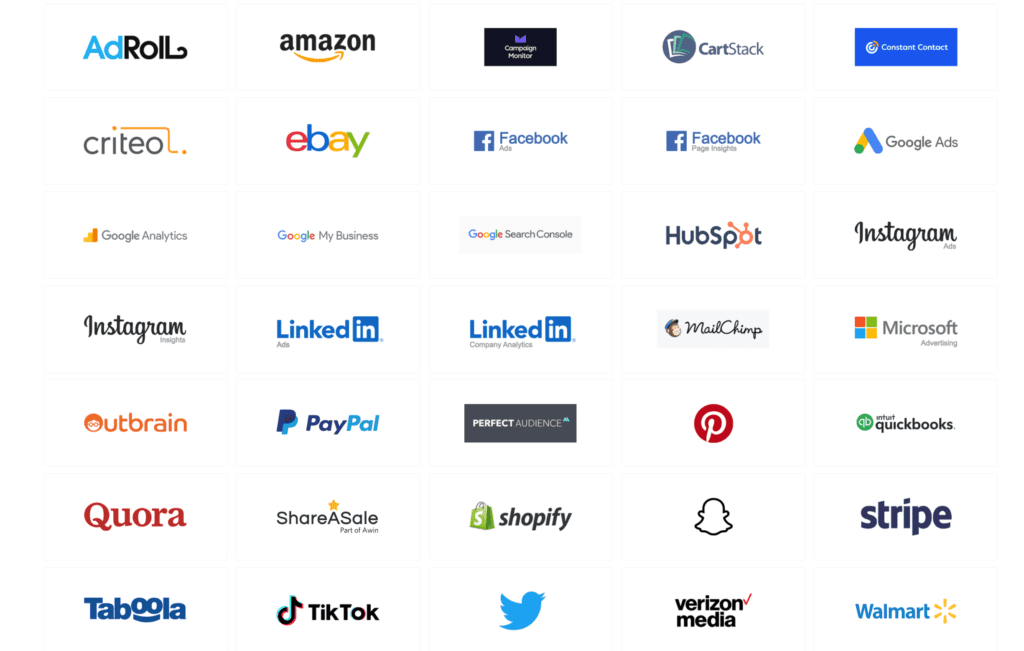 Power My Analytics vs Supermetrics
The main difference between Power My Analytics and Supermtrics is that it offers an additional layer of stability by providing data warehousing by default. In terms of data sources, besides a few exceptions, Supermetrics offers everything PMA does.
Power My Analytics is a great alternative, I admit. They have a data warehousing feature that stores data so users can have their reports even. if the apps' APIs have an outage.
In our experience building connections to Data Studio, apps' APIs don't have outages very often but they do updates that mess the data, making all Data Studio connectors, regardless of the provider, break.
I think that Power My Analytics measures to ensure stability is a smart and needed move, especially with Data Studio, an awesome free reporting tool that is not as stable as I would like it.
I also acknowledge the quality of their connectors; when we compare them against Supermetrics, they're pretty similar; both have as many fields as the APIs let bring and they're remarkably stable.
If you test other Supermetrics alternatives, you'll see that most providers lack many metrics, they're slow and unstable.
My summary for Power My Analytics, at least for Data Studio, is that they're Supermetrics but cheaper.
Power My Analytics pricing
Power My Analytics is cheaper than Supermetrics, but their pricing structure is fairly similar.
While all Supermetric plans offer by default to connect 10 accounts per data source, depending on the plan you choose with Power My Analytics, you can go from 3 accounts to 100.
In addition to that, you can add Google Sheets as a destination for an additional $50/mo, regardless of the total connections you have. Also, they include Google my Business locations in all their plans, so it doesn't count as an additional data source in your plan.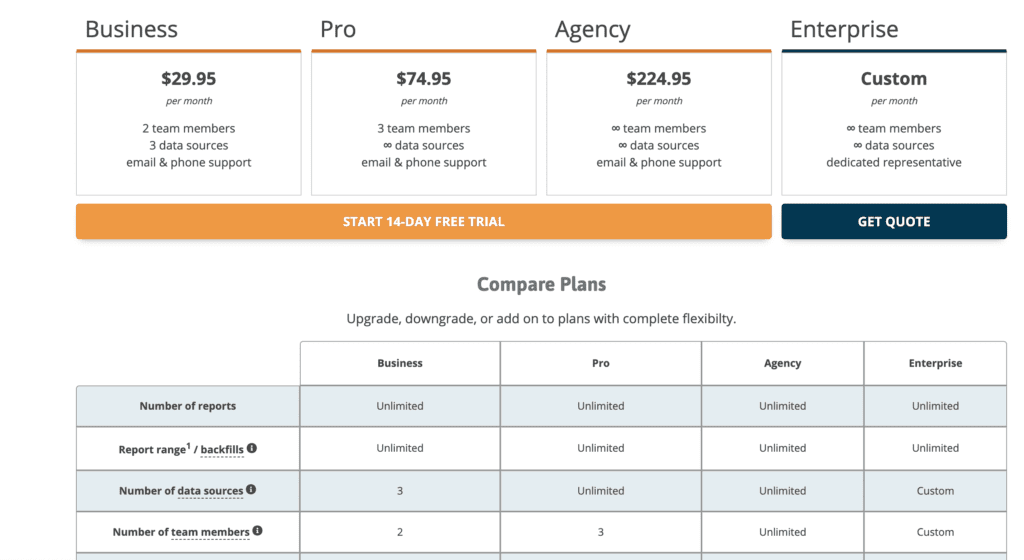 Supermetrics for Google Sheets alternatives
Apipheny
Apipheny is an API connector for Google Sheets. It has granular control and customizability and allows users to use any JSON or CSV API in Sheets. Instead of relying on specific connectors, Apipheny allows users to connect to any data source's API.
alt text: apipheny api connector
Apipheny vs Supermetrics
Because Apipheny connects to APIs instead of connectors, the number of data sources it can use is practically infinite. However, it's limited to just Google Sheets, meaning that users of other platforms are out of luck.
Apipheny is available in one plan, which costs $8 per month or $59 per year. There is a one-month free trial and a $119 lifetime deal on AppSumo.

Dataslayer
Dataslayer is the only Supermetrics alternative on this list that markets itself as a Supermetrics alternative. The platform allows the users to import data from Google Ads, Facebook, and other sources into Google Sheets. There is also the ability to create custom reports and schedule daily data refreshers for the reports.
alt text: dataslayer reporting
Dataslayer vs Supermetrics
The people behind Dataslayer have managed to create the same features that Supermetrics have just in Google Sheets, with plans to create a Google Data Studio integration in the future. Dataslayer is intuitive to use especially to Supermetrics users as the platforms are somewhat similar.
Dataslayer is available in four different plans, one free, and the cost of the three other ranges from $59 to $299 per month when paid annually. They claim to be cheaper up to 85% than Supermetrics.
Supermetrics for Big Query and Snowflake alternatives
Stitch
Stitch is a flexible and secure ETL (Extract, Transform and Load) solution. The platform is HIPPA and GDPR compliant and works on open-source code, making it possible to be integrated with lots of tools. With Stitch, the users can pull data from different sources into a data warehouse or a reporting tool, while also enjoying more advanced control over their data.
Stitch can be a great solution for companies in highly regulated industries, such as healthcare.
alt text: stitch dashboard
Stitch vs Supermetrics
Stitch's pricing is based on how many data rows are at the user's disposal and which sources they use. The cheapest plan starts at $100 per month when paid annually and it includes five million rows, five users, and up to ten sources.
Depending on the preferred data sources, Stitch can be a more secure and agile alternative to Supermetrics. The biggest downside to Stitch is the data structure that comes out if it can be difficult to understand, especially for those looking for a simple solution.
Improvado
Improvado's goal is to automate data management by centralizing marketing data in one place from 200+ different connectors. In addition to data integration, Improvado offers a data transformation tool and a marketing common data model which aims to simplify marketing analytics.
alt text: improvado performance marketing dashboard
Improvado extracts, stores, and visualizes data. Similar to Reporting Ninja, this Supermetrics alternative offers a white label dashboard — a great feature for agencies. The data transformation can help users quickly identify errors and speed up the cleaning data process. The marketing common data model can standardize all marketing data, creating unified metrics for further use in the platform.
Improvado vs Supermetrics
Improvado is an ETL solution similar to Stitch. It offers a much more comprehensive experience than Supermetrics. However, the customization options are limited and there are occasional issues with their internal data.
Their pricing scheme isn't publicly available, as they offer custom pricing only. If you want to learn more about their pricing and get a quote, you'll have to contact the Improvado sales team directly.
Funnel
Funnel is a marketing data platform that automatically maps out, cleans, and sends out data to different destinations. Their ambitious goal is to connect with every marketing platform and right now they offer integrations with 500+ marketing platforms.
Similar to Improvado, Funnel stores the collected data on their server, and the number of platforms they offer is definitely what makes them stand out in this market.
Funnel vs Supermetrics
The biggest difference between the two platforms is that Funnel offers more data sources. Funnel is simple to use but not all sources have metrics or dimensions, and sometimes they break which can be frustrating. When using Funnel on a larger scale, it can be somewhat difficult to operate as all the dashboards are in one place, there is no organization.
alt text: funnel dashboard
Funnel offers three different plans and it starts from $399 per month when billed annually. The cheapest plan is limited to a library of 200+ connectors, while the mid-tier and the enterprise plan can use all 500+ connectors.
Comparison table
Here's a table comparing all the Supermetrics alternatives listed in the article. We selected three different categories that we believe will help you make the best choice.
| | | | |
| --- | --- | --- | --- |
| Software | Connectors/Integrations | Pricing | Why should you consider it? |
| Porter | Facebook Ads, Facebook pages, Instagram pages, LinkedIn ads | Starting at $12.5 per month when billed annually | A simple and easy-to-use solution to automate marketing reporting |
| Windsor.ai | 50+ connectors | Starting at $19 per month when billed annually | The ML Bayesian algorithm designed to give insights and recommendations for improving marketing efforts |
| Stitch | 130+ connectors | Starting at $100 per month when billed annually | A flexible, HIPPA and GDPR compliant solution |
| Reporting Ninja | Google Ads, Google Analytics, PPC campaigns | Starting at $20/month | White label automated marketing reports |
| Improvado | 200+ connectors | No public pricing available; contact Improvado for a custom quote | Data integration, data transformation, and a marketing common data model |
| Funnel | 500+ connectors | Starting at $300 per month when billed annually | More connectors than any other Supermetrics alternative |
| Apipheny | / | $8 per month or $59 per year | Can connect to any data source's API |
| Whatagraph | 30+ integrations | Starting at $199 per month when billed annually | Eye-catching reports that can be updated every 20 minutes |
| Dataslayer | 20 integrations | Starting at $59 per month when billed annually | Aiming to be as similar to Supermetrics as possible |
| Power My Analytics | 30+ connectors | Starting at $24.96 per month when billed annually | Oriented towards smaller businesses and individuals |
Not Supermetrics alternatives
To understand which providers are actual Supermetrics alternatives–and which aren't—let's understand their product strategy in the marketing analytics and reporting software market.
Strategy is how you uniquely play to win. These are the variables that the providers in the marketing analytics and reporting software providers can play to position in the market:
Connections: they offer direct connections to the apps the data comes from (e.g. Facebook, Hubspot, Shopify, etc.). some providers don't offer the connections, but require companies with developers to send the data first to a database or datawarehouse like MySQL, Snowflake, Google BigQuery, and RedShift.
Reporting tool:

th

ey offer a built-in data visualization or BI tool or they send the data to existing tools.
Market: they target enterprise customers, charging thousands of dollars a month or year vs self-service with monthly pricing around $100 or less.
Vertical: they specialize in specific use cases and verticals data. For instance, Adverity focuses on marketing and advertising data, while Baremetrics specifically solves for SaaS companies by connecting payment gateway data from Stripe.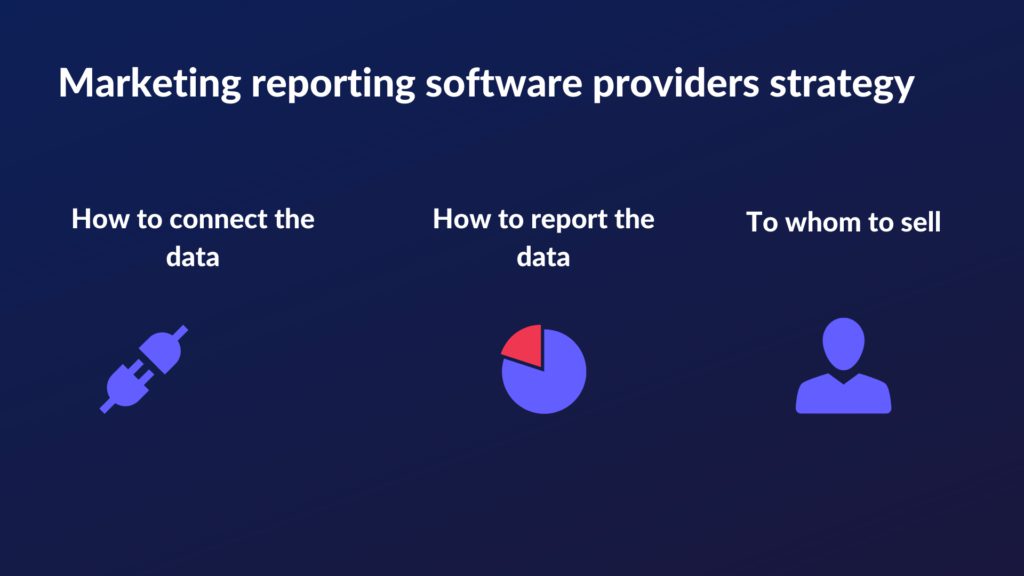 How does Supermetrics play?
How they connect the data: Supermetrics offers direct connections to the apps for their Google Sheets, Excel, and Google Data Studio destinations with no prior setup required, but they also offer to send the data to data warehouses like Snowflake and BigQuery.
How they report the data: Supermetrics connects marketing data to the destinations users already have their data: a reporting tool, a spreadsheet, a data lake, or a data warehouse. Supermetrics doesn't offer its own reporting tool.
To whom they sell: Supermetrics is moving upmarket by offering more data warehouse destinations, but they also target SMBs by connecting data to reporting tools and spreadsheets like Google Sheets and Data Studio.
Vertical: while Supermetrics states that they mainly focus on marketing data, I think they cover customer data by including CRM and payment gateways like Stripe in their connections.
With these criteria in mind, here's a list of not actual Supermetrics alternatives that other sites—including reviews sites like G2 Crowd and Capterra—list as alternatives.
Databox
Databox is not a Supermetrics alternative because they offer their own reporting tool; unlike Supermetrics, they don't send the data somewhere else.
I must admit I love their concept: as they can fully control the UI, they make it super easy to connect the data and build dashboards. They also offer dozens of connections, including Zapier, Pipedrive, Intercom, Asana, and Integromat, which Supermetrics doesn't have.
I also like their blog. I recommend you to follow their marketing director, John Bonini, creator of Some Good Content, a great Patreon for content marketers.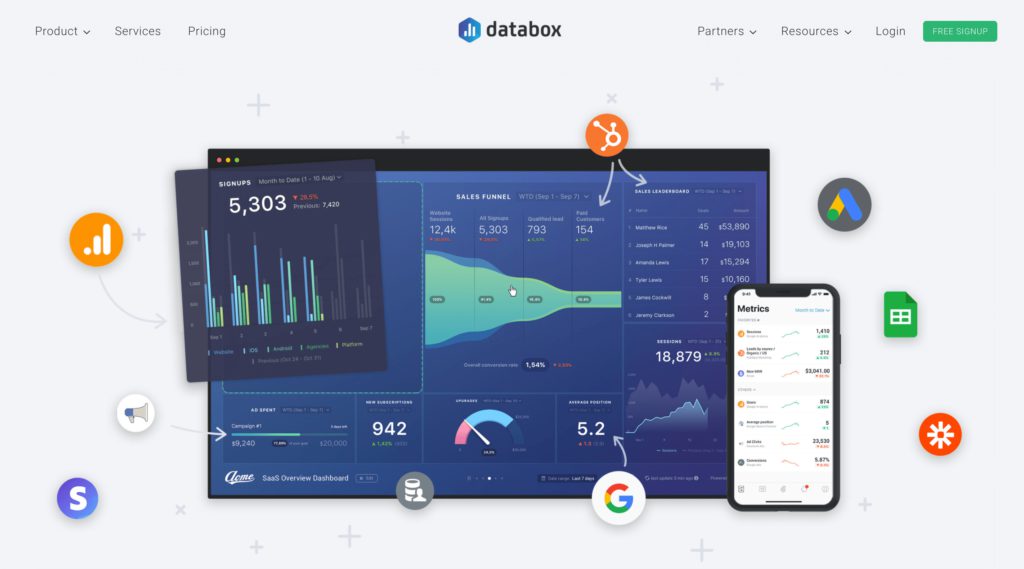 Whatagraph
Whatagraph is a performance monitoring and reporting tool used for visualizing data and building reports. Similar to some other platforms on this list, it integrates with various marketing channels from one interface.
Actually, their CEO, Justas, reached out to us. Nice guy with great vision. They seem to focus on measuring users0 behavior to optimize their UI to make it easier every time for their user to build reports.
DashThis
Klipfolio
Adverity
Looker
Semrush
Swydo
Report Garden
Agency Analytics
Domo
Other not actual Supermetrics alternatives are:
Final thoughts
There are a lot of different alternatives to Supermetics on the market. Even though some of them seem similar at first, each serves a different purpose and can be great in use.
Some of the tools on this list are excellent for enterprise companies with lots of different data sources and visualization needs, while others are great for smaller agencies that are looking for an easy-to-use tool.
Whatever your specific case is, we hope that this article will be able to help you find the one Supermetrics alternative perfect for your needs.
If you're looking for a simple and efficient way to automate your marketing reporting, try Porter. We offer a 14-days free trial — no credit card needed.