This article will show you the easiest way to pull and integrate data from different social media data sources such as Facebook, Instagram, LinkedIn, and TikTok and display the broadest picture in a Google Data Studio dashboard.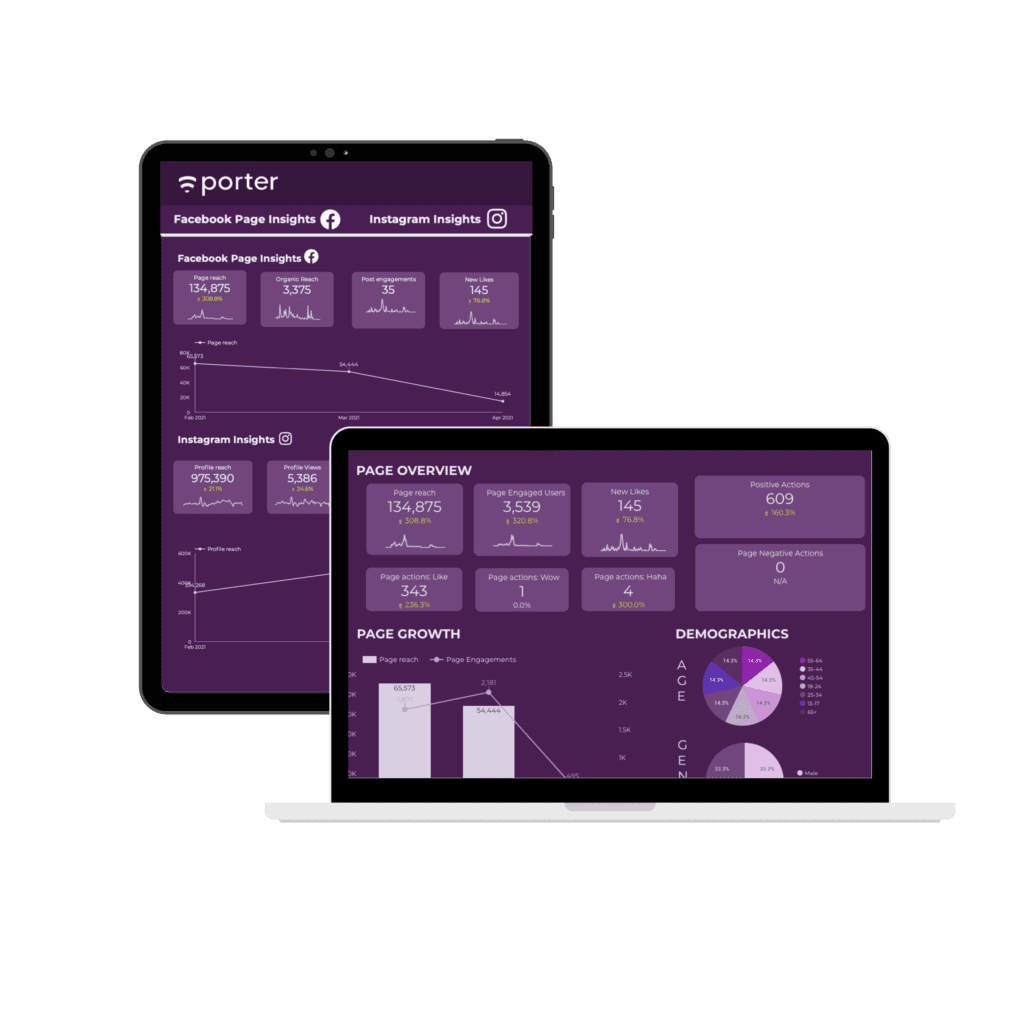 We have gathered all the information you need to pull data from different social media sources and put it all together in a Google Data Studio dashboard. 
Since the purpose of this guide for automating your social media report on Data Studio is to bring you more than you are expecting for you to create the best report for your client and businesses. We are going to go through different topics that will help you create a great deliverable.
Porter is here to accompany you in creating a great social media report while you understand how Google Data Studio works to display data from Facebook, Instagram, or TikTok. Explore what Google Data Studio does, how to use it, and how to show what really matters according to your asocial media strategy.
Learn how to create and share complete and actionable social media reports with the power of Google Data Studio.
But why Google Data Studio? 
Simple, because it is free and easy to use! 
Data Studio is a free tool from Google that allows you to create dashboards and visualize different data sources in one place. That is great when we need to track different stages of your Digital Marketing strategy and how the actions impact your business. 
Yes, it's free! That means easy access to data visualization and reporting. You can even share a URL (link) for your clients and peers to read the same data in real-time. 
We will explore how, a little bit ahead on this article. 
Data Studio dashboards do not require extraordinary skills to be done, not even knowing about how to code. Please don't even think about programming languages such as Python or SQL, which is complex. Data Studio is simple and easy to use! 
How do you know Data Studio is the best fit for your social media reporting? 
If you are on a budget,

Data Studio is powerful and free

If you don't want to waste time downloading data from your social media channels,

Data Studio reporting gets done in a few clicks

. 

If you interact with your community and want to

make decisions

about what type of content is the most engaging

without downloading tedious CSV. files 

If you are a

life-hacker in every little thing, you do.

You're practical, just like we are! 

If you want to

simplify the information gathering process

to make better decisions 

If you work as a Digital Marketing consultant and you want to

share insights, not only results

If you are an analyst and want to g

et the reports done faster

 

If you are part of an agency that has different clients and want to move forward with your reports

If you want to

display information without build graphs on a PowerPoint

and spend time gathering and putting together loads of information 

If you want to

stop sharing reports with copied and pasted information from your elemental social media management tools

Basically, Google Data Studio is for everyone who needs to get data in fashion time. 
Different agencies worldwide started to use Google Data Studio, and executives or decision-makers say that this implementation has "saved their teams, literally thousands of hours". For example, this is the case of Reprise Agency shared by the Google Marketing Platform. 
Definitely, the best thing about Google Data Studio is that you can connect and pull data from different sources for free (Google Analytics, Google Ads, Google Search Console, Google Sheets, SEO performance, Ads spend, mentions, etc.). 
What types of Data Studio Connectors can I use? 
The Data Studio connectors are categorized and divided by the platform into two groups, the Google Free Connectors and the Partner Connectors. 
Free Connectors are created by Google

and its objective is to visualize and pull data from Google tools such as Google Analytics, Google Campaign Manager, Big Query, Google Ads, YouTube Analytics, and 14 more data sources.




Partner Connectors are more than 400, and these are created to allow data pulling from

social media platforms such as Facebook, Instagram, TikTok, Twitter, and LinkedIn. 
Among the Partner ones, some other connections such as Shopify, E-bay, Mailchimp to measure the impact of your e-commerce strategy are available. 
Data Studio also allows analysts to create complex visualization with no-code skills required. 
And that is what makes Data Studio the easiest platform to use and get the widest visualization of the full picture of your marketing strategy.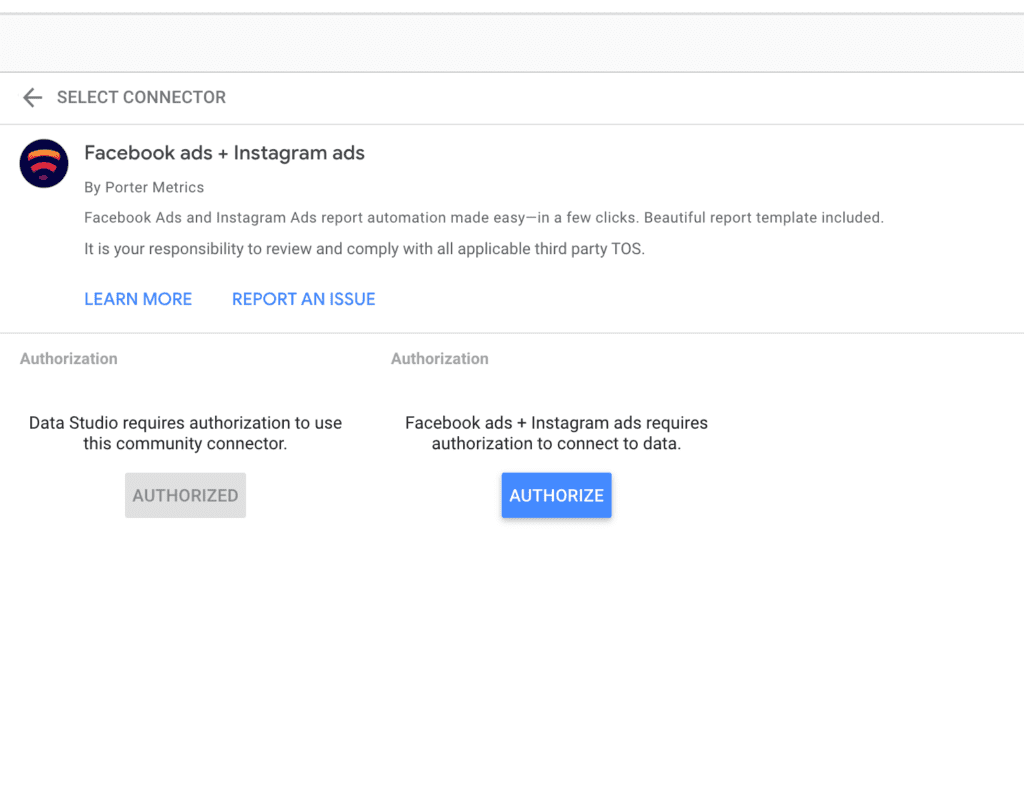 How do the social media connectors for Google Data Studio work? 
Data Studio Connectors only can be deployed by experts.  Usually, there is a team of software developers who make the complex data extraction and tedious data normalization processes look easy for those who have never used a line of code to create a report. 
The connectors are meant to simplify the data pulling process and make analysts' and marketers' life easier. 
SaaS companies offer these types of connections in many shapes and sizes. Google Data Studio groups the connector's offer and shares a gallery with templates useful when you don't know how to start. 
Templates are helpful, and we are going to share some inspiring ones to lit up the reporting process. Porter offers a free bundle of templates, and you can receive those via email, by clicking on the resources tab at portermetrics.com
One of the most frequent questions is if there is a way to pull data from social media to integrate it with other sources, all in just one dashboard.
This question is:
Can I visualize social media analytics in Data Studio? 
And the answer is: Yes!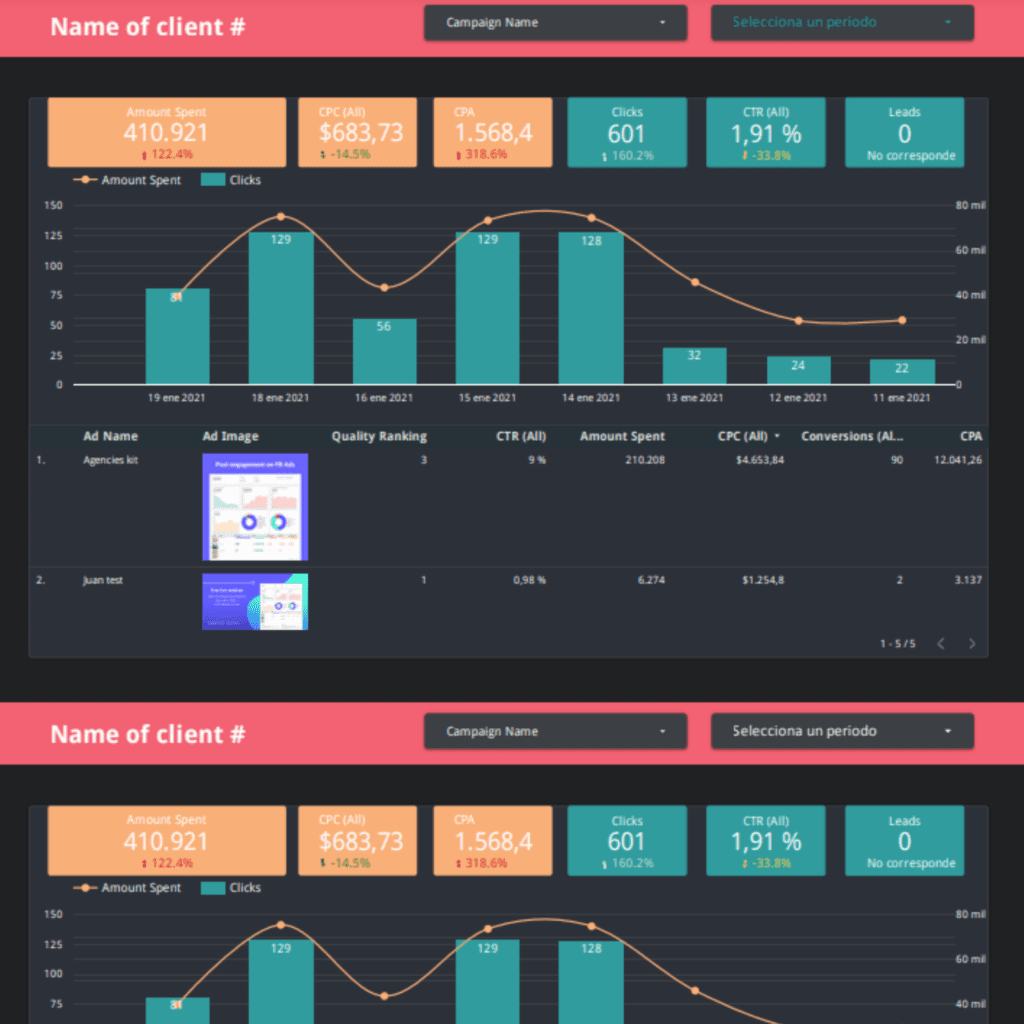 Everything is possible when talking about social media Data connectors. You only have to pick and choose the information you need to make decisions. 
First, we will talk about the connectors that will allow analysts to simplify their reporting process. 
Then we are going to share a complete guide to create social media reports according to your business objectives and how the content's displaying on each social media works. 
Data Studio Connectors are becoming more popular as companies need to pull data from different sources. Technology companies are doing the hard part and developing solutions for marketers, content creators, and strategists. 
Finally, we will dive deep into the technical side to start reporting your social media data in a Data Studio dashboard, just like a pro! 
Let's kick it off! 
How to bring social media data to Google Data Studio? 
By having access to all the data you need at once, with only a few clicks. This will save you a lot of time and energy. And that is possible thanks to the power of Data Studio. 
You can find a wide offer of connectors to pull data from Facebook, Instagram, TikTok, or LinkedIn in the market. 
You can find complete social media connectors, like Porter Metrics, with more than 200 fields to be pulled and visualized in Google Data Studio. 
Or many others, such as Supermetrics or Power BI, offer different destinations connectors created for larger enterprises, which may increase the cost marketers have to pay for data pulling. 
Evaluate and compare pricing and planes to discover what is the best fit for your business. We want to share this information for you to make the best decision: 
You might be wondering if it is possible to pull data from your Facebook Page, Instagram Account and track the main KPIs that are helping you achieve your business objectives. 
Before you start vetting connectors in Google Data Studio Gallery, you need to make sure that the metrics and calculations are available. We recommend thinking first about your strategy and the business goals you want to achieve. 
When creating a social media report from scratch, first,  we recommend you explore the platform.  
Porter has an entire section with the Data Studio starter pack, check this out now in our FREE COURSE at the resources tab in portermetrics.com
Click on Blank Report.


 


Google Data Studio asks you where to get the data from.

Try pulling fields and dimensions, play around with some Google Data Studio features and see what you can do and what don't.
How to connect social media data to Google Data Studio Dashboards? 
Let's dig deep with the main topic. Create a social media report and visualize its data on creative and dynamic Google Data Studio dashboards. 
This article is pure gold. Therefore, keep this information to the hand. 
Go to the upper right corner of your Google Chrome navigator and add this article as a bookmark by clicking on the star on the right edge of the address bar. 
Although the information varies depending on the social media, you're posting responding to your business objective. The pulling process is simple, it is basically the same no matter what connector you use. 
As an example, we are going to explain how Porter Metrics connector works. Then, we are going to show you why you don't need to worry about data gathering. We already did the most challenging part in the data visualization process. 
Porter automates the data pulling process, normalizes data, and unifies formats for you to visualize your social media data in Google Data studio. 
If you're a Social Media Manager, Data Analyst, Product Manager, SEO, Paid Media Trafficker, or Reporting Analyst, don't waste your time when you could set up neat reports that automatically update themselves like magic. 
Now you might be wondering how to start connecting with our social media accounts to start pulling data.
Click on the connectors section in Portermetrics.com 




Select the connector that you need for the Social Media

report

Click on the start your 14-day trial button


Select a Google account if needed 

Authorize Google Data Studio to connect your information

Authorize the Porter Metrics connector to pull your data

Log in to your account

And start pulling your data

Is it too much information? 
No problem, 
First, go to the templates section in portermetrics.com
And select the templates that go according to what you want to visualize in Google Data Studio, between the following: 
Instagram and Facebook Insights connector

Facebook Ads and Instagram Ads connector

Facebook Public Data,

TikTok Ads connector

LinkedIn Ads connector
If you are in Google Data Studio, it's even easier
Look for Porter Metrics connectors by typing "Porter" on the search bar.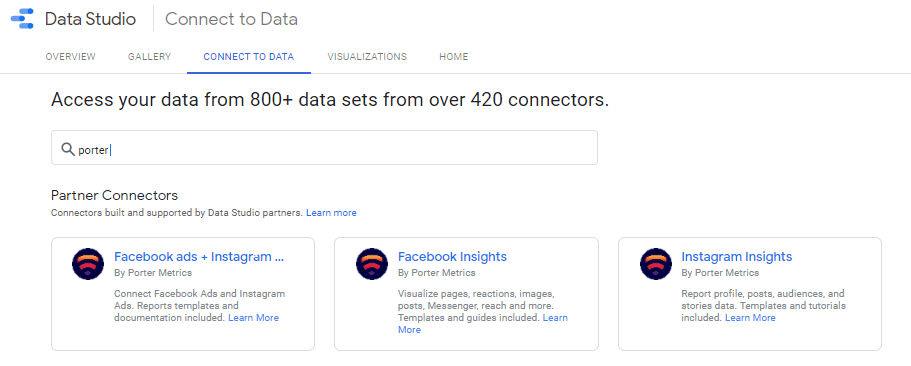 Now that everything is connected, let start pulling data and creating complete social media reports.
What should I consider before purchasing a plan for social media Data? 
If you are not familiar with the social media metrics, that is not a big deal! We've got you covered with more than 15 templates to visualize your data in Google Data Studio. 
But first, we want to guide you through the main social media platforms while telling you the most important metrics to include in an impactful report. 
Stay tuned and discover how to create the best social media reports on Google Data Studio. 
Although you don't have a clear vision about what should be displayed in a dashboard, the advice is always to keep your business objective in mind.  
A business objective? What is it?
Is it to reach a large audience to make people more interested in purchasing your product? 

Is it to sell your overstock product? 

Is it to get people's information to contact them in the future? 

Is it to find insights among a controlled audience to understand the best way to produce content to engage with them?
Whether your objective is to sell your product or reach many social media users, you have to measure your efforts. 
That is why every social media platform must have a communication role and act accordingly to achieve your main business objectives. 
Before you start connecting your social media channels, ask yourself or your social media management team for the complete list of channels on which your brand or business is active. 
This checklist will guide the way to automate your social media reports.
The last two may seem absurd, but they are not.

The fifth item listed is one of the most important considerations to keep in mind when pulling data. 
Sometimes the team members can just misplace their e-mail or social media passwords. And the report could break without any chance to recover the access to the connector. 
Connectors need an authentication process. The person in charge of the report uses the personal account to pull the data, which may be risky when a collaborator leaves the company or loses its personal account. 
And last but not least,  please keep in mind that passwords and access must be consigned in one place (a spreadsheet). 
Make sure to notify a coworker if some of those have changed or been replaced. 
A spreadsheet could be a good resource, they are usually protected from people outside the company. 
So if that happens, how can I make sure I'm going to be able to visualize my social media report on Google Data Studio? 
Easy peasy lemon squeezy!
Follow these steps and choose the column that goes according to your internal processes : 
You are a consultant (You ask for temporary access while your contract is active or you are working on a project)

You work for an agency that manages ads accounts and many people are responsible for the reporting – You work in a company  that wants to visualize social media data
1. You are a consultant, use an individual email with your name or brand. 
This mail can look like: paulamvelandia@gmail.com 
From the beginning, we recommend using a Gmail account. Data Studio is a Google product, it also runs better in Google Chrome.
1. Create or use a general e-email to access different accounts. 
This email can be a general account (not individual) with the domain of your agency or company. This email can look like this:
reporters@portermetrics.com
2. Open social media accounts if you have not created some yet. You have to be on each one and see how audiences interact across them all. 
2. Create social media profiles for corporate uses. These accounts can have a name. Use an original one like: Tom Porter
And ad a job description if you like: Pro Reporter and Supporter at Porter Metrics
Don't forget about the age +18
3. Create a file and save your passwords please don't forget them. 
Try to use Two Factor authentication to add extra security.
3. Create a file and save your passwords please don't forget them. It is better when few people in the organization access social media accounts frequently. It looks less suspicious. It's better you delegates one person in charge
4. Don't forget to ask your clients to remove the accesses and permissions once you get your work done!
4. If you delegate someone to use the connectors by their name, it's good because you can control who managed or changed something. 
Just keep in mind to have the master account that provides permissions needs to be one that team leads or managers can have access to set and authorize permissions when needed
5. Refresh your password frequently. 
5. Refresh your passwords, update the files where the accounts accesses are, and inform your peers. 
You might be wondering why I should consider that? 
It's because we have experience recommending users how to recover an account,  and if you can skip this tedious process, you'll see your social media reporting will be way easier. 
Before we jump into the social media reporting topics, we recommend you have this article to be reached by you or your team members anytime you feel you don't know how to start creating a report. 
 Or simply if you need to get some advice about how to deliver a piece of nourishing information to your clients or stakeholders.
Last but not least, please check the pricing section of each social media connector, the benefits, and what is included in your plan. 
Porter prepared The Ultimate List of the Best Free and Paid Data Studio Connectors for you to make the best decision. 
Consider customer service is relevant, not only when purchasing but after. Explore what current users say about the platform.  G2 is the largest community of references, ratings, and reviews. Take a look and compare.
How to make a social media report (video tutorial)
Whether you are, an experienced social media manager or want to become the best digital marketing analyst, you have to know how to create a social media report. Follow these hacks with @PaulaMVelandia, our re-porter who has worked for Digital Marketing agencies for more than 8 years.
This video contains the best-kept secrets around the social media reports for clients.
Create a complete social media report on Google Data studio
This article will accompany you on your social media reporting process to be able to visualize the metrics that matter according to your digital communication strategy. 
For this example, we will use the Facebook Insights Porter connector, but you can use whichever Porter connector you want. 
The anatomy of the best social media report 
When facing a blank report on data studio, the first thing you should do is get back to why you are in the market. 
What? 
Yes, what's the reason to exist of your business, brand, or company? What are you aiming for? You can't forget or isolate your communications strategy in social media from your business objective. 
The first thing you have to do is integrate a section in your visualization that allows you and your team members to understand where your report will respond according to the strategy. Basically, to show what you are going to get from it. 
We are going to go through the specific points to integrate into this very first part of your reports: 
1. Overview 
The overview is one of the most critical sections of your social media report. Here is where you will introduce why you create content and manage a Facebook, Instagram, or LinkedIn community. 
The overview of your social media depends on the strategy you have created to help your business achieve its goals. 
As is shown in the following caption of one of our templates available on the "resources" tab at portermetrics.com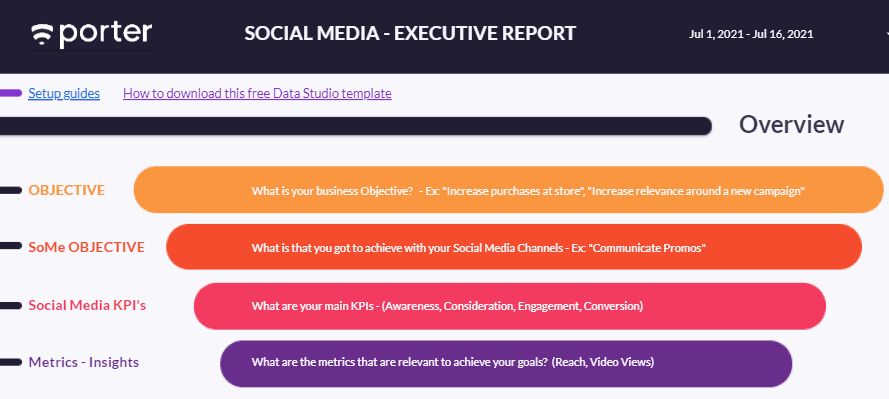 This Social Media executive report example shows you a structure of those items you may integrate into your report to show actionable results to your team. 
This stricture suggests visualizing in a qualitative as in a quantitative way the efforts you are tracking. 
Remember only to visualize what matters. 
2. Objectives
The objectives show you the light and guide you to focus only on what is valuable for your company. 
Some objectives could be: 
Increase the number of sales month over month to get the leadership of our market category. 

Gain relevance to becoming the number one SaaS of Business Intelligence and raise funds to develop more solutions for users. 
What's yours? 
3. Social Media Objectives
Sometimes each platform has to help to achieve the main organization's objective. This is something you have to consider when posting on social media. 
Facebook is different from Instagram, LinkedIn is a professional network, and TikTok is meant to bring a different experience to users. 
With that said, it is important to set a different objective for each social media platform. Or which is better, to discover what is the objective you want to achieve and select what platform works better for this purpose. 
Some of the Social Media objectives could be: 
Reach a larger audience with interests in cars, travel, and clothing 

Engage with users that share a common interest in your organization's message 
What's yours? 
4. Social Media KPIs
The Key Performance Indicators or KPIs are the DNA of your Social Media. 
The KPIs are trackable, achievable, and time-related. For that reason are also comparables. 
As you defined your social media strategy, you know the performance indicators you are going to track to determine your strategy's success. 
Some of the KPIs you can use are: 
Conversion Rates

Engagement Rates 

View-through rates 

Click-through rates
This category of KIPs is well known by marketers who need to have a readable report. Your team has to be familiar with those calculations and what they are telling us. 
As a quick example, the Click-Through rate is not only "the number of clicks users made" on a post, but it can be an indicator too due to its combination with the metric Rech that determines a percentage from those users who actually saw the post. 
Here you are interpreting how many users were interested in your content to give you a click. 
So it is simple. We have two metrics (Clicks) and (Reach), but without any context, the easiest way to read them is when you can calculate something that indicates the performance of your piece of content. 
Now you have a: Consideration KPI! 
But what about when those metrics do have a context?  It is the case of the metric: Reach as an indicator. 
The indicator could be reached users in a month or just the regular Page Reach when talking about Facebook.
As an example, the Page Reach for this page is 54M, but it was 44% lower compared to the previous month: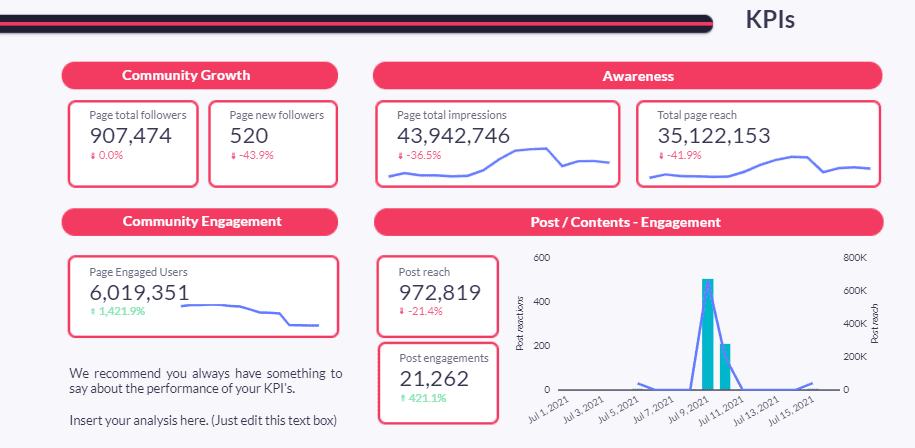 What can you say about this behavior? As an analyst is necessary you always interpret data and make your outcomes. 
Some of the most common KPIs analyst track are: 
Community Growth:




It's ubiquitous to focus on this number because it can be a good indicator of changes in social media algorithms. 

Reached audience:

This indicator is helpful when visualizing variation and differences considering time ranges. In addition, it is useful when you hypothesize around what type of content helps to achieve better your communication goals. 
5. Social Media Metrics
The metrics are just items that help the gathered information to make sense.
Metrics vary according to what you want to show and are complementary to your report. Those without context are just numbers. 
Some metrics from a Facebook Page can be pulled from the Page Insights section or the Post Insights section.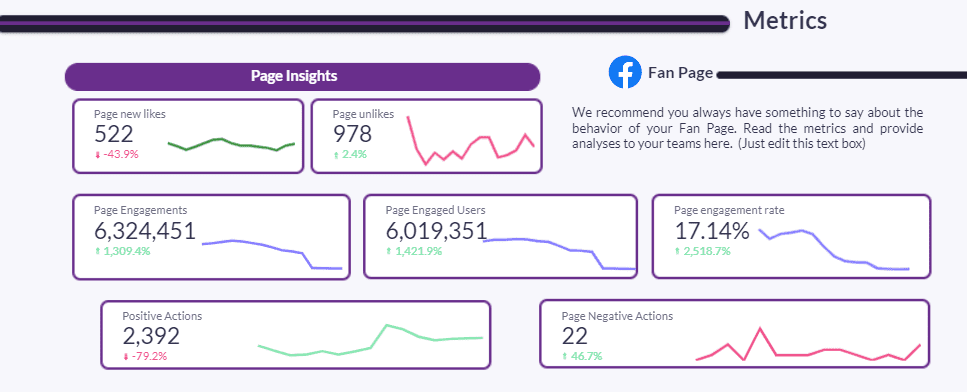 In this example, we displayed data related to the page because it is part of the next part of the story we want to tell with our report.
The very first part of your content analysis should provide numbers as a reference to guide the reading of the performance of each content.

You just can add the number of content pieces you've posted in a period of time and also display metrics such as: 
Post Engagements

Post Reactions

Post Comments

Count

Post Shares 
Now that we have a better understanding of the differences between KPIs and Metrics, it is time to read the performance of the posted content pieces. 
How to interpret the social media metrics? 
The social media report must integrate an analysis of the posts. 
Remember only to integrate the most relevant metrics or indicators to determine what are the overperforming pieces in a time range. 
A table is the best resource you can use to visualize the post data. 
In this example, we are analyzing the post using the Facebook Insights Porter connector that calculates some fields to group the total engagements. This metric show in parallel with the post reach will give you a good gear to interpret how many users interacted with the post, considering only those who saw the content piece.  
The social media Porter connectors display post thumbnails,  which is great because you can have a visual reference of your content, you can also pull the post message and the date a photo, or a video was posted. 
Google Data Studio tables can also display the information and sort it depending on the interpretation you want to get. 
As the cherry of the cake and to make your report more actionable, provide a highlight with the analysis of the data you are about to show. 
In this example, we've integrated a text box you can edit and write your own analysis.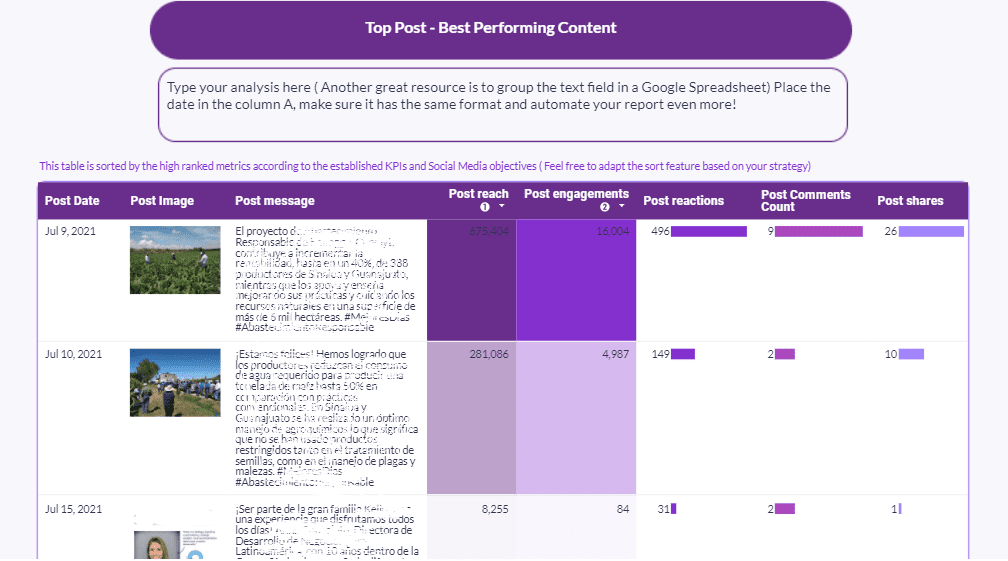 How to create actionable insights from the social media report I have created? 
Analysts need more time to do their job. Analyze. 
Stop wasting time doing manual reports and pull your data directly to your Google Data Studio dashboards. 
Share with your teams a great interpretation of the data.
A recap section is great to wrap it up! 

Here is a list of items you can consider when providing insights from your social media strategy: 
Don't describe numbers, you are displaying too many of them 

A social media report is important because it can justify why you need this touchpoint to communicate your brand or company message, so do your best to analyze what is the best to maintain it. 

Never deliver or share a report without the context of your objectives

Always present ideas to improve what is being measured. (Because what is measured can be improved)

Be creative, talk to different teams of stakeholders before presenting a report to the decision-makers. Present a proposal of new content.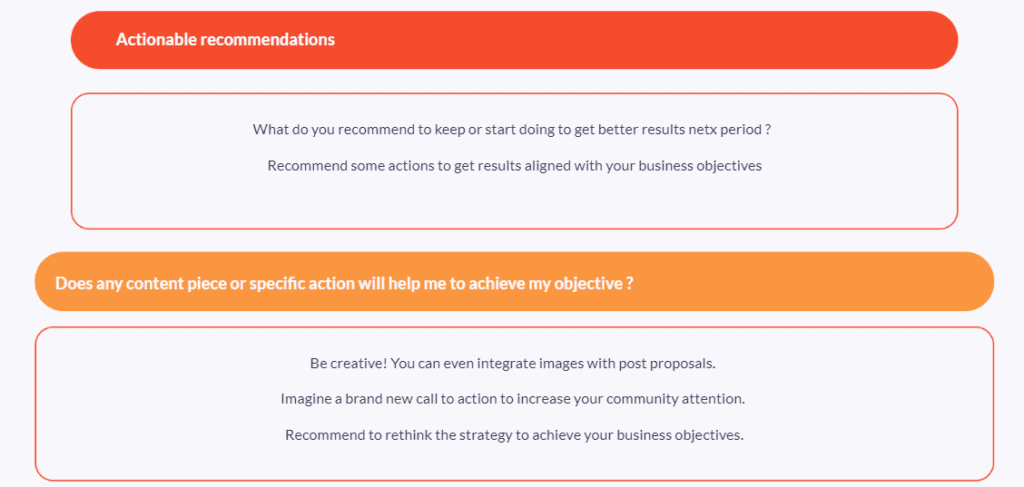 Now we want to give you the opportunity to report like a pro with no effort at all. 
As a price for letting us accompany you in your social media reporting process, we want to share with you the template of the report we just elaborated on together. 
Download this Social Media Executive Report Template for Google Data Studio. 
Try our different social media Porter connectors and start sharing the best social media report. 
How to integrate social media data to visualize the complete funnel? 
With Google Data Studio you can also blend data from different sources to create the dashboard you want.
You can display your social media data that responds to the Awareness KPIs, and also integrate metrics such as "Click-throughs" from the Lead Generation campaign you ran. 
By integrating some other data sources such as Google Analytics, you can see how the Conversion KPIs are performing. 
Discover more about the possibilities you have with Google Data Studio with the tutorials available on the resources tab at portermetrics.com. 
Data analyses have no boundaries and no limits, you can create and integrate data to have a comprehensive view from the upper to the lower funnel. 
Try  Blending Facebook Ads + Google Ads data on Google Data Studio. 
Share and export social media Reports 
Good job! We are coming to the end of this journey, and there is nothing more rewarding than sharing our well-done work with the world. Share your reports with your teams, check this video out and #TryPorter now!