Free Google Data Studio course for digital marketers
In about one hour, learn to answer questions and tell stories with your marketing data—all on Google Data Studio.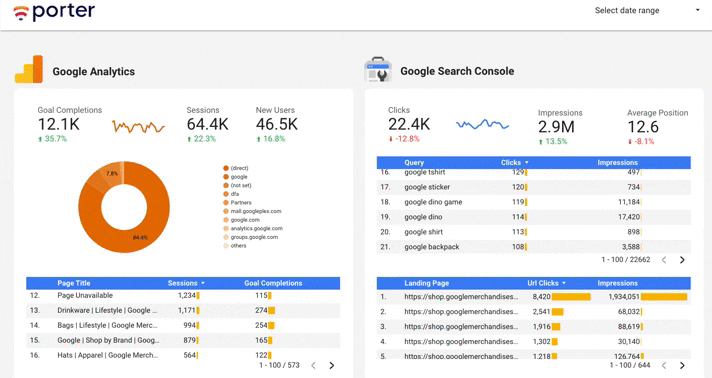 Dozens of customers worldwide trust Porter, including:
Marketing agencies 

transitioning from client manual reporting on Google Sheets or basic reporting tools to an actual Business Intelligence solution.

Startups and marketing teams

 that want to clearly visualize and communicate their main KPIs and unit economics religiously. 

Marketers 

who want to become truly data-driven and play around with their data to find non-obvious improvement opportunities and insights.

Anyone who 

values time

 and wants to be heard. 
AFTER TAKING THIS COURSE, YOU WILL:
Make better decisions and, hopefully, become truly data-driven.
Have the most demanded digital marketing skill (according to this survey by SparkToro)
Automate all your marketing reports and bring your data in one place
Calculate, visualize, and interpret a wide set of marketing metrics
know when and how to use each type of chart and visualization
Stop wasting time on manual reports on Google Sheets. 
Build dashboards for specific use cases according to your audience needs
Know the basics of SQL to start a digital data analyst career
start a healthy, love-and-hate relationship with Google Data Studio and the Google Marketing Platform in general
Look smarter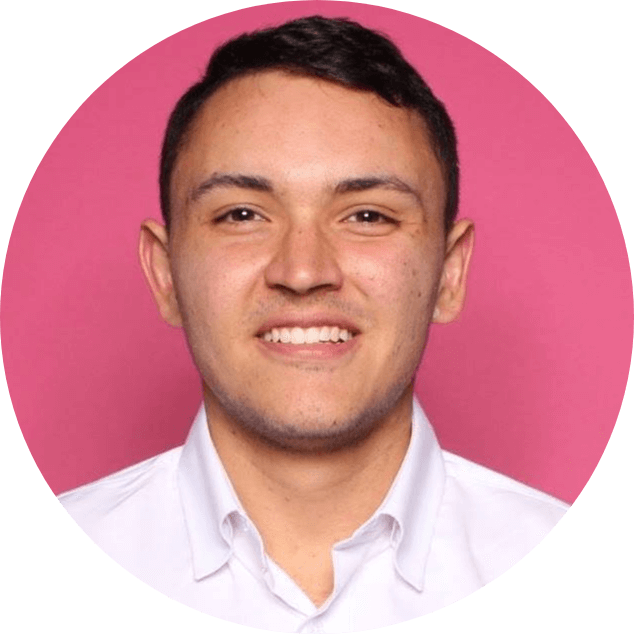 Juan José Bello
SaaS marketer and consultant, Google Data Studio instructor at Platzi, MDA Latam and Head of Product and Marketing at Porter. 
1) Introduction to Google Data Studio
Create your free Google Data Studio account and get to know the user interface and capabilities. 
2) Building your first Data Studio reports with Google Analytics
In a few minutes, learn to display your first charts, build your dashboards, and interpret the metrics you're visualizing on Google Data Studio, the most important analytics tool in any digital marketing stack. 
3) Reports with other Google products
Get familiar with the Google Marketing and Cloud ecosystem by connecting and visualizing your accounts' data. 
4) Facebook Ads reports on Google Data Studio
Go beyond the tables the Facebook Ads Manager offers and learn to visualize and analyze your Facebook Ads data. 
Learn to monitor your social media efforts and its impact for your business. 
Analyze profile, audience, posts, and video performance. 
Track your profile and posts visibility. Figure out if your Instagram influencer campaigns are working. 
6) Google Data Studio hacks and features
Learn every Google Data Studio feature, to create reports like a pro.
7) Data visualization: charts and styling
Learn to choose and build the right chart for your data. 
8) Introduction to regular expressions (REGEX)
Regular Expressions let you do more advanced and specific queries. For instance, how would you search for all that have more than three words, or how to identify legit email inputs? That's what regular expressions are for. 
Learn to create new breakdowns and dimensions by finding values that match with given criteria. With REGEX_MATCH, you will learn to break down Google organic queries into branded and discovery searches—and many more use cases!
Learn to clean your data by removing a set of characters from a string. For instance, instead of showing https://yourpage.com/about/ to end users, you could only display "/about/" by removing the domain. 
Transform your data by replacing values with a simple command and regular expressions. 
9) Marketing use cases and examples on Google Data Studio
Practice what you preach with real marketing data analysis projects. 
Learn to de-abstract funnels and flywheels concepts by visualizing them on a dashboard. 
Use the REGEXP_MATCH function to join your posts into topic clusters on Facebook Ads and Facebook Insights. 
Calculate and visualize Cost per Acquisition, retention, Lifetime value, Marketing Cost Share per sale, and more indicators with custom formulas. 
If you sign up, you won't only make our marketing team happy, you will also learn actual data visualization and analysis applied in digital marketing, one of the most demanded skills nowadays.