Find the latest Porter connector updates
Discover the most recent updates regarding the problems and errors that Porter Metrics or Google Data Studio can present.
Please feel free to contact our SupPorters anytime!
We'll be happy to assist you!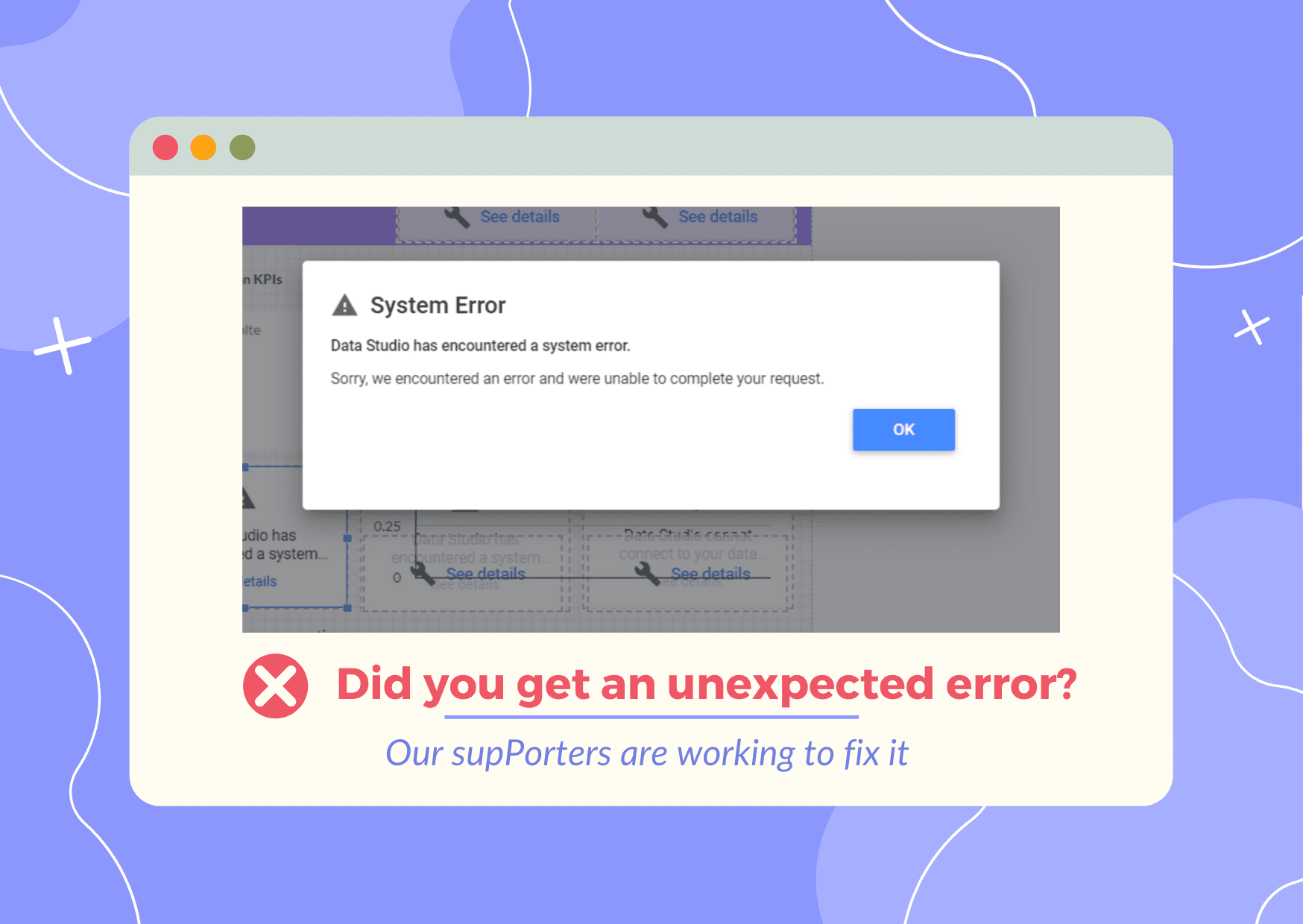 The DNA of Porter is composed of the support team's mission, to help marketers around the globe to have more time to focus on what really matters, to bring actionable insights.
That is why our team of supPorters is constantly seeking out new ways to improve your experience. 
Find the latest updates of the connectors you use by clicking on the tabs below. 
Become a rePorter and notify our team if something is not going as expected, feel free to reach out!
We also have an updated Help Center with documentations and relevant information when using Porter Metrics connectors and its main visualization platform, Google Data Studio.
Facebook Ads Connector
2021
Nov, 16th 
72 New Metrics and Dimensions related to the following items were included in the Facebook Ads Porter Metrics Connector
Schedule
Campaign
Account
Promoted post
Actions y Conversions
Carousel card
Ad set
BONUS: 
The "Id account" has been added to the connector's settings as well as new Attribution Windows (the number of days between when a person viewed or clicked your ad and subsequently took an action):
28 days click
28 days view
7 days view
1 day view
28 days click + 1 days view
28 days click + 7 deys view
28 days click + 28 days view
7 days click + 7 days view
7 days click + 28 days view
1-day click + 7 days view
1-day click + 28 days view
Nov, 4th
Apple iOS 14 Latest Update Can Affect Your Facebook Ads and Reporting.
Facebook's Aggregated Event Measurement is a protocol that allows for the measurement of web events from iOS 14 users. Aggregated Event Measurement limits domains to 8 conversion events that can be prioritized for Aggregated Event Measurement reporting.
Oct, 20th
According to Facebook's latest update on Oct 20, 2021. They are about to offer a more straightforward Conversions API setup.
"With our recent introduction of the Conversions API Gateway, we've made the process of setting up the Conversions API quicker and easier — especially for advertisers who may lack developer resources."
But why look up to the code when you have a resource such as Porter Metrics Facebook Ads – Instagram Ads connector? Well, that's a good question.
The answer is you don't have to. Leave it all in our hands. If you want to start reporting, there is only one thing you need to do now.
Go straight to our gallery and select the template that better fits your needs.
Connect your data. It is free during the first 14 days, after that, you will see you can't live without us.
Report like a pro. You don't need coding skills to build your dashboards, but if you like how data studio shows data.
You can also enroll in our Free Data Studio Course.
Sept 18th 
Problem displaying data on a timeline 
When creating a time range series, data was not being obtained for all the days of the range, this problem has been fixed.
Sep 17th
Visualize campaigns and ads groups Reach metric in a table. 
Try creating a table with the Reach metric and add a filter. You will see this value is obtained for certain campaigns or ad groups. 
Sep 14th
[New Field] The field: CPC (Link) has been added. Try pull this field to link to your creative ads right away. Use the amount spent / Link clicks formula.
[Fields combination] Allows the data visualization among diferent levels. For example, combining campaign starts, campaign ends with fields beyond the campaign name.
Sep 9th
[New Field]
 "Ad URL" to get the Facebook ad URL.
The field "Ad URL" Allows get to link to visualize the Ad content piece faster, which is useful when presenting reports and analyzing data. 

[Field Name] renaming on several fields. Users will be able to pull the metric and visualize a propper name in their dashboards. 
Ex: "Cost Per App Installation"  all fields were renamed with standard First word capital letter and description.
[New Field]
"Day of Week" that allows  data breakdown by day of the week.
[User Experience]
Cache time reduction, from 6 hours to 1 hour.
Facebook Insights
Google Business Profile (GMB)
Twitter Ads Connector
General
Data Studio
Want to learn Data Studio?
If you sign up, you won't only make your (and our) marketing teams happy, you will also learn actual data visualization in one of the most easy to-use-platforms to start reporting like a pro! 
Learn data analysis applied in digital marketing, one of the most demanded skills nowadays, and the best… with no code!