This is a step-by-step guide to connect your Facebook Ads data to Google Data Studio to create dashboards and automate your reports with free and paid options
We don't expect you will read this 5-k-word long article, but it will be your go-to resource to know all the caveats and features on Facebook Ads reporting and metrics on Data Studio.
Free options to connect Facebook Ads to Google Data Studio
We've seen many people looking for free Facebook Ads connectors for Google Data Studio.
The current only free way to connect Facebook Ads to Data Studio is first sending your data to Google Sheets first and then connecting it to Google Data Studio.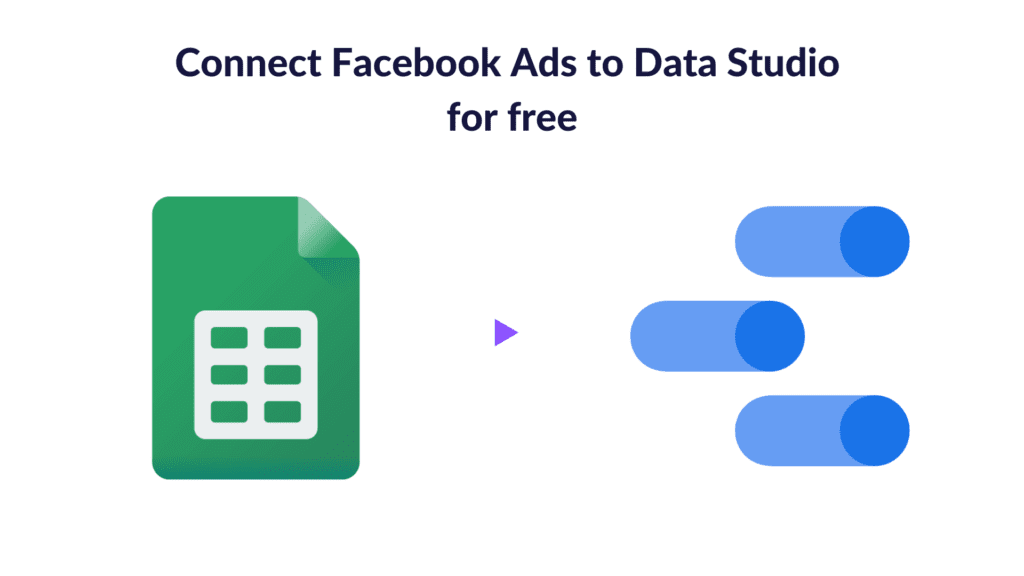 Porter is a provider of these connectors; we have an idea of why nobody currently offers a freemium model (aka an always free, limited product) instead of just a free trial.
It turns out that sustaining any connector is super challenging for everyone. It is an ongoing and not a one-time task. If someone decided to build a free connector, chances are they will be outdated or be affected within a few months.
As providers, we need to constantly update and fix these connections; we're dependent on Facebook API updates.
The latest iOS 14 updates, for instance, represented a major change for the product. Often, Facebook updates and deprecates fields and their API versions. To maintain the product, there should always be a developer behind it.
To set expectations, all the Facebook Ads connectors in the market are paid (they should be).
If you're still not willing to pay for a connector, you can still send your Facebook Ads data for free to Google Sheets and connect your spreadsheet to Google Data Studio, but it's manual or pretty limited.
Just as with Data Studio, automatically pulling data from Facebook to Google Sheets requires ongoing developer effort. So, Google Sheets connections—while there could be freemium options—will be limited anyway, and the direct connection is more powerful and flexible than having Sheets in between.
As the current only option, the best way to report Facebook Ads on Data Studio for free is to manually export by going to the Business Manager, set the report, download a CSV file, and paste the data on Google Sheets that is connected to Data Studio.

Facebook Ads connector for Google Data Studio
We'll learn how to import Facebook Ads data to Google Data Studio automatically through a connector.
For this tutorial, of course, we will use our Porter Metrics Facebook Ads connector. It is self-promotion, but will also mention why we made it the best solution available. You can instantly start a 14-days free trial.
You can access the Facebook Ads connector in three ways:
If you access through our website or link, you will download our default report template to speed up your reporting; if you access through the connector gallery, you will start with a blank report.
Signing in with Google and Facebook
Once on the connector, sign in with your Gmail account to create your Porter account. We only take your email and not any other personal information.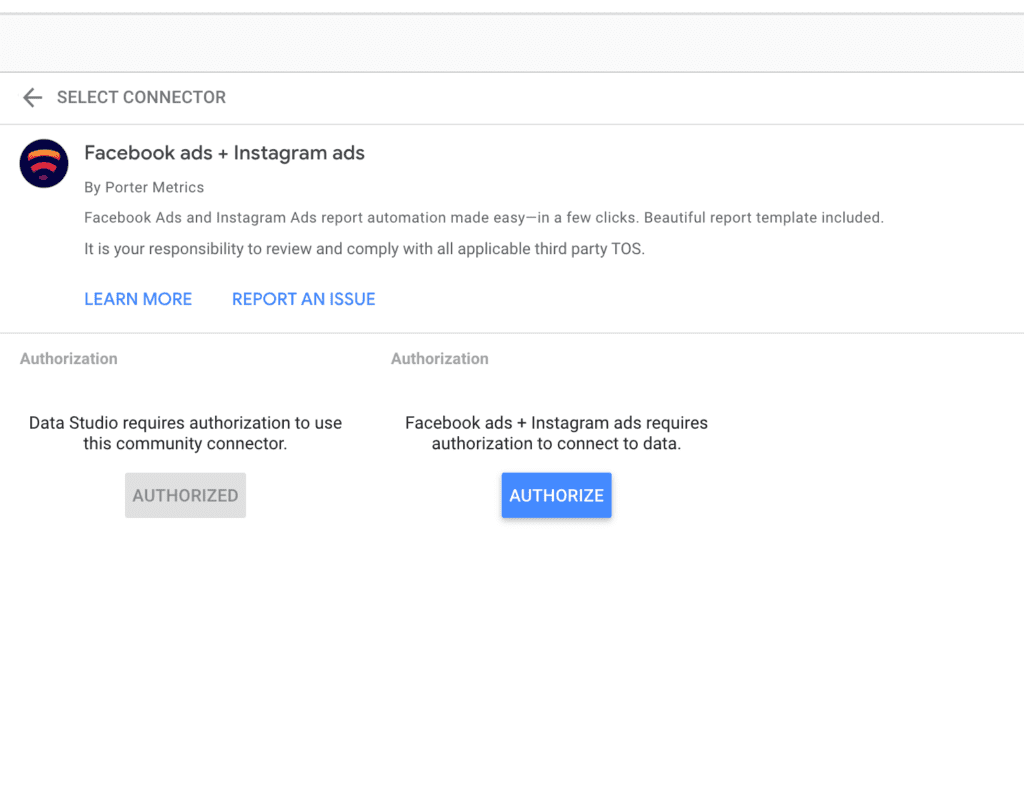 Then, you should sign in with your personal Facebook account so Porter can retrieve all the Facebook Ads accounts associated with that profile.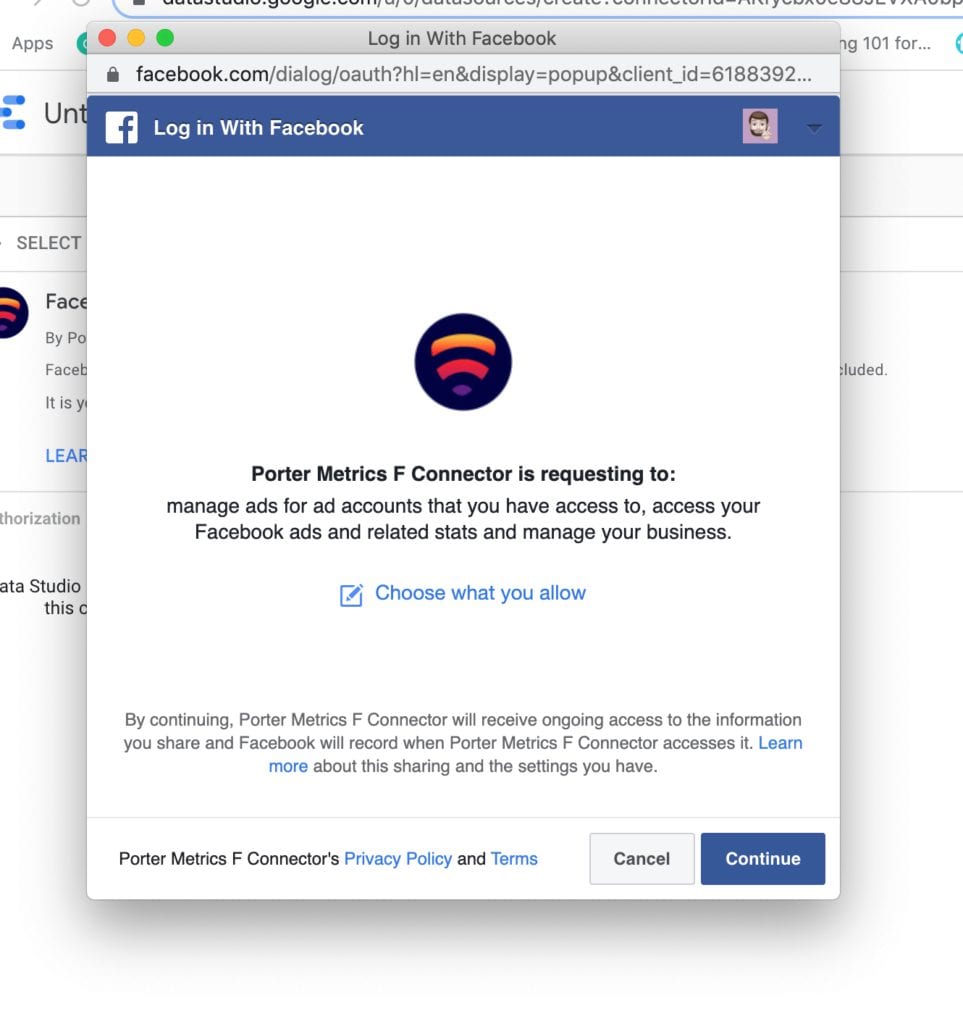 About privacy: we only get your emails to create users. We don't bring any other information or share it (on purpose) with third parties.
While Facebook says we can manage and access your accounts, Porter does only connect to the API to bring data to Google Data Studio.
Here's our video tutorial on connecting your data to Google Data Studio.
The next step is setting up the connection by choosing the ad accounts, conversion window, and reporting time.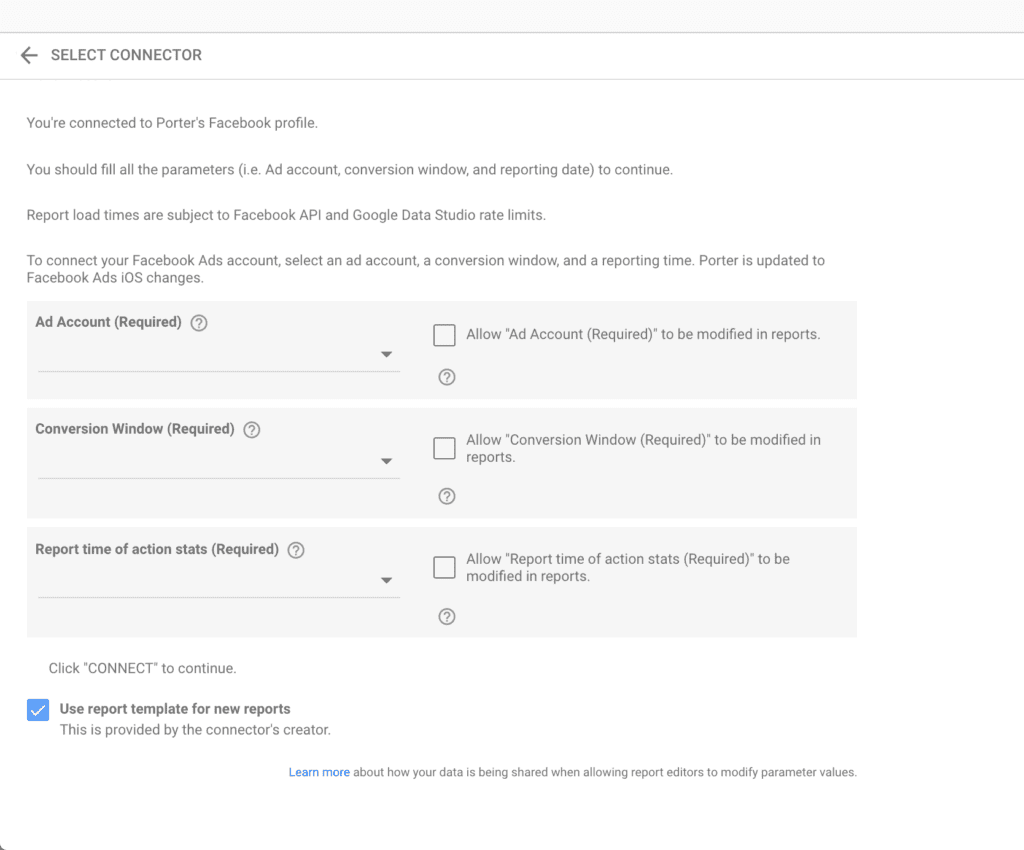 Choosing your Facebook Ads accounts
Once signed in, you will be allowed to bring one or more Facebook Ads accounts to your Google Data Studio report.
We made it possible to bring multiple (or all) Facebook Ads accounts in a single data source.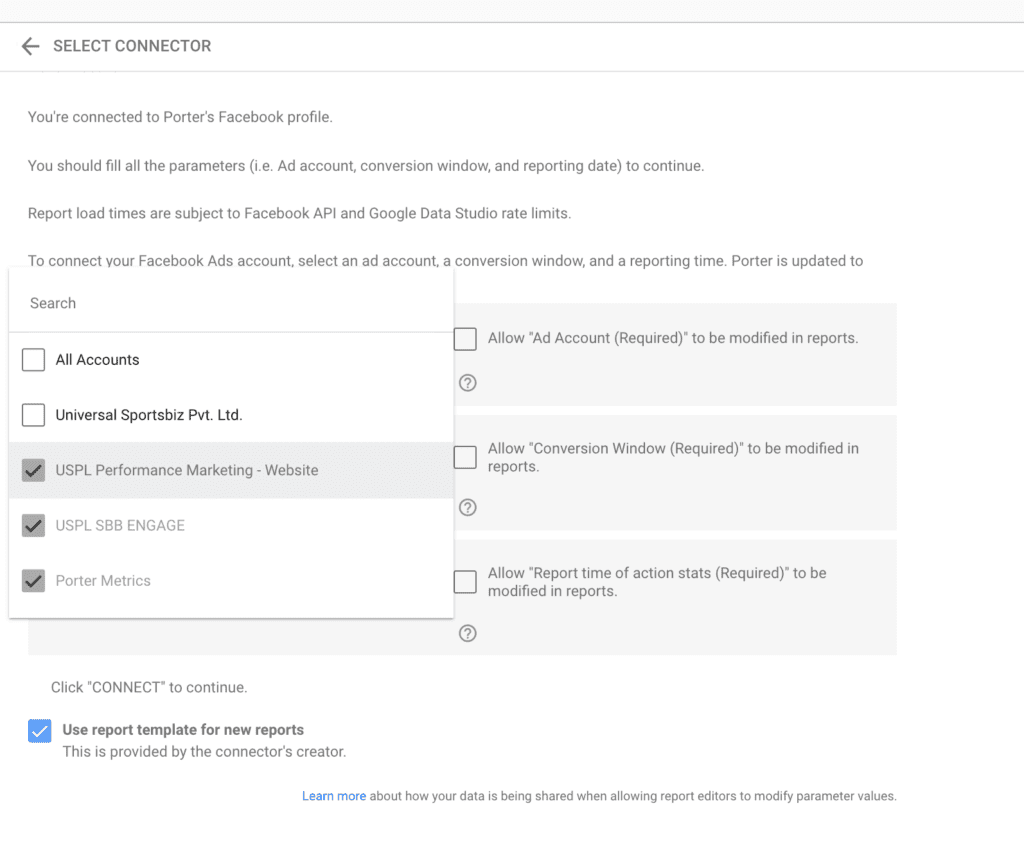 With this feature, a company could know the total performance and spend of all their ad accounts automatically. Quite common in companies that create separate ad accounts for every brand or business line.
If you're an experienced Facebook marketer, you also know that Facebook sometimes blocks ad accounts for no apparent reason, making you lose your historical performance data.
With Porter, you could combine the data from the old, blocked accounts with the new ones you create so you keep all the data consistent in a report. While Facebook blocks access to ad accounts, we've seen they don't block access to 3rd parties, like Porter, to retrieve historical data for reporting.
Facebook Ads conversion window
You'll see an option in the data source configuration to set up a conversion window.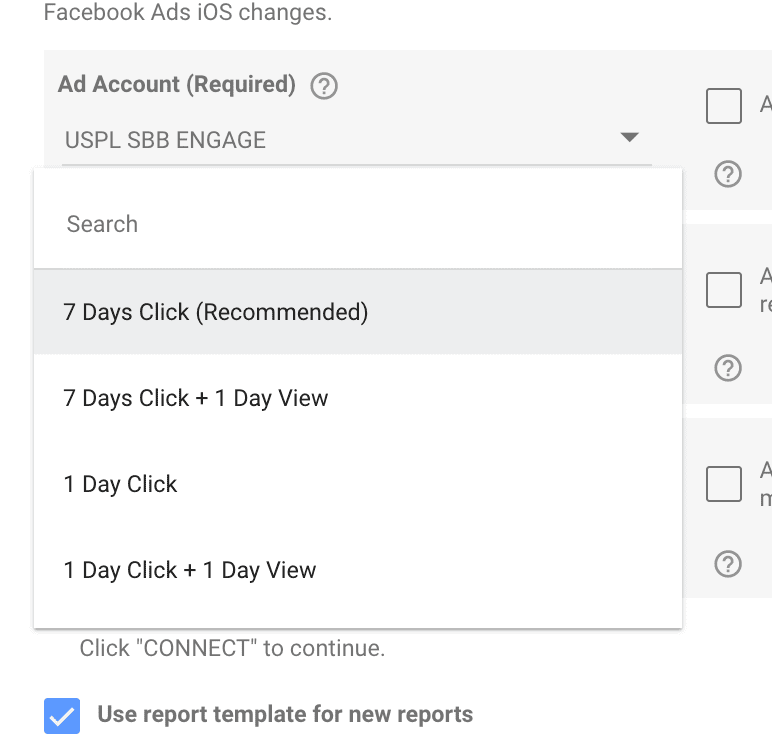 As a Facebook marketer, it is pretty important to understand conversion windows; they may inflate or underreport conversions on the ads manager.
As you may know, Facebook iOS14 updates represented major changes in tracking users.
Maybe the most important consequence for your ads is that Facebook is no longer available to keep the default 28 days click conversion window (and others in between).
Now the available conversion windows are:
1-day click
1-day click or 1-day view
7 days click (Default)
7 days click or 1-day view
The new default conversion window on Facebook Ads is 7 days click.
A conversion window represents the timeframe within which conversions will be attributed to your Facebook Ads.
I will explain conversion windows in my words.
When you create a Facebook Ads campaign, you can set to wait 1 day for the user to click or view, or 7 days to click an ad. If the user converts within that time frame, the conversion is counted; if it's after that, it won't.
This means that the longer you're willing to set a conversion window, the more conversions may be registered.
So, since iOS 14 updates, Facebook Ads marketers are reporting fewer conversions from their ads as they cannot track users viewing or clicking their ads for 28 days anymore but for 7.
It is not that Facebook Ads is less effective or more expensive—it lost capacity of reporting as it used to.
Facebook Ads reporting inconsistencies on Data Studio due to attribution settings
You may see inconsistencies in your Facebook Ads reporting on Google Data Studio and the Ads Manager because every campaign on the ads manager may have a different conversion window.
Especially after the iOS 14 updates, chances are that you have campaigns with 28 days' click. others with 7 days +1 day view, or 7 days attribution. They will report separately for each attribution setting.
On Data Studio, on the other hand, you can only choose one attribution setting for all the reporting per data source.
Reporting time
Finally, you should set up the reporting time between on conversion date and the impression date.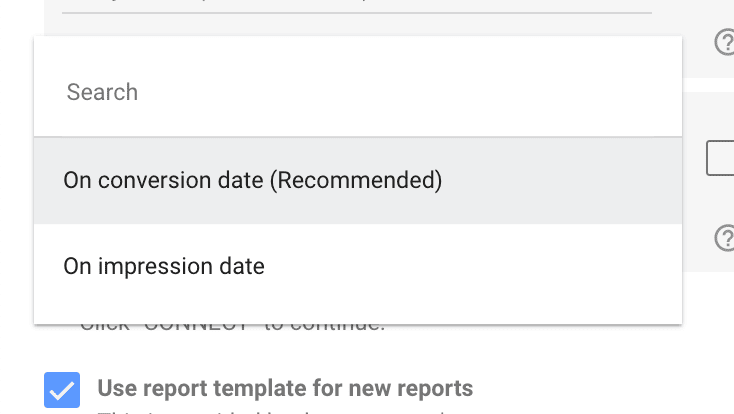 We'll explain it with this question
If someone sees your ad on Monday but converts on Tuesday, on which day you should report that conversion?
If you choose on Monday, you'll be setting an on impression date reporting.
If you choose Tuesday, it would be on the conversion date.
The default and recommended options are on the conversion date.
Finish the setup
Just click on Connect in the top right corner of the page.
In the next view, you will see all the fields available on our Facebook Ads connector for Google Data Studio.
You will see a list of more than 300 fields available (so far) with all your campaigns, accounts, posts, video data, and much more. We committed to bring all the fields that the API allowed us.
Now click on Connect on the top right corner to generate our default report template.
If you successfully bring Facebook Ads data to your Google Data Studio report, you're officially starting a 14-days free trial. You may want to check out our friendly pricing here.
Again: If you started using the connector from the link we provided, you'll get our report template; if you did it from the Data Studio connector gallery, you will load a blank report.
The report template is meant to save you time, but you're free to start reporting from scratch.
So far, we have already created our first Facebook Ads report on Google Data Studio, but we can play around a bit more with the connector to see what it offers.
Here, you can choose three ways for reporting:
Before playing around with the charts, we'll explain all the Facebook Ads metrics and dimensions.
BTW, we encourage you to install the Google Data Studio Helper, a Google Chrome extension to let you have our support chat directly on Data Studio.
Understanding Facebook Ads metrics and dimensions
We can set up our Facebook Ads report on Google Data Studio by navigating all its fields, metrics, and dimensions available.
The way I see Google Data Studio is that it's a canvas where you drop any type of chart, combining any sort of metrics and dimensions.
The metrics are the numerical values, like clicks, Amount Spent, and conversions; dimensions are how you break down the metrics, like by campaign, by country, by creative, etc.
The Facebook Ads connector is super flexible and lets you combine them however you want (apart from some restrictions that we will check below).
If it's your very first time with Data Studio, I would recommend you to check this resource to create your first Google Data Studio report.
To help you navigate through the Facebook Ads metrics, I would recommend watching this tutorial on creating charts and graphs.
Facebook Ads account dimensions
The account-related dimensions on the Facebook Ads connector have fixed values; they don't change over time. They're meant just for informational purposes.
They are:
Account name: your ad account name.
Account ID: the unique ID of your ad account.
Business_name: display the name of your company registered on the Business Manager.
Business country
Business city
Account status
Account edit link: access directly your ad account through a link on Data Studio.
Account currency
Account amount spent: total ad spend of your account
Account balance: the amount of money due on your account.
These fields will be useful for you to display tables to help the report viewer identify what ad accounts they're visualizing.
There's a cool use case for agencies and companies managing multiple ad accounts for different brands.
If you edit the data source and bring not one but multiple Facebook Ads accounts, you could create a summary table, to visualize the total ad spend, conversions or any metrics across all the accounts you manage.
For agencies, it could be a customer success tool to help account managers track the performance of all their clients in a single view
For companies, that table would help to have an overview of the spending and performance of all their brands.
Device dimensions
The Facebook Ads Manager lets you break down your metrics by the devices people seeing your ad are using, including these dimensions:
Impression device: breaks down by operative system/brand/ device your ads are being displayed, such as iPhone, iPad, Android Tablet, Android smartphone, etc.
Placement
Place page ID
Publisher platform: breaks down by Facebook, Instagram, Messenger, and the Audience Network.
Platform position: shows where your ads are seen within a specific platform, like the feed.
Device platform: breaks down by mobile app (Accessing Facebook from the mobile app), mobile web (accessing Facebook from a mobile on a browser), tablet, and desktop.
Demographic dimensions
With Facebook Ads data, you can have a sense of the audience you're reaching by demographics such as gender and age.
However, these dimensions come with some limitations from the API as demographics data may be sensitive:
You cannot combine these dimensions with device and geography fields.
You cannot break down custom and standard conversions by demographic dimensions.
Geographic dimensions
You can know with very decent detail your audience location on Facebook Ads with fields like:
Country
Region (generally displays cities)
DMA, which stands for Designated Market Area, or the geographic areas in the United States in which local television viewing is measured by Nielsen.
Campaign dimensions
Your Facebook Ads campaigns structure starts with campaigns (which contain ad sets and ads). There, you can define your campaign objectives and choose a campaign-level or ad-set-level budget.
These are the dimensions to help you report on campaign data:
Campaign objective: breaks down by possible objectives like lead generation, conversions, reach, video views, etc.
Campaign status: shows, independently of the date shown, if a campaign is currently active, inactive, or paused. It will help you monitor to avoid overspending or not turning ads on time.
Campaign tags: you can add tags to your campaigns to group them by any criteria. You can break down your data by those categories. An example would be categorizing by the brand, audience, stage of the funnel, etc.
Campaign edit link: right from Data Studio you can display a link to edit your campaign.
Campaign configured status
Campaign buying type
Campaign spending limit
Campaign start date: Facebook will automatically log the date when you started running a campaign.
Campaign end date: optionally, you can set an end date for your campaign if defining a lifetime budget.
Campaign start date & time
Campaign end date & time
Campaign daily budget: optionally, you can set a daily budget that can be controlled, rather than a fixed lifetime one.
Campaign lifetime budget: optionally, you can set a budget when starting a campaign, rather than a daily one.
Campaign budget remaining: displays the budget you still have to run your campaign.
Ad set dimensions
Ad set status: shows, independently of the date shown, if an ad set is currently active, inactive, or paused. It will help you monitor to avoid overspending or not turning ads on time.
Ad set tags: you can add tags to your ad sets to group them by any criteria. You can break down your data into those categories. An example would be categorizing by the brand, audience, stage of the funnel, etc.
Ad set edit link: right from Data Studio, you can display a link to edit your ad set.
Ad set configured status
Bid type
Bid amount
Ad set bid info
Start date
End date
Start date & time
End date & time
Daily budget
Lifetime budget
Lifetime minimum spend target
Lifetime spend cap
Budget remaining
Targeting
Targeting maximum age
Targeting minimum age
Targeting country location
Targeting country groups
Targeting location type
There are some ad-set dimensions that may display null values. For instance, when using Ad set start date. To prevent it, make sure that you're combining with the proper dimension: Ad set and not Campaign, for instance.
Ad (and creatives) dimensions
You can report all your ads and creative data. You can even display images! Here are the fields you can pull from Facebook Ads to Data Studio:
Ad status (effective status)
Ad tags
Ad preview URL: desktop feed
Ad preview URL: Facebook story
Ad preview URL: instant article
Ad preview URL: right column
Ad preview URL: mobile feed
Ad preview URL: Instagram
Ad preview URL: Instagram story
Ad preview URL: mobile banner
Ad preview URL: mobile interstitial
Ad configured status
Ad bid info
Ad creative ID
Ad creative name
Ad title
Ad body
Object type
Call-to-action type
Ad creative thumbnail URL
Ad creative image URL
Ad creative image
Destination URL
Internal destination URL
External destination URL
URL tags
Tracking template URL
Tracking specs
Conversion specs
Review feedback
Source (UTM)
Medium (UTM)
Campaign (UTM)
Content (UTM)
Term (utm)
Some highlights about the fields you can bring from Facebook Ads creatives to Data Studio are:
Preview your ads in any format, like stories, feed, mobile, etc.
Creative elements like ad image, ad body text, title, and call to action.
UTM parameters data like source, medium, campaign, content, and term.
Lead Ads dimensions
You can track your Facebook Lead Ads efforts with these dimensions:
lead_form_id
Lead form name
Lead form status
Lead created
Lead ID
Lead info
Lead email
Lead phone number
Lead full name
Lead company name
Lead country
Lead state
Lead field 1 name
Lead field 2 name
Lead field 3 name
Lead field 4 name
Lead field 5 name
Lead field 6 name
Lead field 1 value
Lead field 2 value
Lead field 3 value
Lead field 4 value
Lead field 5 value
Lead field 6 value
Interestingly, you can visualize on Google Data Studio tables the information your leads are registering. Yet, remember that Facebook only stores form data for 90 days. Make sure to save it somewhere else, or use a Google Sheets connector. on Porter, the metric to track Facebook leads is called "Facebook Lead Ads".
Post dimensions
Promoted_post_id
Post Instagram ID
Post type
Post source
Post name
Post caption
Post message
Post story
Post description
Promoted post destination URL
Existing post destination URL
Post privacy
Post privacy description
Post icon
Post thumbnail URL
Promoted post thumbnail
Post image URL
Post created date
Link to post
Link to Instagram post
Ranking dimensions
You can have a clue when it comes to optimizing your Facebook Ads CPA: the quality of your ads, which can be measured with these three dimensions:
Quality Ranking Score
Engagement Rate Ranking (text)
Conversion Rate Ranking (text)
When you combine them with a campaign, ad set, or ad dimensions, you can tell if your ads are below or above average in terms of quality compared to other advertisers within your industry.
Standard events and custom conversions
Standard events refer to the default Facebook metrics you can track. They're the likely common events and conversions any business would need, such as:
Add payment info
Add to cart
Add to wishlist
Complete registration
Contact
Customize product
Donate
Find location
Initiate checkout
Lead
Purchase
Schedule
Search
Start trial
Submit application
Subscribe
View content
While Facebook offers some default standard events you can track, you can also create your own (aka custom conversions). You can assign them any name you want. You can also associate these custom conversions with a standard event.
For instance, at Porter, we have a custom conversion called "GDS templates downloads" and the conversion type is "Leads". On Data Studio I can report this metric with both "GDS template downloads" and "Leads".
You can also assign a value to these custom conversions; if you assign the value of 3, and you get 10 conversions, the conversion value would be $30.
Remember that the difference between conversions and events is that while both are events, is that the conversion is a specific behavior (measured as an event) that is relevant for your business.
While add to carts on your e-commerce site is important to track, it is the purchase that matters the most: adds to cart are generally set as events; purchases are conversions.
When creating a campaign, you will set your objective to optimize to get conversions, generally.
These metrics also come with these aggregations:
Conversion value: the value in money of your conversions. If you set that every purchase is worth $5 and you get 20. The metric purchase conversion value would report $100.
Cost: when divided by the metric Amount spent, you can calculate the average cost per metric, such as cost per purchase, cost per lead, cost per view, etc. Here's a guide on cost metrics on Data Studio to calculate these metrics yourself.
Unique: Facebook Ads logs not just the number of times a conversion was made but the unique users that made them. You may report 10 purchases coming from 5 purchasers. That would report 5 unique purchases. Some standard events don't have the unique variation available, such as contacts.
Type: your conversions may happen in different locations such as your website or on mobile app. Facebook, by default, will let you break down your conversions and events by type, like website purchases and mobile purchases. The sum of them will result in the purchases metric.
ROAS: stands for Return on Ad Spend, which shows the relationship between how much you earn and spend; if your ROAS is 5 (or 500%) it means that for every dollar you spend on ads, you get 5 in return. All the custom and standard events come with a ROAS metric. If you don't have a conversion value, it will display zero.
Messaging metrics
You can run ads to drive people to Messenger. Recommend you ManyChat to automate Messenger chatbots, for the record. Their metrics are:
New messaging conversations
New messaging conversations within 7 days
Messaging reply rate
Blocked message conversations
Video metrics
You can report the following video metrics:
Unique three-second video views
15-second video views (Deprecated)
30-second video views
Video watches at 25%
Video watches at 50%
Video watches at 75%
Video watches at 95%
Video watches at 100%
Video average watch time
Clicks to play video
Video play actions
ThruPlay actions
Unique clicks to play video
Avg. canvas view time
Avg. canvas view percentage
Clicks metrics
Not all clicks are the same. Facebook Ads let you understand the type of clicks you're getting on your ads:
Link clicks: clicks on the ad main link.
Unique link clicks: users doing link clicks.
Outbound clicks: clicks that redirect outside Facebook.
Unique outbound clicks: users doing outbound clicks.
CTR (link click-through rate): the relation between link clicks vs impressions. It defines the effectiveness of your ads.
Outbound CTR: the relation between outbound clicks vs impressions.
Unique outbound CTR: the relation between users doing outbound clicks vs reach.
Clicks (all): all clicks registered on an ad.
Unique clicks (all): all users clicking your ads.
CTR (all): the relation between all clicks vs impressions.
Unique CTR (all): the relation between all users clicking ads vs reach.
Mobile app metrics
All standard events report for the total, for website, and mobile app. For instance, you will find the metrics Mobile app purchases and Mobile app purchases value.
But there are some metrics specific for mobile and desktop apps like:
Game plays
Desktop app engagements
Desktop app installs
Desktop app story engagements
Desktop app uses
Credit spends
Mobile app achievements unlocked
Mobile app adds of payment info
Mobile app adds to cart
Mobile app adds to wishlist
Mobile app registrations completed
Mobile app checkouts initiated
Mobile app content views
Mobile app credits spent
Mobile app installs
Mobile app levels completed
Mobile app purchases
Mobile app ratings submitted
Mobile app searches
Mobile app sessions
Mobile app tutorials completed
Omni app installs
Omni purchases
Omni adds to cart
Omni completed registrations
Omni content views
Omni searches
Omni initiated checkouts
Omni achievement unlocks
Omni app activations
Omni level completed
Omni rates
Omni credit spends
Omni completed tutorials
Omni custom actions
Some highlights of these mobile app metrics:
There are some standard events specific to mobile games, like game plays, Levels completed, Achievements unlocked, and credit spends.
Omni metrics refer to the sum of desktop and mobile events or conversions.
All standard events metrics like purchases, content views, and checkouts initiated, have a mobile app version.
There are some specific metrics for apps like Omni custom actions, Omni app activations, app engagements, app installs, app uses, etc.
Page and post engagement metrics
Through ads, you can drive audiences to interact with your Facebook pages and posts. You can also boost your posts. All of these can be tracked with the Facebook Ads connector:
Post ID
Post Instagram ID
Post type
Post source
Post name
Post caption
Post message
Post story
Post description
Promoted post destination URL
Existing post destination URL
Post privacy
Post privacy description
Post icon
Post thumbnail URL
Promoted post thumbnail
Post image URL
Post created date
Link to post
Link to an Instagram post
page_engagement
Page likes
Page subscribes
Post comments
Post engagements
Post reactions
Post saves
Post shares
Photo views
Event responses
Offer claims
Check-ins
Awareness metrics
Facebook offers a set of metrics to help you gauge brand awareness, such as:
Estimated ad recall lift (people)
Estimated ad recall lift rate (%)
Estimated ad recall lift (lower bound)
Estimated ad recall lift (upper bound)
Setting up the Facebook Ads report on Data Studio
Creating charts
Once you understand the Facebook Ads metrics, it's fine to create your first charts if you haven't.
We prepared a video tutorial on how to create your first charts and graphs on Google Data Studio:
Follow these steps to create your first charts:
Open the Google Data Studio report on the edit mode.
Go to the menu and select Insert or Add a Chart.
Choose a chart type (scorecard, time series, tables, pie charts, and bar charts are the most common).
Make sure the chart is linked to the Facebook Ads connector.
Depending on the chart, you should choose a combination of metrics and dimensions. A good one could be visualizing Leads or Purchases as a scorecard and over time by choosing Date as the time dimension.
Set to compare the data against the last period.
Filters and controls
Filters and controls on Google Data Studio make your reports interactive and clean your data.
A good use case for filters and controls with Facebook Ads data may be filtering your campaign objectives or campaign names so you can analyze performance metrics just for some of them, like excluding the campaigns that were meant for engagement rather than lead generation.
We prepared this tutorial on how to create filters and controls on Google Data Studio.
Custom formulas
When it comes to formulas, think of Google Data Studio like Google Sheets: you can calculate any sort of metrics with countless math functions.
However, the most common formula you may want could be conversion rates, which is just dividing a metric with another.
Our connector brings a default conversion rate metric that divides conversions/clicks to landing pages.
Watch this tutorial to learn to create custom formulas on Data Studio.
Case statements
As you set formulas to create metrics, you can use case statements to create new dimensions.
With Facebook Ads data, you may want to group your campaigns by brands or products you're promoting if in their campaigns name there are characters to let you do so.
Here are our tutorials on case statements and regular expressions.
Blending Facebook Ads data with Google and LinkedIn
A great use case of the Facebook Ads connector for Google Data Studio is combining it with other connectors, such as Facebook Ads and Google Ads.
With them, you may create a cross-channel ads report visualizing your total ad spend and conversions across your paid channels.
You may want to follow this video tutorial on blending data on Google Data Studio.
Follow these steps to combine your data
Open the Google Data Studio report on the edit mode.
Click on Manage added data sources and make sure to connect your Facebook Ads, Google Ads data (or any other connector you might use).
Create a table for each connector whose dimension is equivalent to the date and the metrics are conversions and ad spend (or any metric you may want to compare).
Make sure the tables are beside each other on the same page.
Select the three tables and do a right-click.
Select Blend data.
Google Data Studio will automatically create a table combining the metrics of the three connectors.
To verify the data was correctly blended, go to edit the blended data source and make sure that the dimensions equivalent to the date work as the join keys. For Facebook Ads and Facebook Ads, they're both called Date; for Google Ads it's Day.
Customizing your report
We prepared a video tutorial showing you ways to customize your Facebook Ads reports (and even making them Whitelabel).
Sharing your Facebook Ads report
Google Data Studio, such as other Google products, has great collaboration and sharing features.
You can:
Choose the Gmail/G Suite users who can access your reports as editors or viewers
Schedule email deliveries
Share a link to access the report
Download a PDF version
Embedding the report on another website
We covered all of these in our tutorial on How to Share your Google Data Studio reports.
Facebook Ads report templates on Google Data Studio
It's ok if you don't want to set up your Data Studio reports. We prepared a set of Facebook Ads Google Data Studio report templates covering all the possible use cases so you don't have to.
We have a tutorial on how to use Data Studio report templates, too.
A common question is how you can add these templates to your current reports. You just need to select all the elements of your Data Studio report, copy, and paste them into your other reports.