Learn to automate your Facebook Ads reporting on Google Data Studio in a few minutes with this step-by-step tutorial. We include both paid and free Facebook Ads connectors.
If you know Google Data Studio and you want to start right away I suggest you download one of our Facebook Ads Google Data Studio Templates to start (they are free).
What is Google Data Studio?
Google Data Studio is a free tool that allows you to create dashboards to transform your data into useful insights. It has native connections with Google's platforms like Youtube, Google Search, Google Analytics, Sheets, and Adwords. Also, you are a Marketer and want to get deeper into this, we made a complete article for that: Why marketers should learn Google Data Studio?
How do I link Facebook Ads to Google Studio?
If you want to connect Google Data Studio with other platforms like Facebook Ads, Facebook Insights, Instagram Insights, Linkedin, and many other tools, you will need to use Partner Connectors.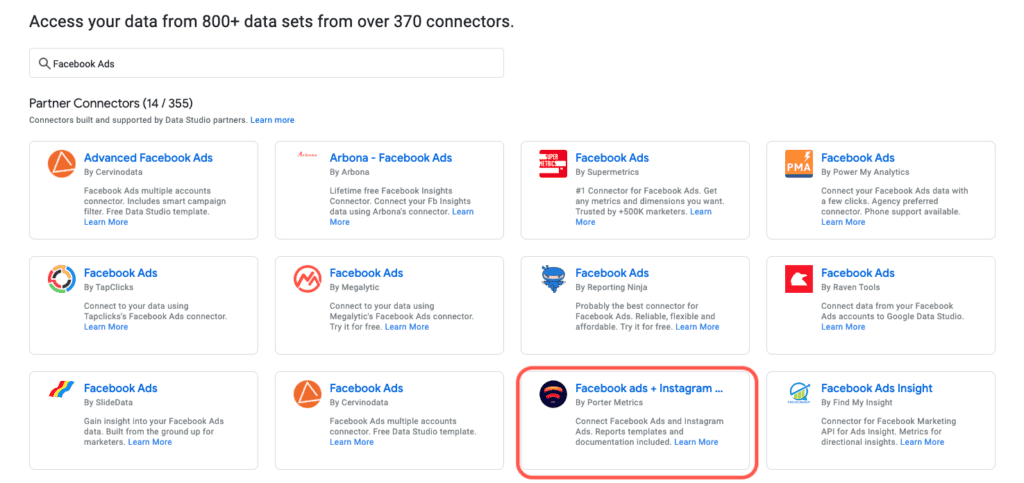 That's why we are going to go step by step so you can create your first Dashboard on Google Data Studio with the Facebook Ads connector we created at Porter Metrics. With our Facebook connector, we have helped +3.000 marketers to connect their Facebook Ads Data with Google Data Studio.
Here are the steps we will follow:
Learn how to set up a Google Data Studio account
Facebook Ads connector for Google Data Studio: connect your accounts
Explore our Facebook Ads templates for Google Data Studio
Understanding Facebook Ads metrics
Creating your first reports
Facebook Ads dashboards templates with Data Studio
Conclusions
Setting up a Google Data Studio account
If it is the first time you are using Google Data Studio, here are some things you need to know.
Google Data Studio is a free Business Intelligence and visualization platform built by Google. You may have some questions about it – that's why we wrote a tutorial about Google Data Studio's most common questions.
To create an account, just go to datastudio.google.com and sign in with a Gmail or Gsuite account.
Connecting your Facebook Ads account to Google Data Studio
Go to the Google Data Studio connectors library and search for Facebook Ads and choose the Facebook Ads connector for Google Data Studio from Porter Metrics.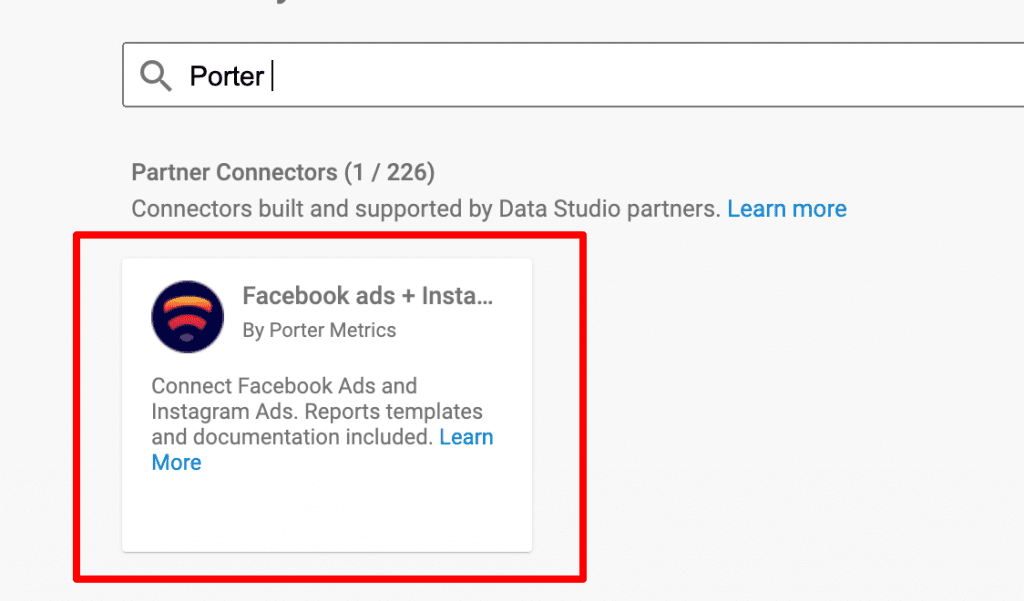 You may find that other connectors have Instagram Ads and Facebook Ads separately. We have such data in a single connector, so you don't double pay unnecessarily.
If you haven't, access the connector by clicking this link.
You will be re-directed to Google Data Studio where you authorize your Gmail account by clicking on Authorize.
Sign up with Google
Now choose the Gmail account you want to use for the connector.
You don't need to use a Gmail account that is the same to your Facebook account. But you should use the same email that you used to open the connector.
Just as a recommendation, if you buy a license from Porter, I'd by ideal for you if you centralize all your connectors from a single email account.
Now authorize Porter app on your email.
If you're wondering about your privacy, we only retrieve your email so you don't need to fill a form and this way we can assign a new account to such email. Now you should authorize your Facebook account so the connector can access Advertisement data.
Connect your Facebook profile
Click on "Authorize."
Now you will connect to your Facebook account.
We will request you to give us permissions like managing your page and Ads.
We won't manage them, actually, but this kind of permission is necessary to correctly retrieve your Facebook Ads data.
Setting up the connector
Once we finished the authentication steps, setting up the connector just takes a few clicks.
First, choose the Facebook Ads account you want to connect.
You should choose one Facebook Ad account at a time for each connector setup.
We restrict connecting multiple accounts at once as it may affect speed and performance; Facebook API and Google Data Studio have response time limitations.
If you want to connect other Facebook Ads accounts, you should set up the connector again, but the authentication process just needs to be done once per Gmail account.
Then, pick a conversion window.
By default, Facebook uses 28 Days Clic + 1 Day view, which means that a conversion will be attributed to an ad click that has happened within 28 days or one day after someone seeing an ad. Read more about attribution here.
We recommend you to keep the default option, though.
Finally, choose the report time action stats. 99% of times you will want "On impression date."
Leave the checkbox that says "Use report template for new reports" checked by default.
It will let you use our template so you don't need to start from scratch.
To finish, click on the blue button that says "Connect" in the top-right corner.
All the fields must be filled in order to proceed.
Just click on "Connect", on the top right corner of the page.
Now you will see the metrics and dimensions our Facebook Ads connector brings.
Click on "Create report" in the top-right corner.
And you will see the dashboard to start bringing data.
Heads up, Facebook API response time may take longer depending on the number of queries and the amount of data you request.
And we're done.
You will see your Facebook Ads data in a Google Data Studio report like this one:
Leveraging our Facebook Ads templates for Google Data Studio
There are two ways to get Google Data Studio templates: those that you can find and copy, and those that generate by default when setting up our Facebook Ads connector.
You may experience a long load time for the report to display the data fully. The reason for this is that the Facebook API has a response rate limit; so does Google Data Studio.
Load times are determined by the number of charts and visualization each page has. If you want to show very detailed data, we encourage you to do it on separate pages.
You can see below one of the templates you will get with our connector: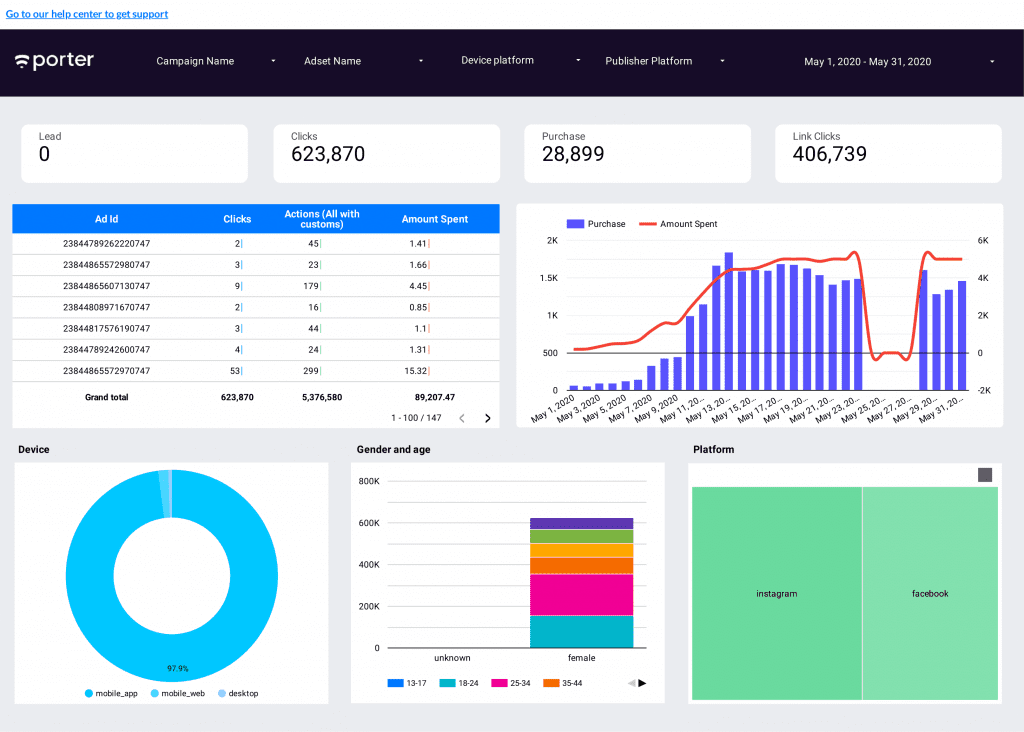 To browse them all, go to the View mode, and you will see the list of pages with a template each.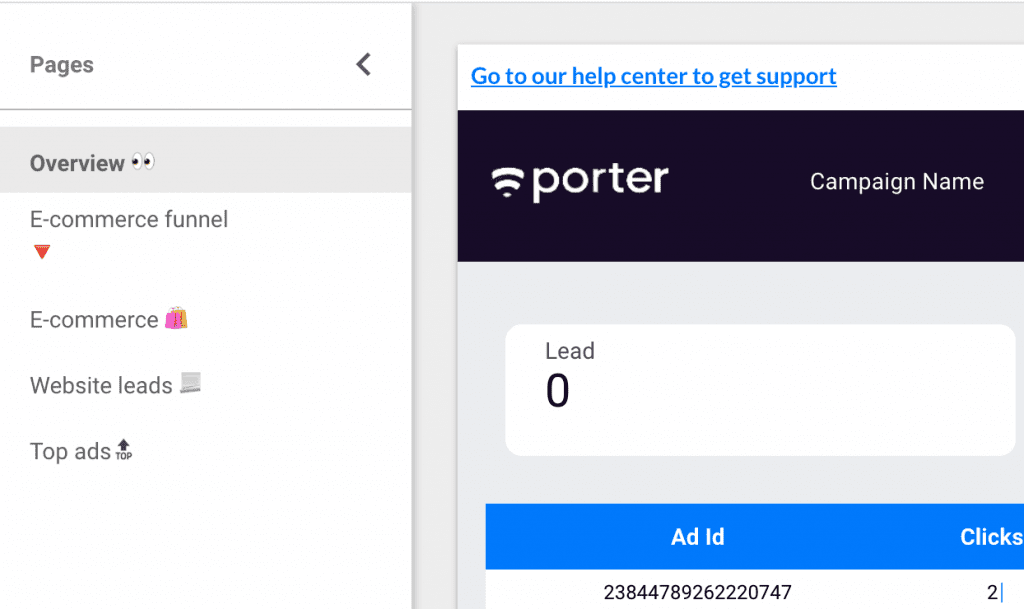 You will find additional premium templates on your Porter account.
You may download them by following these steps.
Access the Google Data Studio template link.
Then, click the copy icon located on the top-right corner of the page.

It is time to associate a data source. You can choose our Facebook Ads connector within the options if you have used it before. If it is your first time connecting to Porter, choose CREATE NEW DATA SOURCE.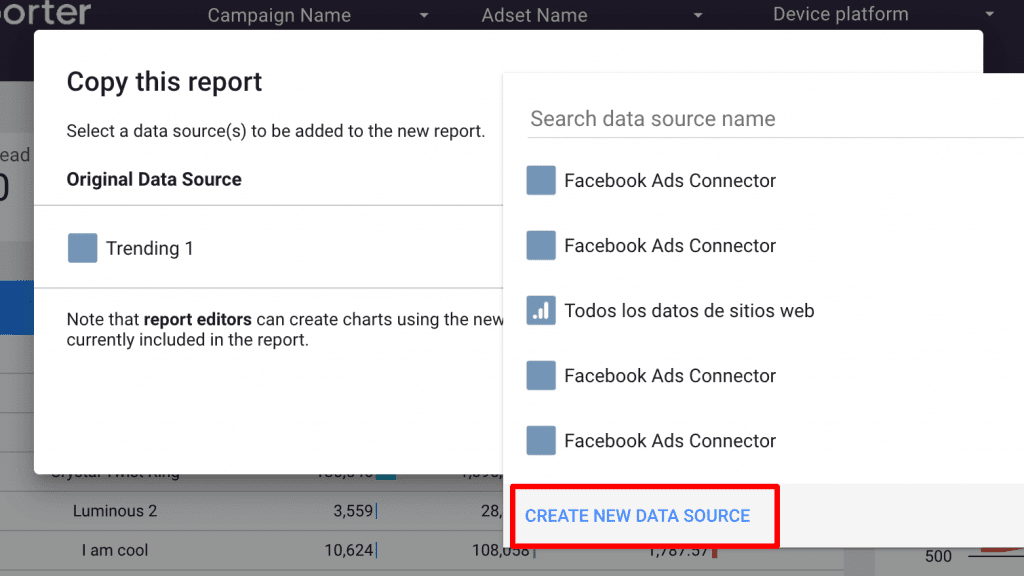 You will access the Google Data Studio connectors gallery. Search Porter Metrics, and you will find our Facebook Ads + Instagram Ads connector.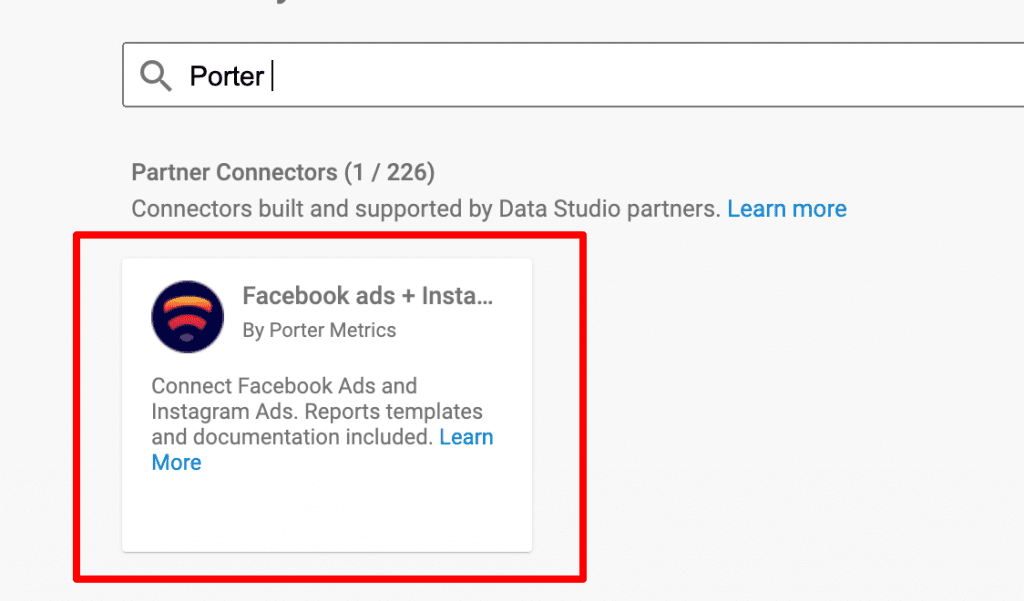 You will need to sign up with a Gmail account and a personal Facebook account. These emails don't need to be the same.
Then link your Facebook Ads account by following these parameters, just as did when we setup our reports for the first time: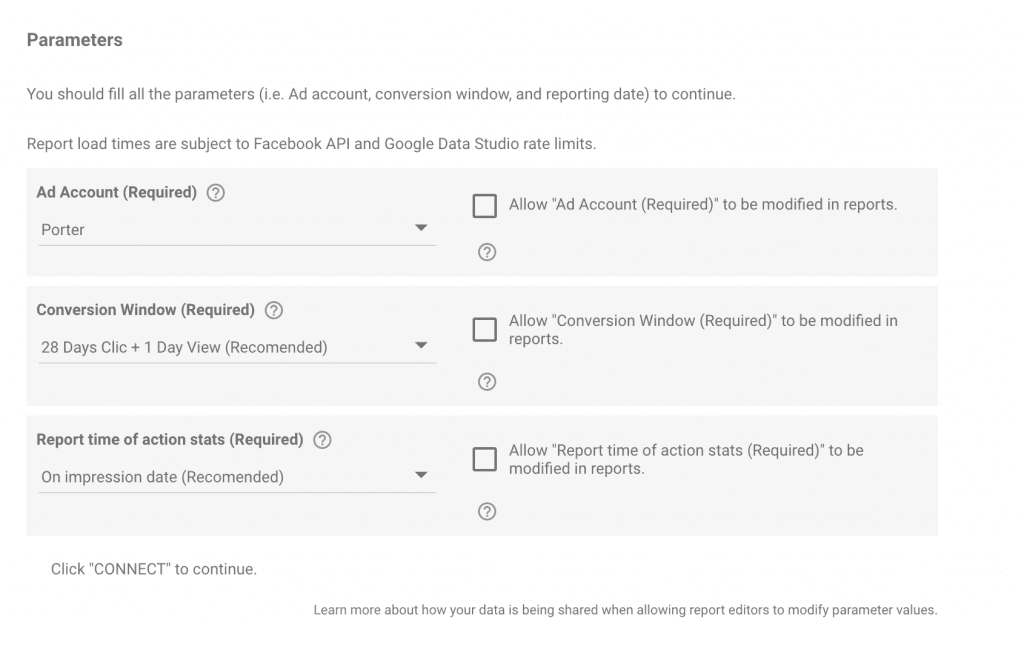 Choose one Facebook Ad Account. Google Data Studio will retrieve all the Facebook Ads accounts associated with the Facebook profile you used to sign up.
We suggest choosing the 28 Days Click + 1 Day View conversion window and report time based on impression date, the default options from Facebook.
Now click on Add to report and you're done.
Facebook Ads metrics list (and explanation)
Our connector has 500 different fields. Even for us, they were overwhelming and there were metrics that we didn't understand at first.
Just as a rule of thumb, we bring ALL metrics that you can visualize on the Facebook Ads Manager on Google Data Studio.
We will help you go through this, and we will start by breaking down and grouping metrics and dimensions.
Standard events
Standard events are all the preset possible events or conversions Facebook offers by default. These are all the Facebook Ads standard events in alphabetical order:
Achievements Unlocked
Adds of Payment Info
Adds to Cart
Adds To Wishlist
App activations (aka mobile app sessions)
App Installs
Applications Submitted
Appointments Scheduled
Checkouts Initiated
Contacts
Content views
Credit spends
Custom events (which groups all custom events)
Desktop app engagements
Desktop app stories engagements
Desktop app uses
Donations
Game plays
Get directions clicks
In-app ad clicks
In-app ad impressions
Landing page views
Leads
Levels achieved
Location searches
Mobile app 2D retention
Mobile app 7D retention
Offline other conversions
On-Facebook Workflow conversions
Phone number clicks
Products customized
Purchase ROAS (Return on Ad Spend)
Purchases
Ratings submitted
Registrations completed
Searches
Store visits
Subscriptions
Trials started
Tutorials completed
We don't expect that you learn them all. But you might find some of them useful.
The truth is most businesses will only use one or two, and chances are they will create their own custom conversions.
Break downs by aggregations
All these standard events can be aggregated in four different ways:
Total: the total number of times a standard event was triggered. e.g. 40 landing page views.
Unique: it refers to the number of people or users who triggered an event. If you work on e-commerce, you may have a total of 40 purchases, but 35 purchasers.
Value: you can set an estimated economical value to each standard event. You may define that each adds to App Install for you is worth $5, for instance.
Cost: you can calculate the average cost per each standard event.
It is a simple exercise of dividing the total amount spent (i.e. the budget you have spent on Facebook Ads) by the total number o times a standard event is triggered.
We wrote about how to calculate your own cost metrics on Google Data Studio.
Unique cost: it represents the average cost to get a user to convert. It's the division of the total amount spent by the total unique conversions.
Break downs by events location
Facebook Ads also identifies if an event happens on mobile, a website, or on Facebook. As such, you can also break down standard events by those locations.
Not all standard events offer the same breakdowns; some of them are for mobile apps, for instance.
Let's see some examples.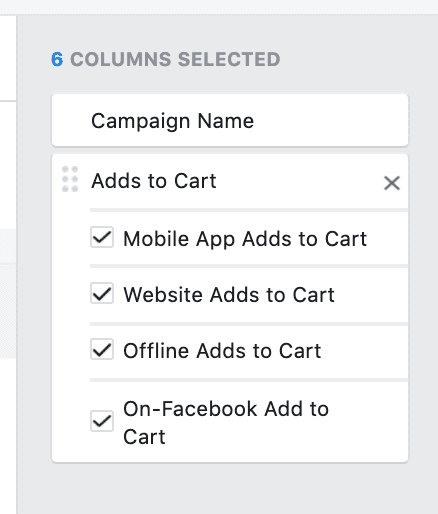 You may have add to cart conversions on a mobile app, your website, offline, and on Facebook.
But you may only have Achievements Unlocked, on a mobile app, not a website.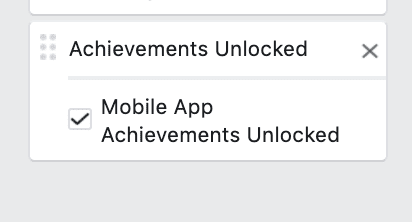 Let's understand these break downs by event location.
Mobile app: all those events that happen within your mobile app.
Offline: you can attribute offline conversions to your Facebook Ads such as in-store purchases or things that happen "in the real world."
Website: these are all the conversions that happen on your website and, as such, you need to install the Facebook Ads pixel to track them.
Web app: these are all the events that happen within the Facebook web app.
Omni: Facebook Ads omni metrics refer to the sum of all conversions calculated across all channels, including desktop, mobile, offline, etc. Most times omni metrics will be similar to the default metrics. That is to say, "Omni purchases" and "Purchases" may have the same value. As we're considering offline along with other channels, this metric is estimated.
Performance metrics
While conversions and events are the metrics that businesses want to track the most, they need to understand performance metrics in order to optimize them as they represent all the actions that happen before a conversion, such as:
Results
Result rate
Frequency
Impressions
Delivery
Ad set delivery
Amount spent
Clicks (all)
CPC (All)
CTR (All)
Gross impressions (includes invalid impressions from non-human traffic)
Auto-refresh impressions
Engagement metrics
Engagement metrics represent how users interact with ads, assets, and content, and are divided into the following categories: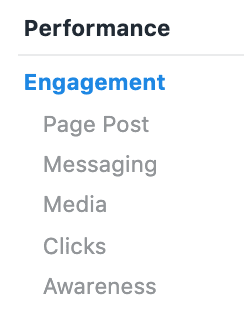 Page Post
Messaging
Media
Clicks
Awareness
Page post metrics
These metrics relate to all the actions that can happen within your Facebook page and posts that are attributed to Facebook Ads, including additional organic gains. However, organic-only results are not reported on our Facebook Ads connector but the Facebook Insights connector.
Page engagement
Page likes
Post comments
Post engagement
Post reactions
Post saves
Post shares
Post Views
Event responses
Check-ins
100% in-view impressions
100% in-view reach
Effect share
Messaging metrics
These metrics refer to the actions related to Facebook Messenger driven by Facebook Ads. They're:
New messaging connections
Blocked messaging connections
Messaging conversations started
Media metrics
These are all the metrics related to video, such as:
Unique 2-Second Continuous Video Plays
2-Second Continuous Video Plays
3-Second Video Plays
ThruPlays (The number of times your video was played to completion, or for at least 15 seconds)
Video Plays at 25%
Video Plays at 50%
Video Plays at 75%
Video Plays at 95%
Video Plays at 95%
Video Plays at 100%
Video Average Play Time
Video Plays
Instant Experience View Time
Instant Experience View Percentage
Clicks metrics
This is the metrics group that tracks all the clicks that happen on ads.
Link clicks are all clicks to the ad that move users forward to the next stage of the conversion process.
Outbound clicks refer to all clicks that take users out of Facebook.
CTR is the division of a click measure by 100 impressions. It represents a percentage of effectiveness.
Link Clicks
Unique Link Clicks
Outbound Clicks
Unique Outbound Clicks
CTR (Link Click-Through Rate)
Unique CTR (Link Click-Through Rate)
Outbound CTR (Click-Through-Rate)
Unique Outbound CTR (Click-Through-Rate)
Unique Clicks (All)
Unique CTR (All)
Instant Experience Clicks to Open
Instant Experience Clicks to Start
Awareness metrics
Chances are you won't use these, but they represent the number of people that may remember seeing your ads.
Estimated Ad Recall Lift (People)
Estimated Ad Recall Lift Rate
Breakdowns or dimensions
Optimization opportunities and insights are in the different ways you can break down Facebook Ads metrics.
Knowing the number of clicks you get somehow matters, but knowing that you get more clicks from women in the US using mobile devices is more actionable.
While metrics are numeric values, breakdowns are generally text. On Google Data Studio you will identify them as dimensions.
Here are some of the most common breakdowns you may use in your reports.
Geography: country and region
Demographics: gender and age group
Publisher platform: Instagram, Facebook, Messenger, and instant news.
Ads: Campaign, ad sets, ad names, and ad images, or text.
Platform position:
Time-based: hour of the day, date, week, day of the week, month, quarter, year, etc.
Creating your first Facebook Ads report on Google Data Studio
You can create a new report or create a new page within the templates Porter gives you.
This time, I won't create a new report but a new page.
To do so, click on the dropdown in the top-left corner of the report where it says Page 1 of 5, and click on Create a new page.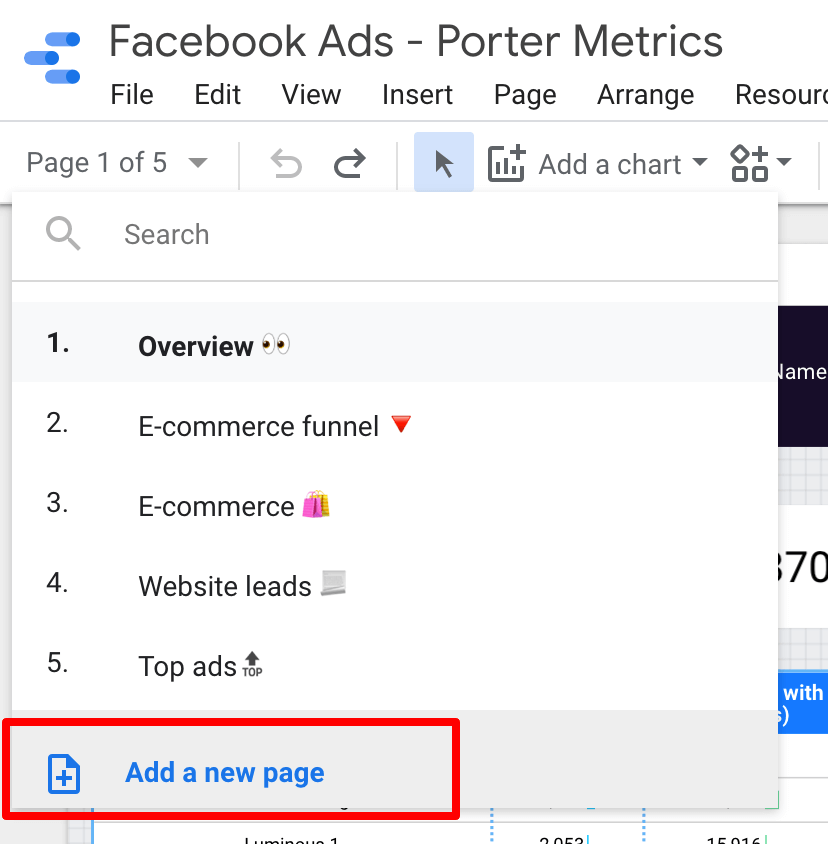 Now you will see a blank report. Click on Add a chart on the menu in the top-left corner.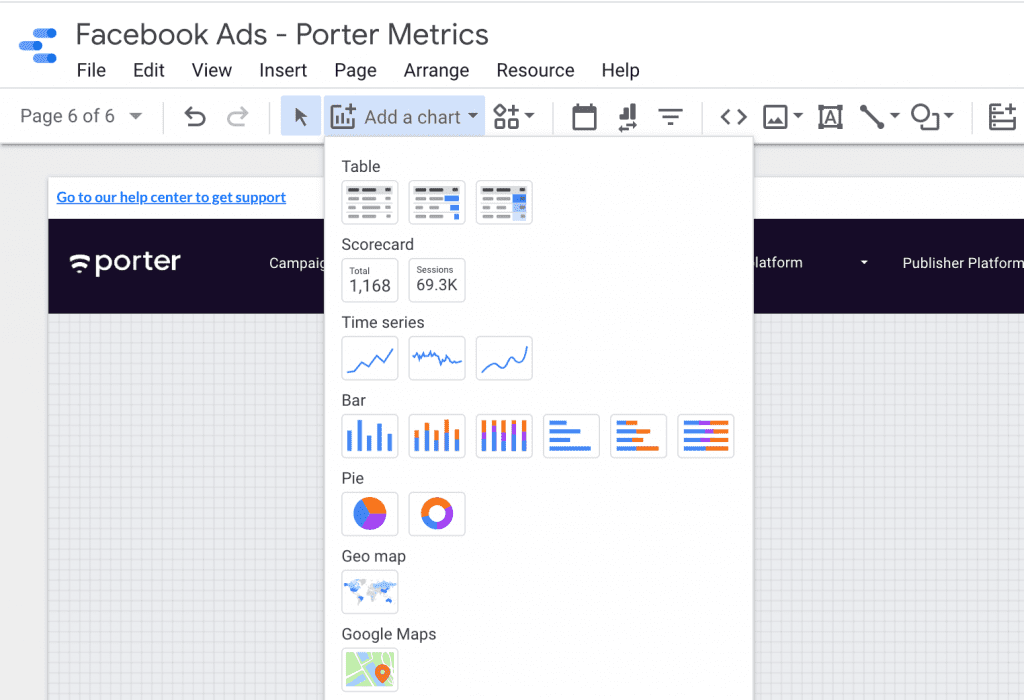 Now, choose a visualization. This time, we will create a table (the first chart type).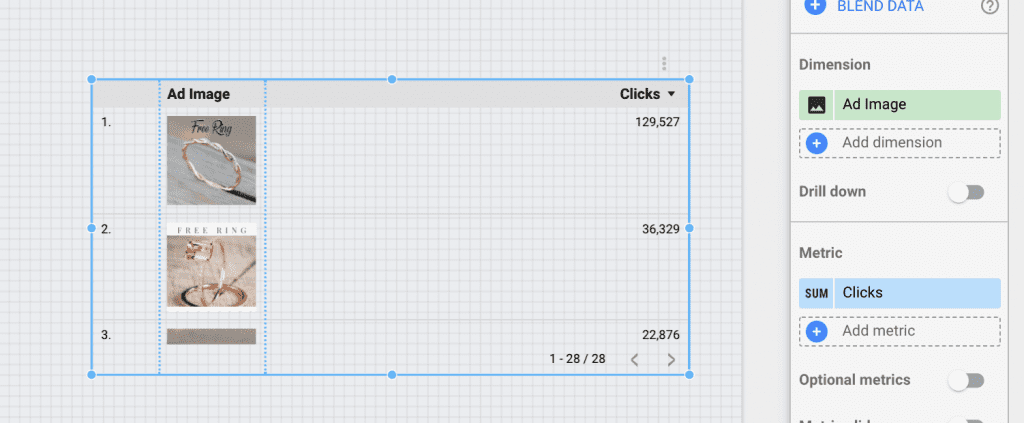 To customize the table, to get started, we will focus only on two elements: the dimension (or breakdown) and the metric.
This time, I'm visualizing the total number of clicks by ad image.
Let's click on the green button to change the dimension and search Device platform, and search Amount spent as metric.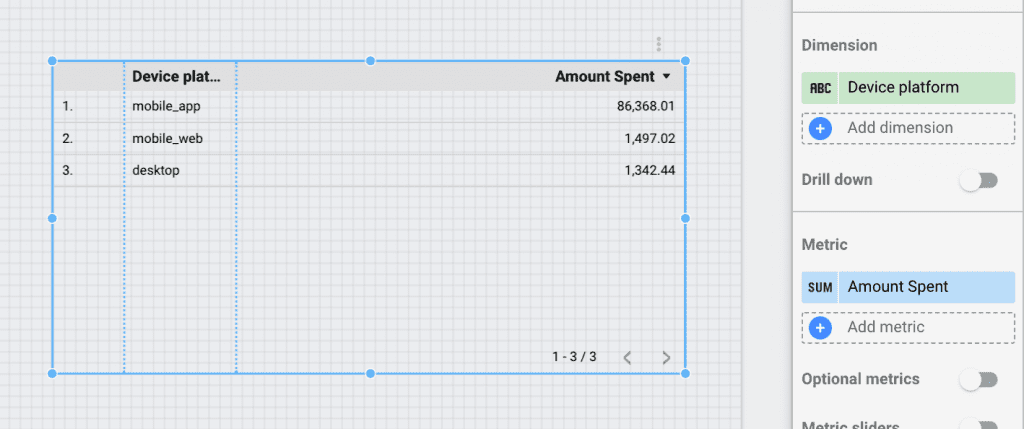 I have good news for you. If you followed the steps, you already know the basics of Google Data Studio and most visualizations work the same way.
Now we will display a raw metric. Select Scorecard and pick a metric.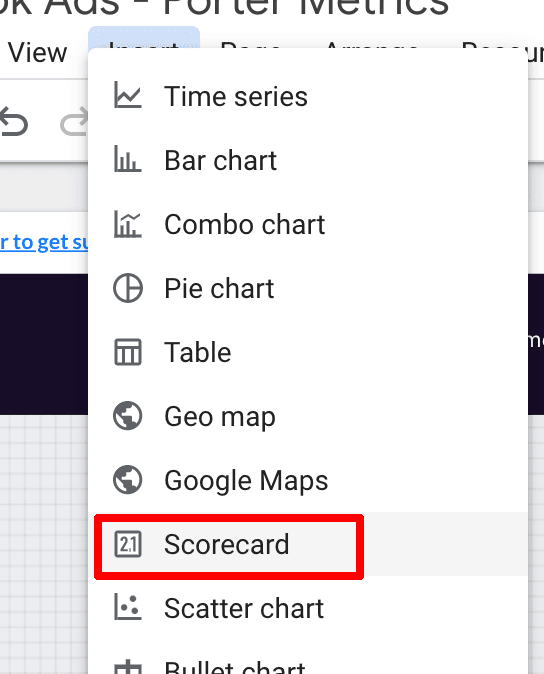 It will look like this:

If you're using our default template, you will see that you can use breakdowns. I encourage you to try them to see how your data changes based on the filters you apply.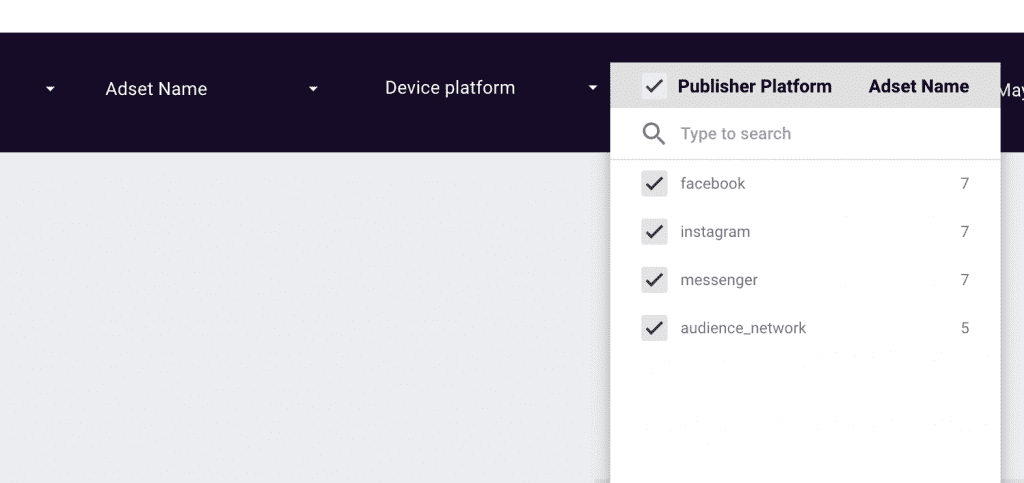 We encourage you to keep exploring the tool and follow our tutorials and templates to keep about specific features.
Free Data Studio templates for Facebook Ads
We created a Facebook Ads report templates gallery where you can find templates for all kinds of use cases and businesses, such as:
If you want to visualize our templates page click here
Facebook Ads agencies dashboard template for Google Data Studio

Google Ads and Facebook Ads Template For Google Data Studio

Digital Marketing Strategy Template for Google Data Studio

Facebook Ads, Facebook Insights and Instagram Insights Template for Google Data Studio

E-commerce with Facebook Ads Template
Conclusions
1. For using Google Data Studio you only need a Gmail account and a Connector Provider, in this case, we are using the Facebook Ads connector of Portermetrics

2. With the Facebook Ads connector for Google Data Studio you can track: standard events, performance Metrics, engagement Metrics, page Post Metrics, messaging metrics, media Metrics, click Metrics, and awareness metrics. Also, remember you can break them down by geography, demographics, publisher platform, platform position, and time.

3. You can save a lot of time automating your Facebook Ads reports on Google Data Studio, even more, if you start using templates. We create new templates every week for free that you can find in our Google Data Studio Template Library. We have templates for almost every use case you can imagine: Facebook Ads, Social Media, E-Commerce, Google Ads, and SEO.
Is time for you to start building your own Facebook Ads dashboard! If you have specific questions write to me at juanjose@portermetrics.com