Here's a step by step guide of how to create a Facebook Page Insights report on Google Data Studio.
We start on the basic things you need to know about Google Data Studio and then we go deeper into understanding your Facebook Page.
PS: if you already know Google Data Studio, skip the step-by-step explanation and download this Facebook Insights page report template.
Here's is a visual of how it looks:
We are going to learn:
Connect your Facebook page to Google Data Studio
Select the right metrics and dimensions for your report
Choose the right charts and visualize your data
Understand your page's audience demographics
Share your report and schedule email delivery
Conclusions
Facebook Page Insights report templates
How to set up a Google Data Studio account
Create a Google Data Studio Account
Go to Google Data Studio and log in with your Gmail account. When you are on the main page click on 'Create a report'
Choose the Connector
Now you have to choose a Data Source so Google Data Studio brings the data from your Facebook Page account.
Data Studio should suggest you to start choosing a data source.
On the search bar, type 'Facebook Insights' and choose the one by Porter Metrics, as shown in the image below: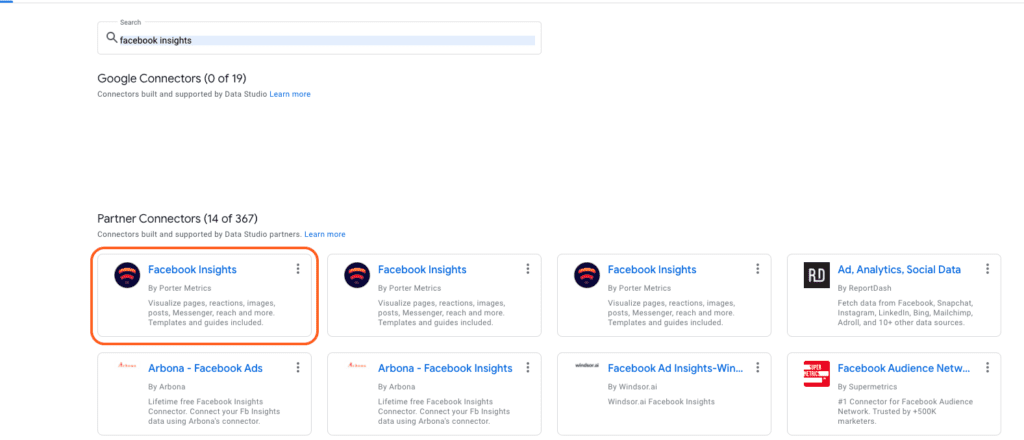 Once done, select the account you want to visualize the data from. This is connected directly to your Facebook Page data.
You have to authorize the permissions and you are all set.
Remember that if you want to add other accounts to the same report, you have to click on 'Resource' and select 'Manage added data sources'.
Click on 'Add a data source' and repeat the process of selecting the Facebook Insights connector and choosing the other account you want to connect. This also applies to other apps, for instance, you could connect your Facebook Ads account or your Instagram account.
Choose the metrics you want to visualize in your report
Now the real question is 'What metrics should I include in this report?'
In this case I'll suggest you based on reports from agencies using Porter.
I'm going to divide this into three sections: overview of the account, post performance analysis, and demographics.
Overview of the account

Understand if your account is growing or declining, and how many people interacted and saw your page and posts.
The objective is to understand at a glance how your Facebook page is doing and to compare it with past periods.
Page Reach: indicates how many people viewed any content of your Facebook page in a specific period of time.
Page Engagement: shows how many people interacted with your page in a specific period of time.
Page new likes: lets you know the number of new people that liked your page in a specific time period (it's related to growth).
Positive Actions: indicates how many people interacted in a positive way with your page, this includes likes, comments, and shares.
Negative Actions: shows how many of your posts have been hidden, have been notified as spam.
Month a Month Growth: we are going to show growth by Page Reach and page engagement month over month. The goal is to reach more people without losing relevance.


Post-performance analysis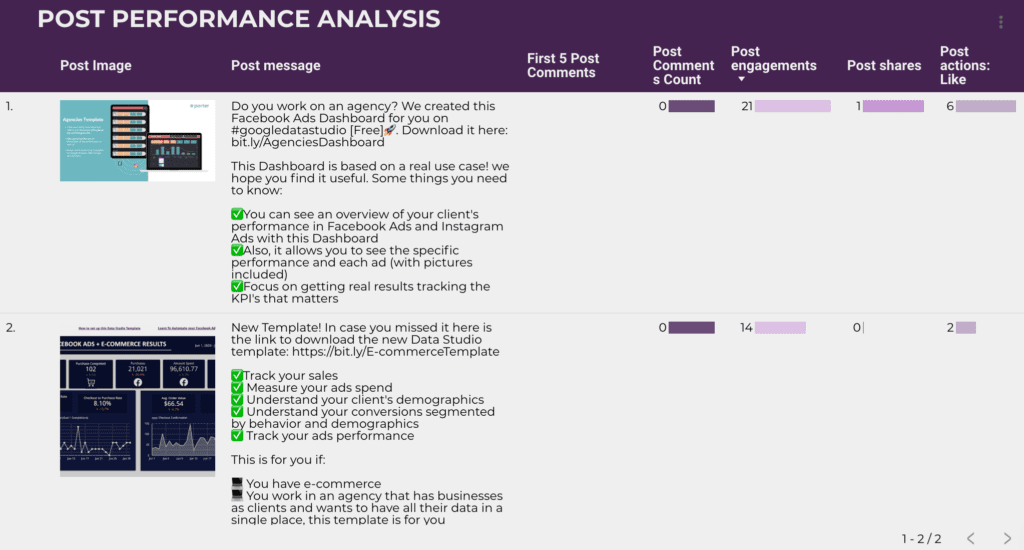 Do you know what posts are engaging better with your audience? What's making your account grow? The engagement it's key here, that's going to be your thermometer.
Here we are going to use:
Image/videos of posts: this dimension will show you the ad creative you used for your post.
Post date: with this dimension, you can see the date when your post was launched.
Post message: this dimension shows the copy you used on your post.
Post reactions: this metrics shows how many times someone interacted with your post with an emoji, for instance: like, anger or fun.
Post shares: this metric indicates how many times a post was shared in someone's biography, in groups, or even on their own page.
Post engagement rate: this metric tells you how many interactions you have with your audience, usually the higher the better. This metric is the number of people who liked, commented, clicked, or shared the post divided by the reach of your post.
Demographic analysis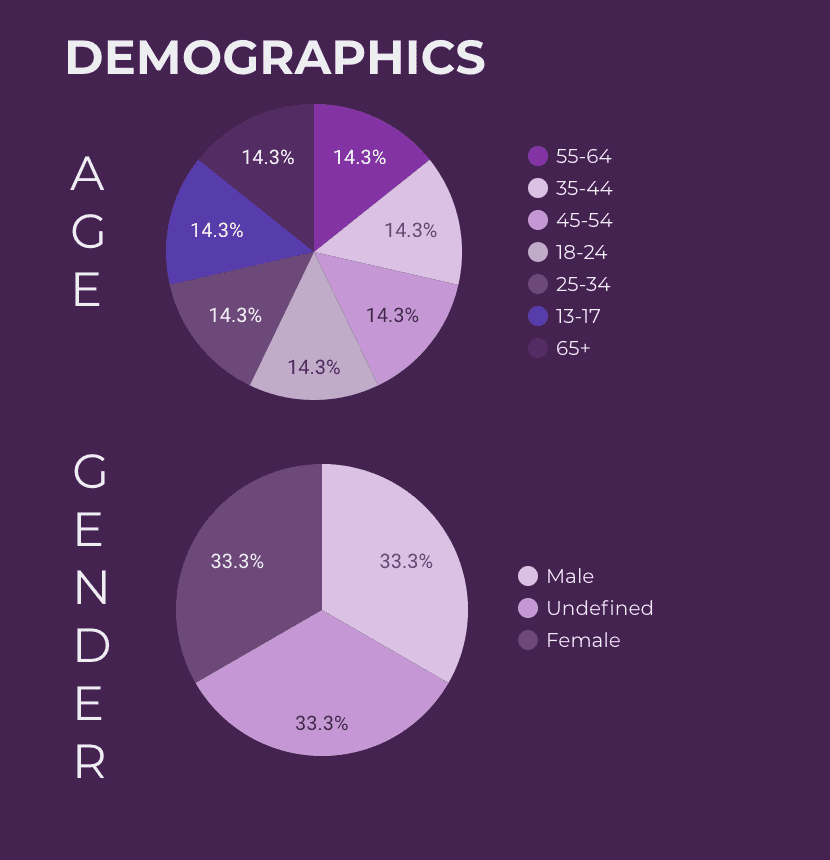 The idea is to get to know your audience and understand their main characteristics, in this case we are going to use:
Age: age range of your audience, usually it's divided between 18-24, 35-44, 45-54, 55-64, +65.
Gender: usually shown as male, female and undefined (if the person hasn't specified this).
Which type of chart you should use to visualize your key metrics
We are going to understand what chart it's ideal for every section of the report.
Facebook Page Overview:
Scorecard Metrics:
The scorecard it's perfect if you want to visualize the total number of some metric. In this case, this will be useful to visualize: page reach, page engagement, page new likes, positive actions, and negative actions.
Step 1: Click on 'Insert' and choose Scorecard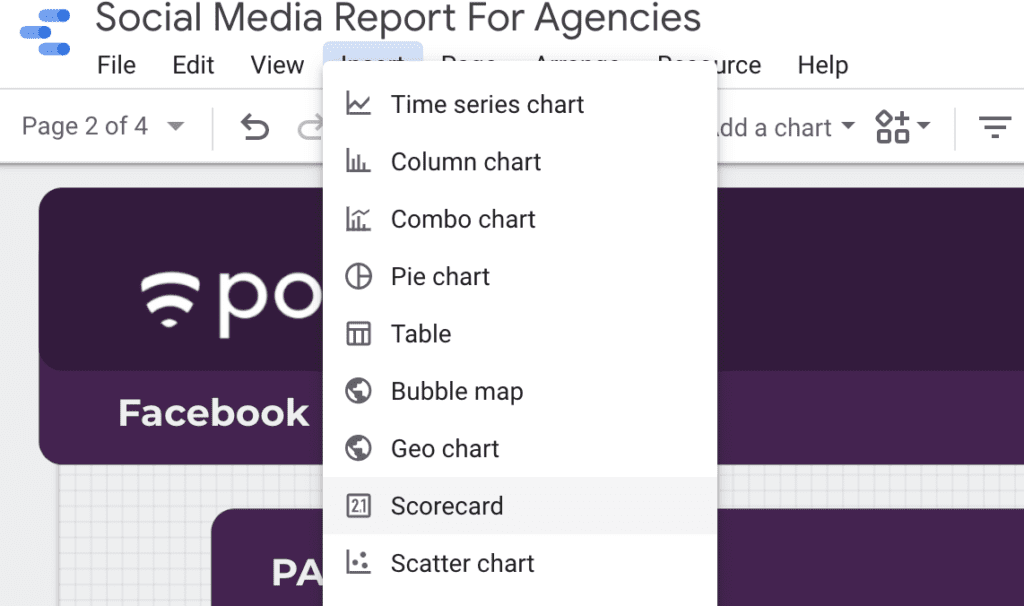 Step 2: Now select the scorecard and in the right side of the page click on 'Metric' click on it and in the search bar write 'Page Reach'. You should be visualizing now how many people did you reach in a certain specific amount of time.
PS: something important for every report you make is the Date Filter because it allows you to select in what period of time you are going to visualize your metrics.
To add it to your report just click on 'Add a control' and choose 'Date range control'.
Then you can choose a default data range that it can be fixed (always the same) or it can be a dynamic range of time such as 'Last 30 days'
Step 3: Now you have to repeat the same process for the other metrics that could be shown with scorecards.
Personally, I find it useful to see the month-over-month percentual variation. It lets me see on what percentage my numbers are growing or declining and find trends.
To do it click on the scorecard, and below the 'comparison date range' click on the dropdown arrow.
When you finish this step your report should look like this: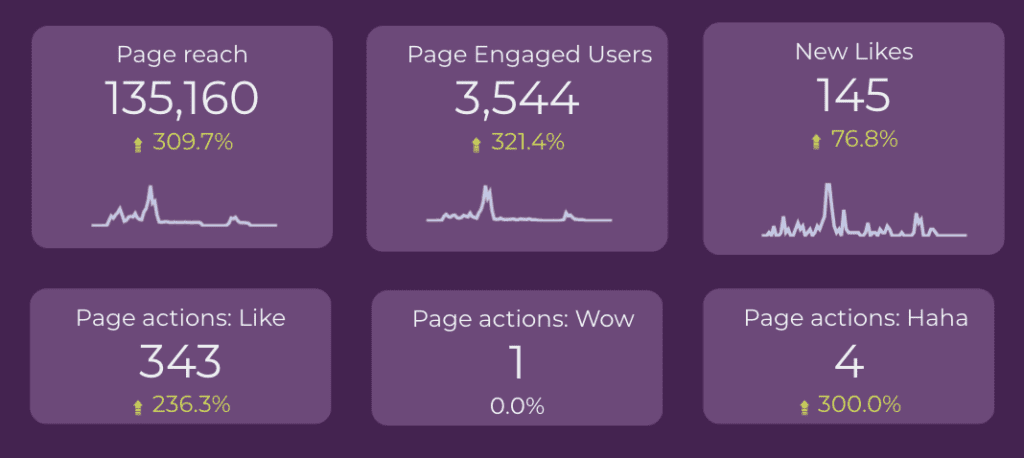 Charts:
This is perfect when you want to understand trends over time and, for instance, compare monthly growth, as I'll do.
Step 1: Click on 'Insert' and select the time series chart. The most important thing it's to add the right metrics and dimensions.
For this, I'm going to make a quick clarification about the difference between metrics and dimensions.
Dimensions: use this to break down your data and group it according to your criteria, usually non-numerical values (e.g. by post types, post comments, date, etc)
Metrics: quantitative measurements that usually are expressed in numbers and percentages (e.g number of likes, number of new followers, page reach, etc)
PS: when using the Facebook Page Insights connector remember not to mix 'page metrics' with 'post metrics'.
If you do it is going to show you an error because you are trying to mix specific data of your posts with the overall numbers of your page.

This also applies in the case of our Instagram Insights Connector that differentiates profile data from posts information.
With this in mind, we can start defining our dimensions and metrics.
Step 2: Click on dimensions and select 'date', now the idea is to classify the data for months. To do this you have to click in the pencil close to the tag that says 'date'.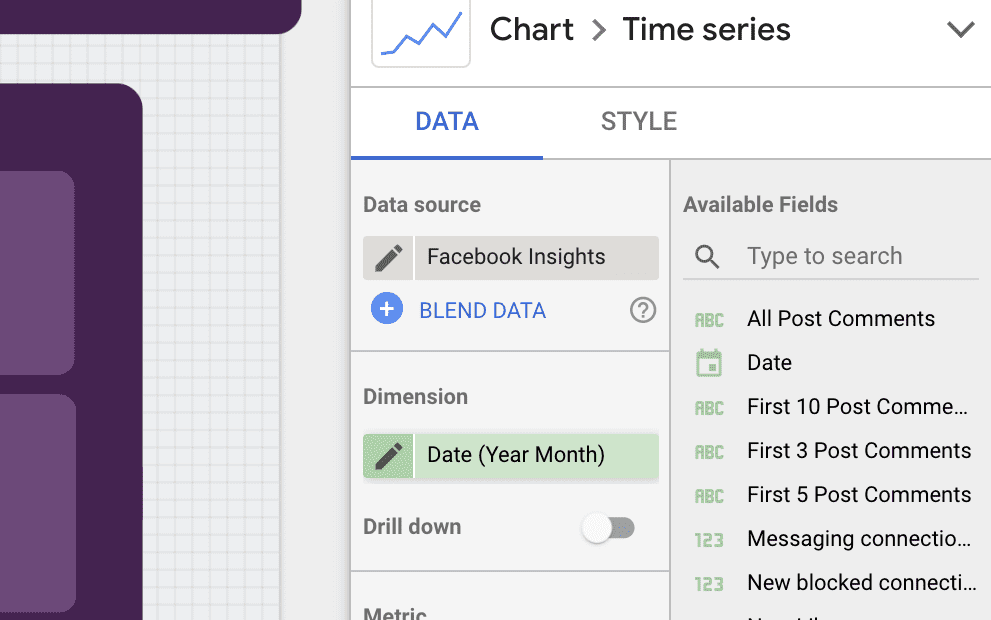 Step 3: select 'Date & Time' and choose the option labeled as 'Year Month'
Step 4: it is time to select the metrics like we did before. I'm going to add Page Reach and Page Engagement.
Great! Now you should see something like this:
It doesn't look nice because I haven't edited how the charts are shown. So click on 'style' and you should see different options that allow you to customize the chart. If you want to understand how to personalize your report watch our 2 min Youtube video of Google Data Studio white label

For the first metric, I added (page total reach) I'm going to select 'Bars' and select show data labels. This helps us visualize the numbers and the trends easily. You should have something like this, after changing colors:
Specific performance analysis:
Let's get deeper into what's driving growth in your Facebook account. The idea is to visualize what posts are being the driver of engagement and how they are helping you achieve your strategic goals.
To achieve this, we are going to visualize the metrics in a table. The first step is click on 'Insert' and select 'Table', it will give you by default a metric and a dimension. Now let's select the one I mentioned above:
Dimensions: post image, post message, and post comments.

Metrics: post reactions, post shares, post engagement rate, post comments count, and if you want include post actions (like, anger, sad, wow, etc)
Understand your demographics
Usually, demographics are visualized as charts, and that makes sense because it allows you to sense the proportion of the characteristics you are measuring. In this case, I'm going to do it with pie charts.

Step 1: click insert and select 'Pie chart'
Step 2: select the correct metric and dimension, in this case, we are going to do it with age.
Select as dimension 'Page followers age' and as metric 'Page followers age'
You should see something like this:
Now you have to repeat the same but with the dimension 'Audience gender type' and metric as 'Audience gender quantity'
Share your report
This is very easy, but fundamental when you create a report. You could share it with clients, your team, or automate it to receive it on your mail. Here is a short video we made to teach you visually how to share your Google Data Studio reports
Long story short, just click the arrow next to the 'Share' button and select 'Invite people' to share your report as editor or viewer and 'Schedule email delivery' if you want to select a frequency to have the report on the mails you select.
Get insights from your reports
To have a deeper understanding of your reports it's time to ask questions and answer them with data. Here some ideas of questions you could ask yourself or your team:
Our Facebook Page is growing?
Are we reaching the right people?

What is our current audience?

What is our engagement rate?

What are the main characteristics of our best posts?

Are we creating content that is shareable?
Conclusion
Your Facebook page can give you results if you create content strategies that engage your audience. It's important to track your Facebook insights and growth goals frequently to understand if your strategy is working.
To keep improve your engagement with Facebook Insights read this article from Social Media Examiner.
Automating your Facebook page reports will save you time and allow you to have more time to create valuable content for your audience.
If you want to integrate all your marketing efforts, Google Data Studio offers you great flexibility and connections to hundreds of platforms including Instagram Page Insights, Facebook and Instagram Ads, Linkedin, and much more.

Do you want to keep learning? I recommend you to enroll in our free Google Data Studio course for digital marketers or to read the Google Data Studio Complete Tutorial. You will learn essential and advanced techniques to create great marketing reports, more than 700 digital marketers have completed it already!
Templates
Visit our Google Data Studio Templates Gallery