How to connect Google Business Profile (GMB) to Google Data Studio for local SEO reporting
This is a step-by-step guide to help you set up your Google My Business reports on Google Data Studio to help you track your local SEO efforts and reputation.

We develop Google Data Studio connectors ourselves; we will tell you the nuances, potential, and limitations of reporting Google My Business data on Google Data Studio.
Google My Business Profile connector for Google Data Studio
First, we'll learn to import Google My Business data to Google Data Studio automatically, through a connector.
For this tutorial, of course, we will use our Google My Business connector for Data Studio. It is self-promotion, but will also mention why we made it the best solution available. 
You can access the GMB connector in three ways: 
If you access through our website or link, you will download our default report template to speed up your reporting; if you access through the connector gallery, you will start with a blank report. 
Signing up with Google
Once on the connector, signup with your Gmail account to create your Porter account. We only take your email and not any other personal information.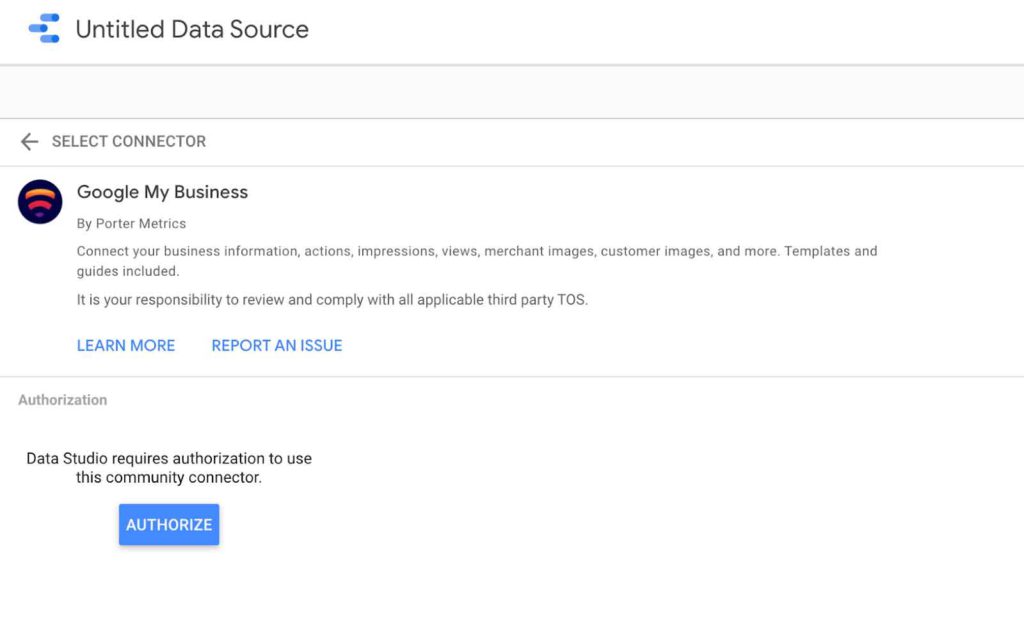 Make sure you choose the same email address you're currently logged in to Data Studio.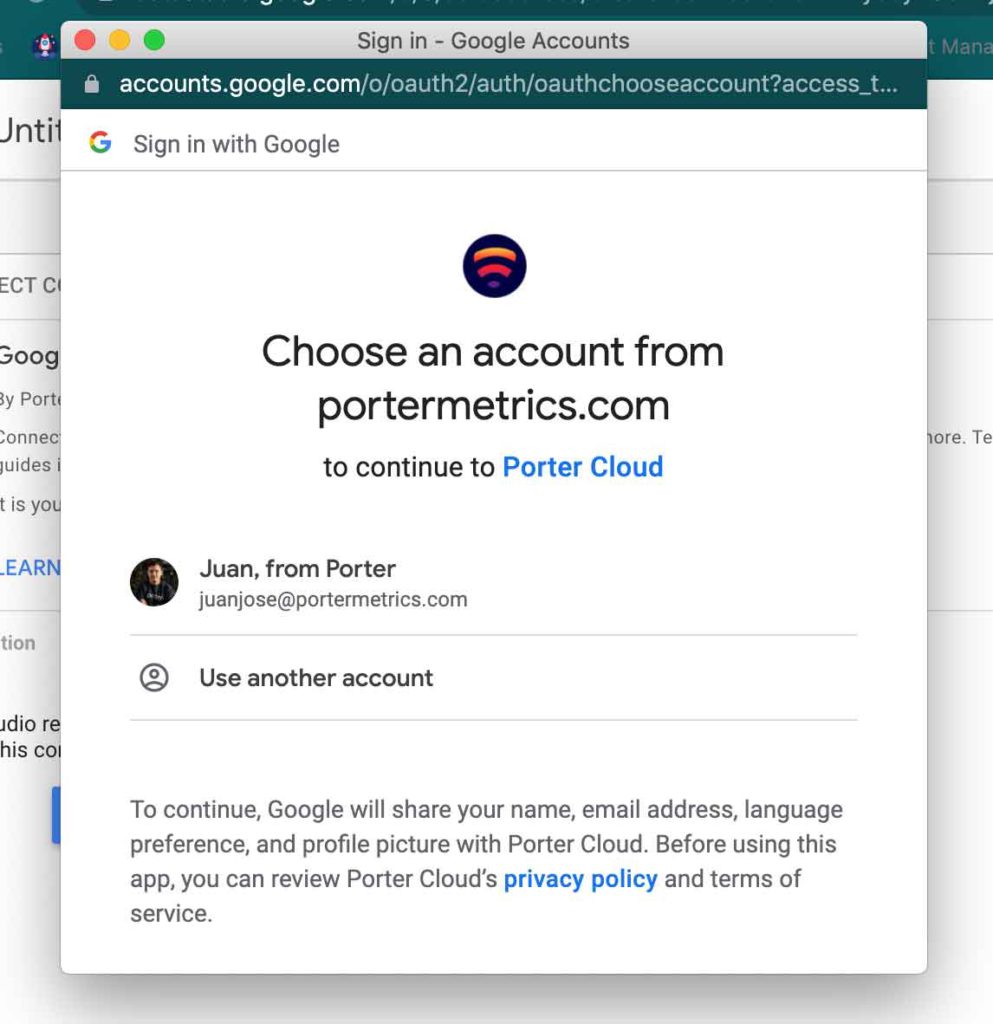 Here's our video tutorial on connecting your data to Google Data Studio. 
Create your first report in Google Data Studio
Choosing your Google My Business locations
Once signed in, you will be allowed to bring one or more Google My Business locations to your Google Data Studio report. 
We made it possible to bring multiple (or all) Google My Business locations in a single data source so you could combine metrics like reviews and impressions across all your locations. Pretty useful for companies managing multiple brands of franchises to consolidate their locations' performance in one view.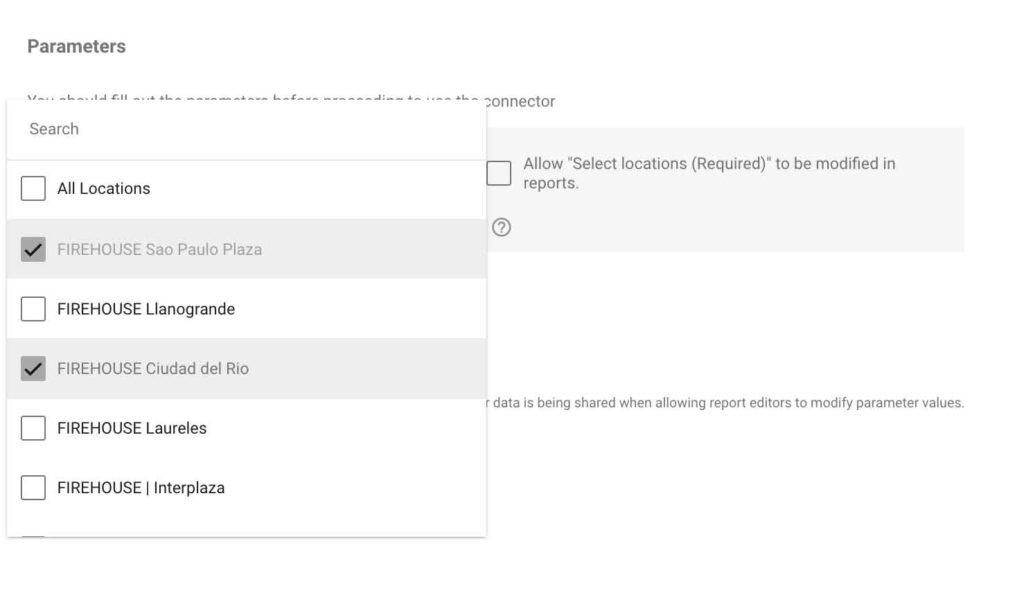 Just click on Connect in the top right corner of the page. 
In the next view, you will see all the fields available on our Google My Business connector for Google Data Studio.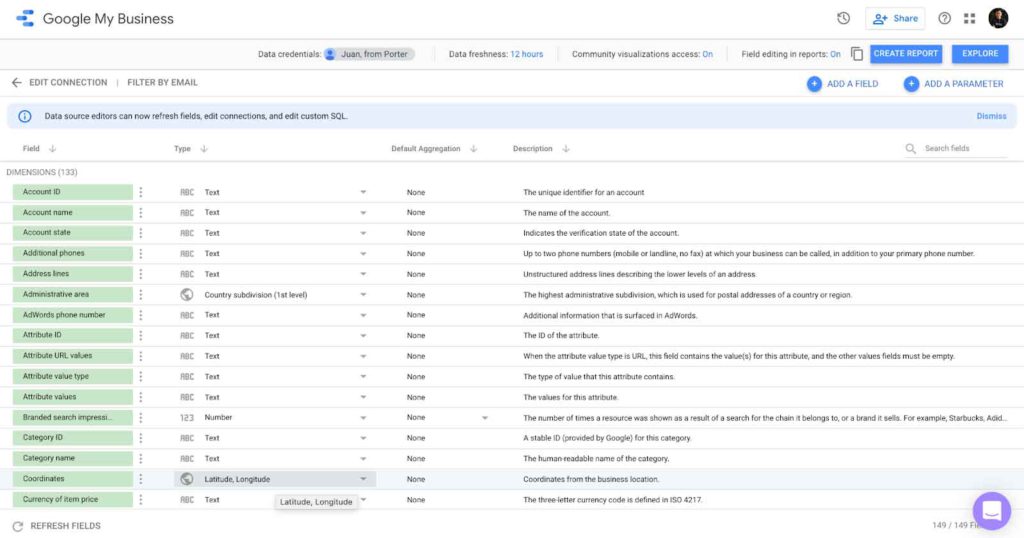 You will see a list of 133 fields available (so far) with all your reviews, posts, and search data. We committed to bring all the fields that the Google My Business API allowed us. 
Now click on Connect on the top right corner to generate our default report template. 
Finishing the setup
If you successfully bring Google My Business data to your Google Data Studio report, you're officially starting a 14-days free trial. You may want to check out our friendly pricing here. 
Again: If you started using the connector from the link we provided, you'll get our report template; if you did it from the Data Studio connector gallery, you will load a blank report. 
The report template is meant to save you time, but you're free to start reporting from scratch. 
So far, we have already created our first GMB report on Google Data Studio, but we can play around a bit more with the connector to see what it offers. 
Here, you can choose three ways for reporting:
Download our Google My Business report templates for Data Studio
Browse our default report template 
Before playing around with the charts, we'll explain the Google My Business metrics and dimensions. 
Understanding Google My Business metrics
We can set up our GMB report on Google Data Studio by navigating all its fields, metrics, and dimensions available. 
The way we see Google Data Studio is that it's a canvas where you drop any type of charts, combining any sort of metrics and dimensions. 
The metrics are the numerical impressions, calls, reviews, and engagements; dimensions are how you break down the metrics, like by location category, name, date, etc.  
If it's your very first time with Data Studio, I would recommend you to check this resource to create your first Google Data Studio report. 
To help you navigate through the GMB metrics, I would recommend watching this tutorial on creating charts and graphs. 
Location dimensions
These are fixed values (i.e. don't change over time) that give you information about your GMB locations, such as: 
Location ID
Location name
Location language code
Location name
Location service type
Account state
Open information status
Location state (if published, verified, pending review, etc.). 
I just created a table within our Data Studio table to show these fields:

A good practice, for example, is bringing multiple locations' data to run a Google My Business audit. 
With this table you can quickly tell if your locations are missing information that may affect their rankings, affecting your local SEO performance. 
Geographical dimensions
You can visualize your locations in maps with these fields:
Coordinates
Postal code
Locality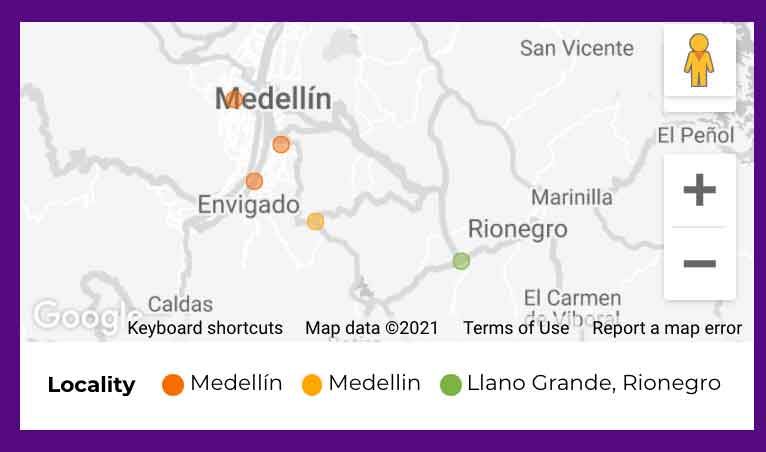 Reviews metrics and dimensions
Google My Business reviews matter because they build trust, help you gain visibility, and give your feedback. The reviews fields you can report on Data Studio are: 
Reviewer name
Reviewer photo
Review comment
Review reply comment
Review time to respond
Review star rating
Review creation date
Average reviews stars rating (all time)
Average review stars (in a time range)
Total reviews (all time)
Reviews (in a time range)
Review modification date
Here's a Google My Business reviews report: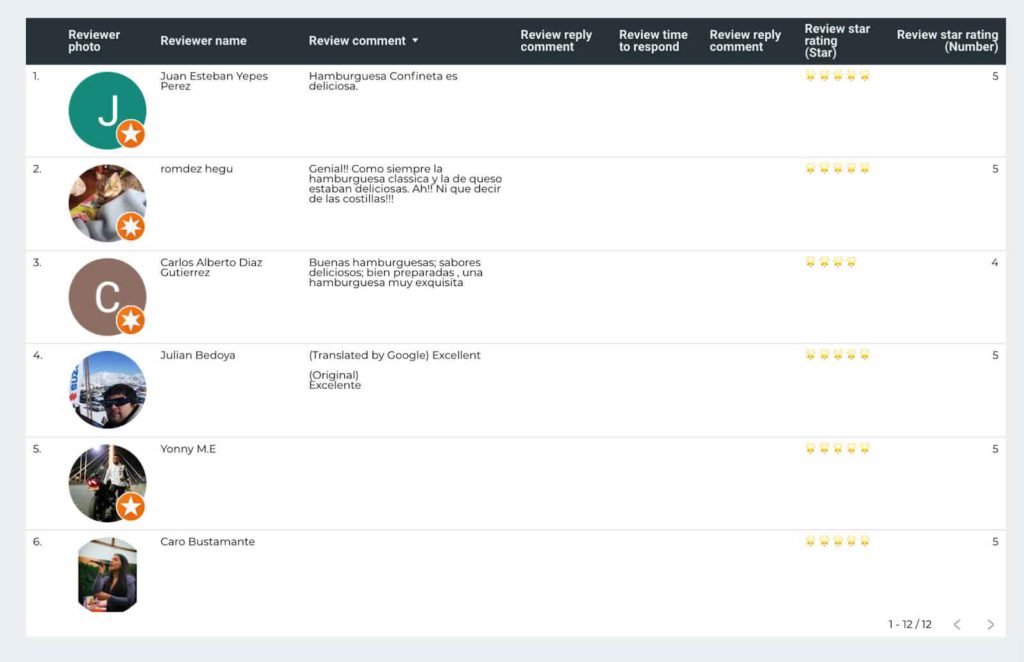 With it, you can quickly spot how people think about your business, what they say, and very importantly, if your marketing team is timely responding to such feedback. 
Do you want to know how to increase 5 stars ratings and reviews? Download this FREE guide to grow made for business owners.
With reviews metrics, you can track and measure your reputation over time (and all-time). 
In this chart, we can tell that the average score of those locations.
We can tell, for instance, that the average rating has increased if compared against the total, but decreases vs the last period. These stores have in total 97 reviews, and in the last month, they've got 9, 26% more than the previous month.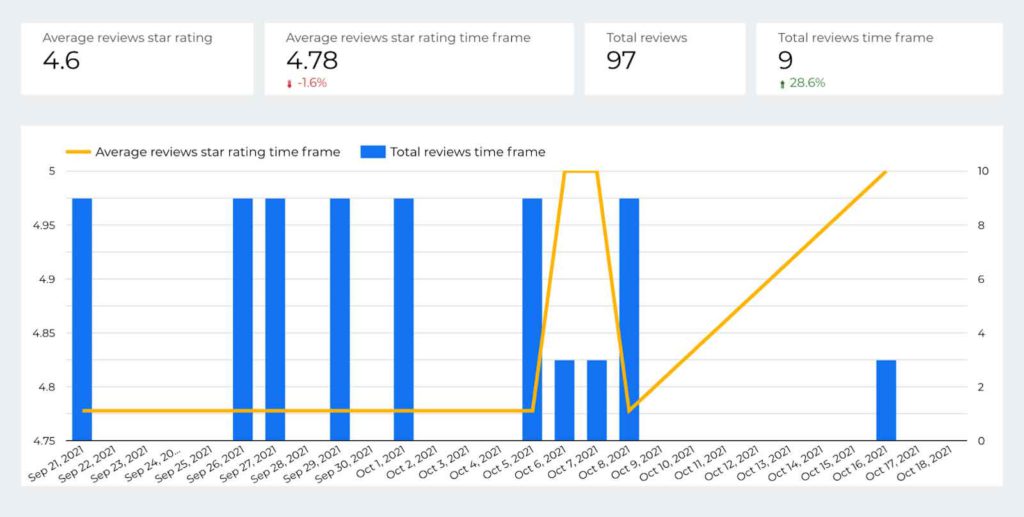 I'm wondering which stores are driving those numbers, so I created a time series to visualize the average rating over time, split by location name. Here's what I've got: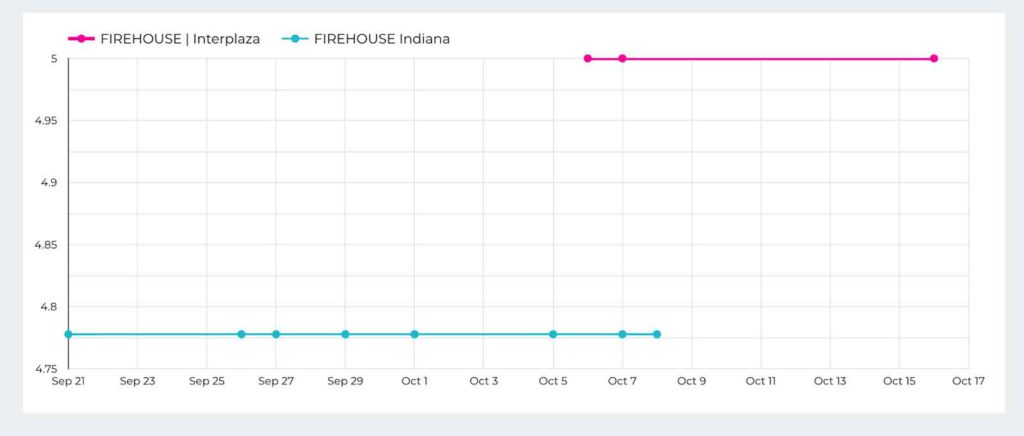 Search impressions metrics
On Google My Business Insights you can track how visible is your company when people do search on Google. There are three types of search:
Branded search impressions: when people searched for a category, product, or service that you offer, and your listing appeared
Direct search impressions: when people directly searched for your business name or address
Indirect search impressions (or discovery searches): when people searched for a category, product, or service that you offer, and your listing appeared
Total searches: the combination of these three types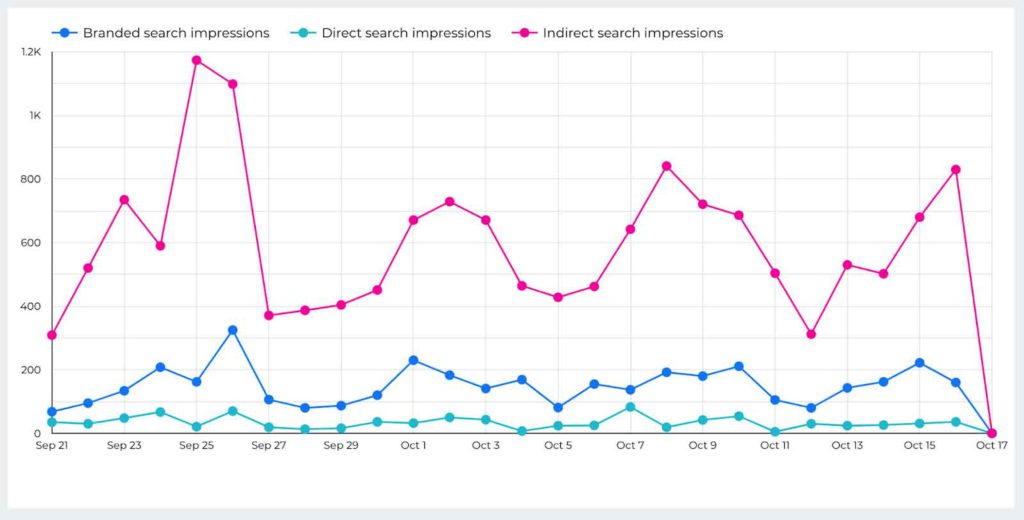 Views metrics
Along with searches, we can find views in the Google My Business Insights. These metrics show where people find your business on Google:
Photo views
Maps views
Search views
Total views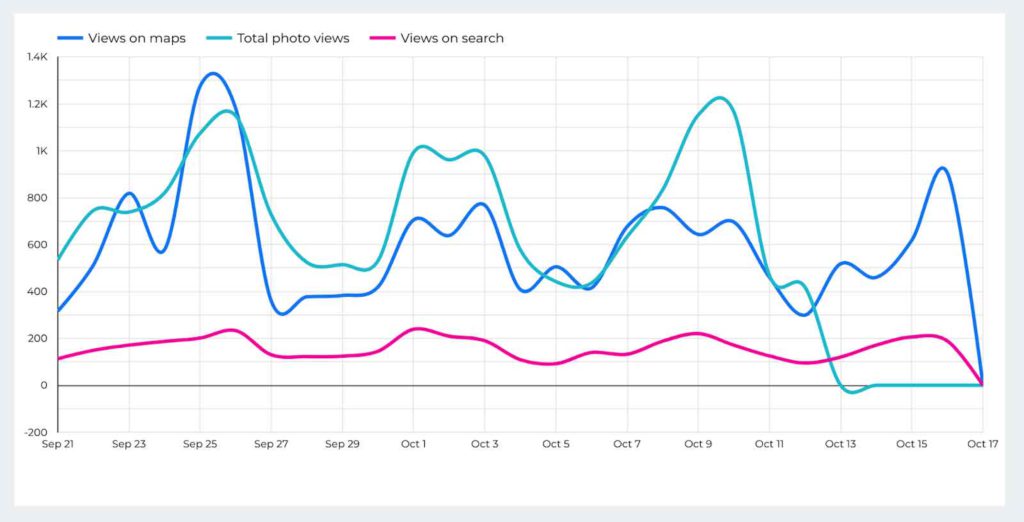 In this chart, we can notice that both Google Maps and Photos bring the most visibility to these GMB locations, but in recent days the photos presented a major drop. With this data, you can monitor your efforts for every content format or channel. 
Activity metrics
Activity metrics represent the marketing outcomes for your brick-and-mortar stores; the more they grow, the more sales potential you have. These metrics include:
Phone calls
Directions requests
Website visits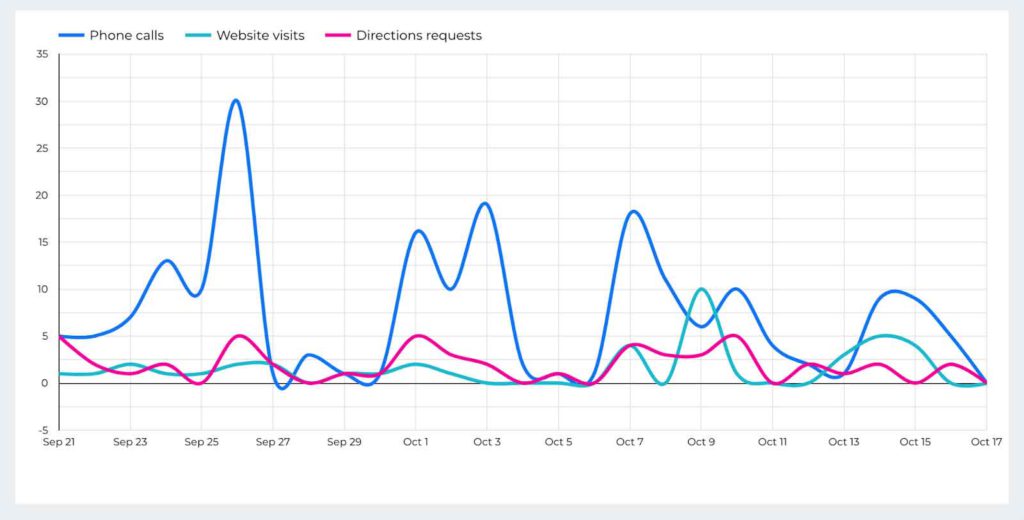 Posts performance metrics and dimensions
You can provide updates on the profile of your location through GMB posts.
Some of the dimensions describe information about the local posts:
Local post type
Local post action type
Local post creation date
Local post modification date
Local post summary
Local post media format
Local post media Google (image, thumbnail, and URL)
Most metrics describe the number of views, interactions, and posts published:
Total local posts
Local posts views
Local posts actions
There are different types of posts, such as COVID-19 announcements, events, and offerings. You can also visualize additional information like: 
Local post event name
Local post event starting date
Local post event starting time
Local post ending date
Local post ending time
Local post offer coupon code
Items dimensions
You can display your portfolio on your Google My Business profile. Restaurants, for instance, may showcase their menus; a gym could showcase their spaces and plans. You only need to create a table with these dimensions: 
Item name
Item price
Item description
With these tables on Data Studio, you can quickly spot if there's misinformation or outdated items across your GMB locations. 
 Setting up a Google My Business report on Data Studio
Creating charts 
Once you understand the Google My Business metrics, it's fine to create your first charts if you haven't. 
We prepared a video tutorial on how to create your first charts and graphs on Google Data Studio:
Follow these steps to create your first charts: 
Open the Google Data Studio report on the edit mode.
Go to the menu and select Insert or Add a Chart. 
Choose a chart type (scorecard, time series, tables, pie charts, and bar charts are the most common).
Make sure the chart is linked to the Google My Business connector.
Depending on the chart, you should choose a combination of metrics and dimensions. A good one could be visualizing reviews as a scorecard and over time by choosing Date as the the time dimension.
Set to compare the data against the last period.
Filters and controls
Filters and controls on Google Data Studio make your reports interactive and clean your data. 
A good use case for filters and controls with Google My Business data may be filtering your reviews by the score they get, so you can check out comments for good and bad reviews.
We prepared this tutorial on how to create filters and controls on Google Data Studio. 
Custom formulas
When it comes to formulas, think of Google Data Studio like Google Sheets: you can calculate any sort of metrics with countless math functions. 
However, the most common formula you may want could be click-through rates, which is just dividing a metric with another. 
For instance, dividing the total conversions you get (e.g. website visits, phone calls, or directions requests) against the total views. 
Watch this tutorial to learn to create custom formulas on Data Studio. 
Case statements
As you set formulas to create metrics, you can use case statements to create new dimensions. 
With GMB data, you may want to group items of your menu by categories; for instance, desserts, brunch, breakfast, etc.
Here are our tutorials on case statements and regular expressions. 
Blending Google My Business data
A great use case of the Google My Business connector for Google Data Studio is combining it with other social connectors, such as Facebook, Twitter, and Instagram.
With them, you may create a cross-channel social report to visualize your total reach and engagement across your paid channels. 
You may want to follow this video tutorial on blending data on Google Data Studio. 
Follow these steps to combine your data
Open the Google Data Studio report on the edit mode.
Click on Manage added data sources and make sure to connect your social accounts.
Create a table for each connector whose dimension is equivalent to the date and the metrics are equivalent to impressions and engagements.
Make sure the tables are beside each other on the same page. 
Select the three tables and do a right-click. 
Select Blend data.
Google Data Studio will automatically create a table combining the metrics of the three connectors. 
To verify the data was correctly blended, go to edit the blended data source and make sure that the dimensions equivalent to the date work as the join keys.
Customizing your report
We prepared a video tutorial showing you ways to customize your Google My Business reports (and even making them whitelabel). 
Sharing your Google My Business
Google Data Studio, such as other Google products, has great collaboration and sharing features. 
You can: 
Choose the Gmail/G Suite users who can access your reports as editors or viewers 
Schedule email deliveries
Share a link to access the report
Download a PDF version
Embedding the report on other website
We covered all of these in our tutorial How to share your Google Data Studio reports.
Google My Business report templates on Google Data Studio
It's ok if you don't want to set up your Data Studio reports. We prepared a set of Google My Business Google Data Studio report templates covering all the possible use cases so you don't have to. 
Try this Google Business Profile (Former Google My Business) report template for free. 
We have a tutorial on how to use Data Studio report templates, too. 
A common question is how you can add these templates to your current reports. You just need to select all the elements of your Data Studio report, copy, and paste them into your other reports. 
Listing in Google My Business is free and easy to set up. In addition, it offers small and medium local businesses the opportunity to gain relevance in a specific geographic area.
Discover the best-kept secrets from the most relevant local business to grow your own. 
Get a PDF copy of the Ultimate Guide to growing your business FOR FREE. 
Google My Business Ultimate Guide – Kindle format is available for only 0.99 USD on Amazon Kindle
How to connect Google Business Profile (GMB) to Google Data Studio for local SEO reporting