Facebook Ads – Free Ads Free Report
Facebook has various campaign objectives which allow you connect with the right audiences at different stages of the marketing funnel. 
When managing budgets for Facebook ads, keep in mind your Ads Funnel, make it easier with this template: 
Measure Awareness on the top of the funnel (Cold Traffic)
Consideration, mid-funnel.  (Warm Traffic)
Conversion is the lower funnel. (Hot Traffic) 
Setup guide included. Do it yourself in less than two minutes.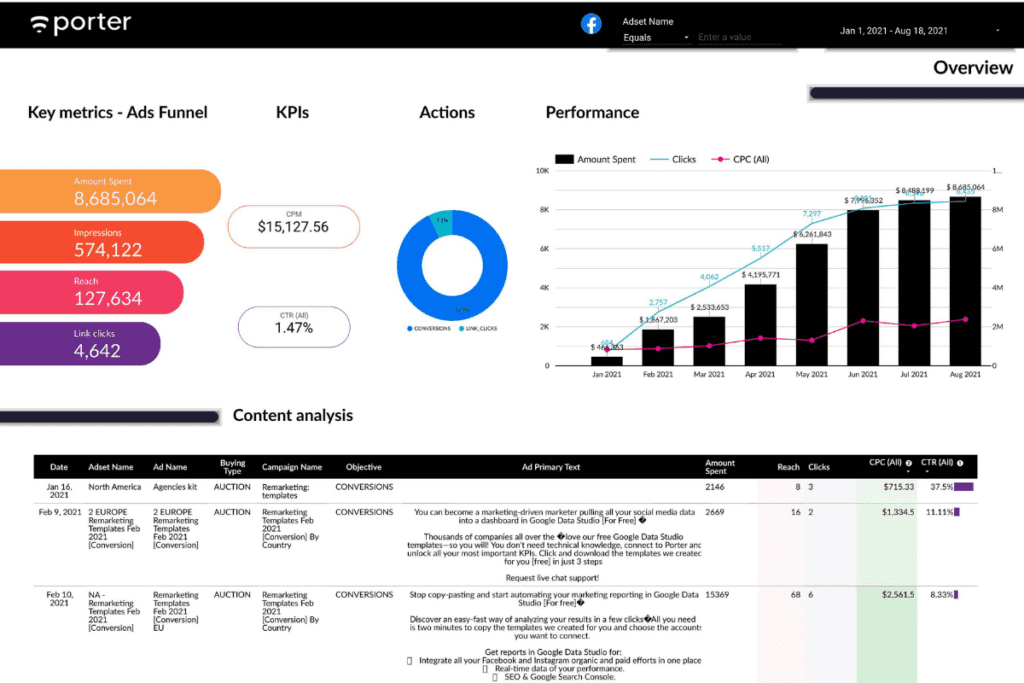 About this report template
Keep visible the budget and ads spend on Facebook with this report for Google Data Studio.

Get informed about the performance of your Facebook Ads campaigns.
Understand what is the best buying type to achieve your business objectives.
Discover what formats and creative content pieces are helping your brand to grow.
Adjust budgets and make decisions in real-time.
Companies that want to get a deeper understanding of their social media and ads spend result.
Agencies managing social media strategies and large budgets
Click & visualize your new report
Get the template on your email! 😍📊
We will send you an email with a link to access this template. You only need to copy/paste. 
Optionally, you can opt-in to get our newest Google Data Studio templates each week. They're free, too. We do not spam.