Facebook Insights connector for Google Data Studio
Visualize more than 50 metrics and dimension of  your Facebook pages organic efforts on Google Data Studio. Understand your engagement, audience demographics and growth over time.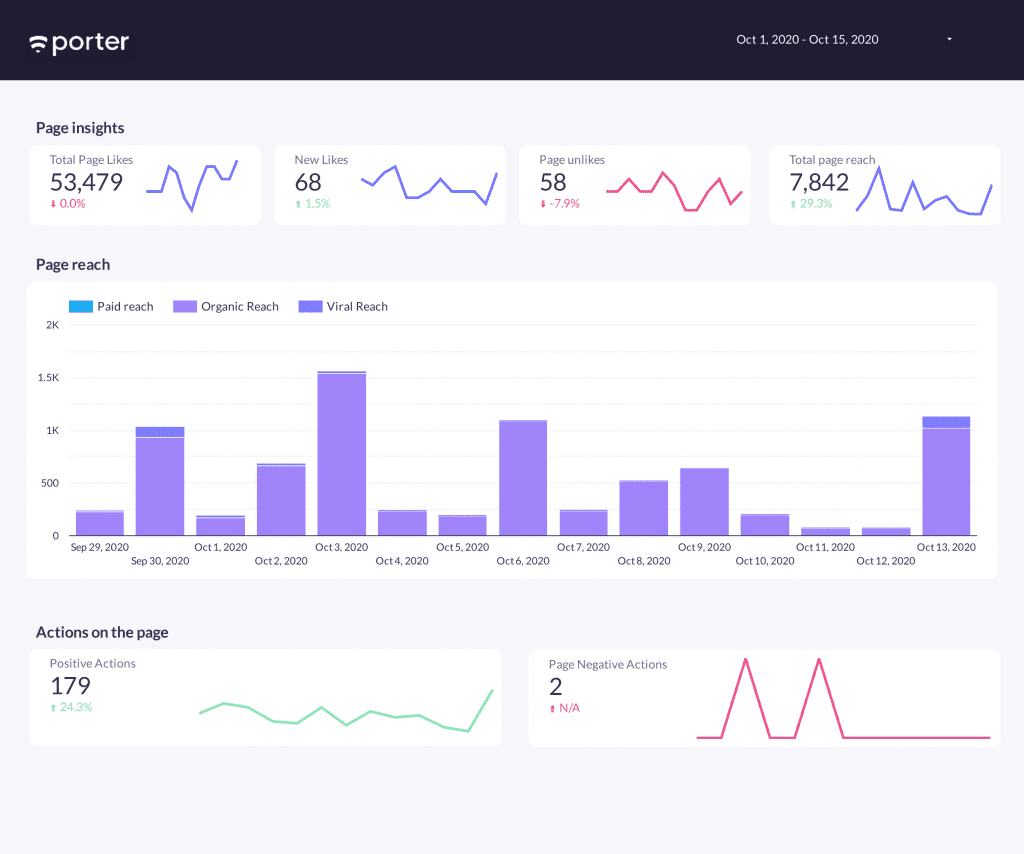 Dozens of customers worldwide trust Porter, including:
Why Facebook reporting matters
When we built this connector we always wondered about its use case. Brands really wanted to measure their followers and like counts? They're just vanity metrics, right? 
Then, we understood the value of Facebook —and its metrics.
Depending on your content strategy, your success is a function of your audience size and engagement. The more engagements you get (e.g. likes, shares, saves, sends, and comments), the more exposure you get, from both new and loyal audiences that you can retarget or interact with through comments or direct messages.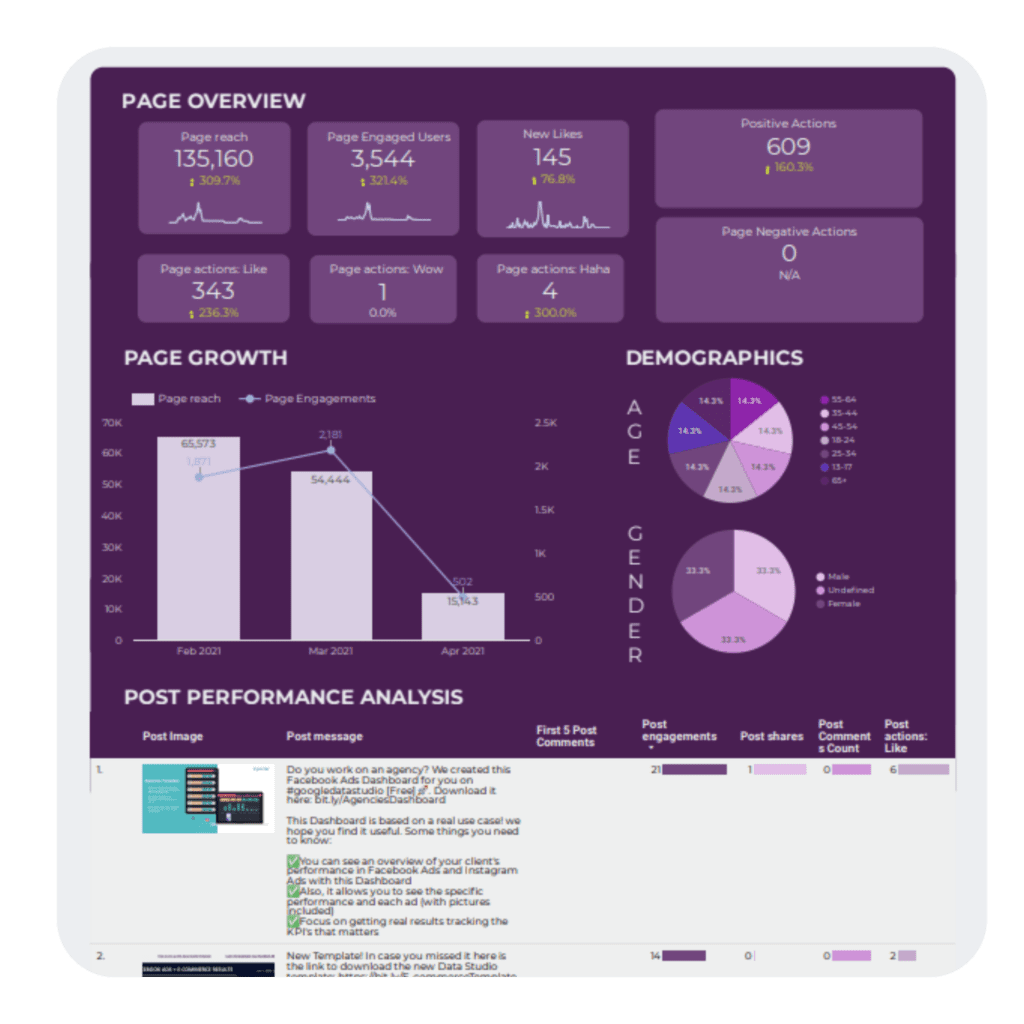 Google Data Studio features
Play with your data as it was on Google Sheets.
Schedule the day and time you want to send interactive and PDF reports to your customers or team. 
Combine all your data sources like Instagram, Linkedin and Facebook Ads and add more accounts in your reports.
Use scorecards, heatmaps, bar charts, geo maps, line charts, pie charts, to tell the whole story in a friendly way.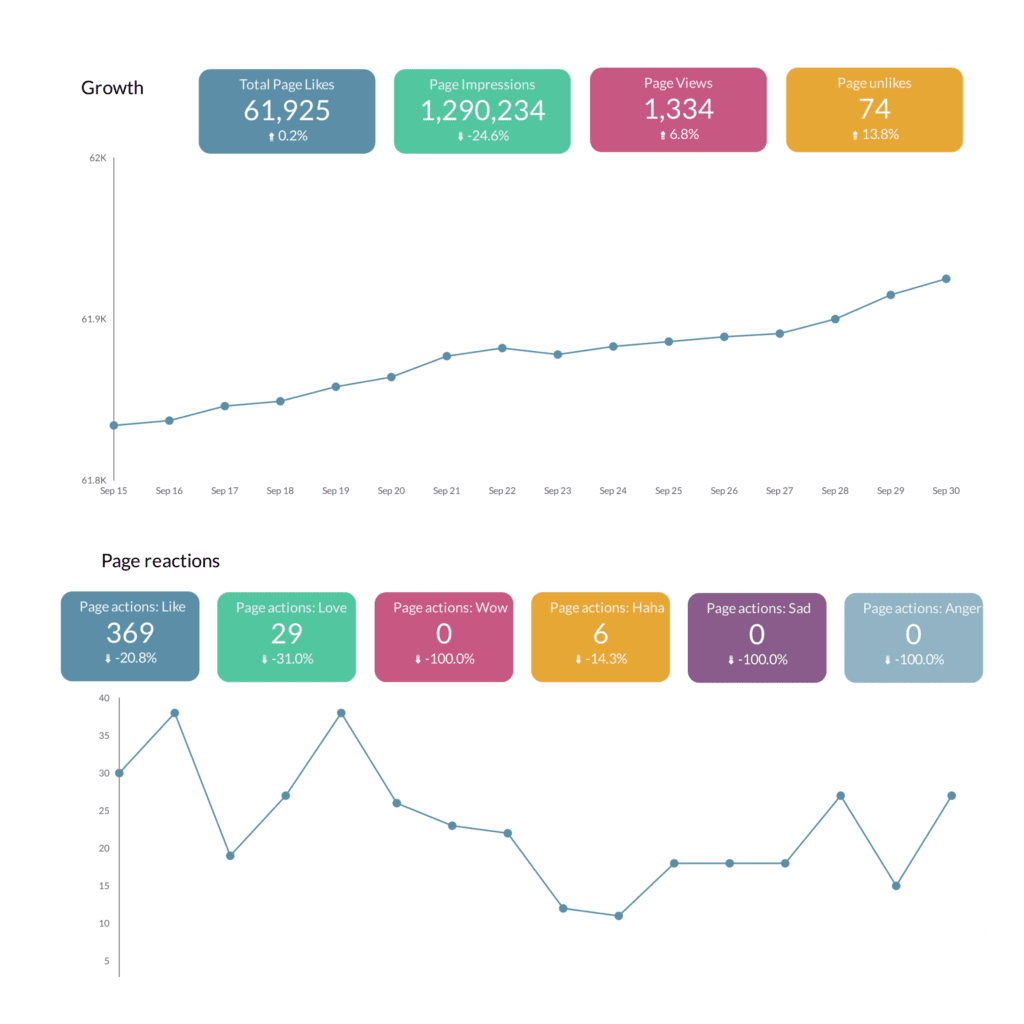 Use our Facebook Insights templates
Automate your client and agency reporting. Google Analytics, Google Ads, Facebook Ads, Google Search Console, Instagram, and Youtube—all in
Get template »
Metrics of the Facebook Page Insights connector
Post actions
Post reactions
 Reach
Page performance
Post-performance
Engagement
 Followers
Dimensions of the Facebook Page Insights connector
Comments
Post Images
Post Message
Comments
Date
Age
Gender 
Post type
Keep learning with our Google Data Studio Free Tutorial
After taking this Free Google Data Studio course, you will be:
Able to automate all your marketing reports and bring your data to one place.
Know when and how to use each type of chart and visualization.
Stop wasting time on manual reports on Google Sheets.
Build dashboards for specific use cases according to your audience needs.
Make better decisions and, hopefully, become truly data-driven.
Have the most demanded digital marketing skill.
Calculate, visualize, and interpret a wide set of marketing metrics.
Facebook Page Insights pricing
Pay for connections. (i.e. the number of Facebook Insights accounts you connect to Data Studio). Remember this applies to all our connectors.
Become data driven and focus on your marketing strategy
In a few minutes automate your Facebook Page reporting 🙂